Search by Keyword
Sign Up Below for our MONTHLY BEATLES TRIVIA QUIZ!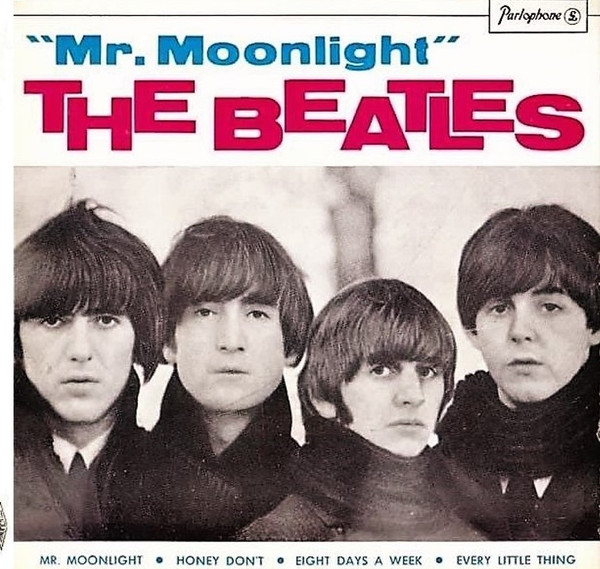 "MR. MOONLIGHT"
(Roy Lee Johnson)
"I think we sussed early on that we weren't going to get anywhere unless we were different," Paul McCartney remembers about the early performing days of The Beatles, "because if you weren't original you could get stranded...We had to play numbers no one else had."
The reason they needed to search for interesting material to play was because of the competition. "There were millions of groups around at the time," McCartney continues, "groups like us, more into the blues and slightly obscure material. And because we had the unusual songs, we became the act you had to see, to copy."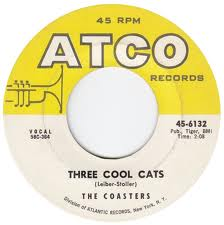 To find more obscure material, they turned to b-sides of singles instead of the hits that everyone else was doing. Lennon explained "(We) used to do an old Olympics number called 'Well' at the Cavern, a twelve-bar thing," which was the b-side to their Top 10 smash "Western Movies." Another example was "Three Cool Cats," which happened to be the b-side to The Coasters Top 5 hit "Charlie Brown."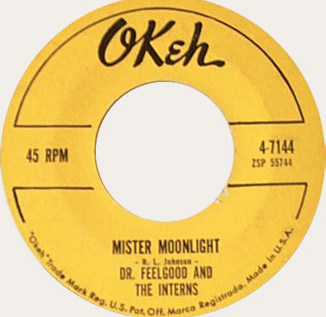 Another favorite of Lennon's was the b-side "Mr. Moonlight," which was recorded by "Dr. Feelgood and The Interns" in 1961. The a-side, "Doctor Feel-Good," didn't manage to make any waves on the charts, but The Beatles took notice of the single and perfected the b-side for their stage act.
As predicted, other local bands copied The Beatles' use of this obscure song, it even being recorded by The Merseybeats in 1963 and The Hollies in 1964. Nonetheless, this somewhat Latin-tinged R&B song is most recognizable as a Beatles track, since they decided to solidify their use of the song by recording it for their British "Beatles For Sale" album in late 1964.
Songwriting History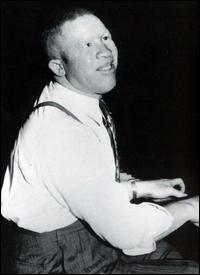 "Dr. Feelgood" was a pseudonym used by the American blues musician William "Willie" Lee Perryman who was known more famously by another nickname, "Piano Red." Born on October 19th, 1911 in Hampton, Georgia, Willie was an albino African American, who took up the piano and, after his family moved to Atlanta, became renowned for his playing engagements in Georgia, Alabama, Tennessee and North Carolina in the 1930's.
His first recordings were made under the name "Piano Red" around 1936 for Vocalion Records, although they were never released. Instead, he took up the upholstery trade as his day job while playing music on the weekends, which he did for the next fourteen years.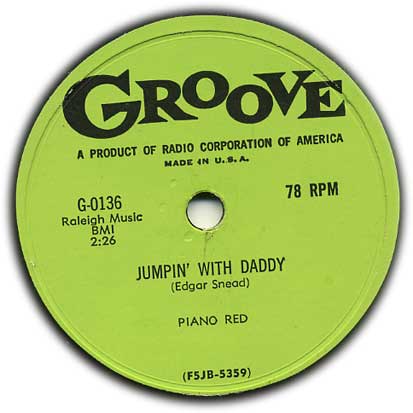 His big break finally came in 1950 when he recorded "Rockin' With Red" and "Red's Boogie" for RCA Records, both becoming Top 5 hits on the Billboard R&B charts. He continued to release records on various labels, such as Columbia, Checker, Okey and Groove Records, throughout the '50s and '60s. He also worked in the mid-'50s as a disc jockey in Atlanta, fronting shows entitled "The Piano Red Show" and "The Dr. Feelgood Show," which was a new persona he adopted.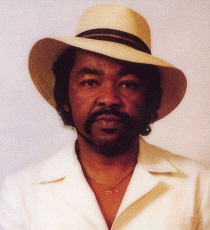 Starting in 1961, Willie released a few singles for Okey Records with a band he had formed with guitarist Roy Lee Johnson. Willie used his new persona for the name of the group, which was entitled "Dr. Feelgood and the Interns." Their single "Dr. Feel-Good" managed a good showing on the Billboard pop charts, reaching number 66, while the b-side was a song written and sung by guitarist Roy Lee Johnson entitled "Mr. Moonlight," which was recorded on May 31st, 1961. The labels on some of the records mistakenly credited the song as written by "R. Stevens - R.C. Stephens," but it was correctly credited on The Beatles album.
Born December 31st, 1938 in Heard Count, Georgia, Roy Lee Johnson began his career as a member of the group "The Brassettes Of Hoganville," who recorded one single with Roy on Ebb Records in 1955 entitled "House In The Alley." His paths next crossed with "Piano Red" who asked him to join the newly christened "Dr. Feelgood and The Interns" for their new recording contract on the Okey label. Roy's clever song about being grateful to the moon for hooking up two lovers made it onto the b-side of their first single.
Roy then went solo and released a couple of singles himself on the Okey label ("Too Many Tears" and "Nobody Does Something For Nothing") before switching to Columbia Records ("My Best Just Ain't Good Enough"), Philips Records ("Cheer Up, Daddy's Coming Home"), and Josie Records ("Boogaloo #3") in the '60s. Roy has continued a career in music throughout the years, continually on stage and sporadically releasing records throughout the '70s, '80s and '90s.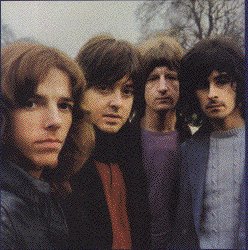 Willie Perryman (aka Piano Red) also continued a performing career, having been heard on BBC radio, appeared at the Montreux Jazz Festival, and participated in several European tours. Willie apparently was the inspiration behind an unreleased song that was written and recorded by the Apple band Badfinger. "During the previous tour," roadie Nicky Bell recalls, "Pete (Ham, of Badfinger) had met some old guy at a bar called 'Red's Grate On the 88.' He was playing the piano - he had no teeth - and Pete was blown away with this guy. His name was Piano Red." This song, simply titled "Piano Red," remains officially unissued till this day.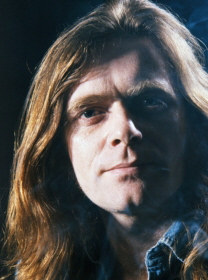 Sadly, Willie Perryman was diagnosed with cancer in 1984 and finally passed away on July 25th, 1985. His persona as "Dr. Feelgood" has been immortalized by the British pub rock band of the same name, which had its peak of success in the late '70s and for a short time featured ex-Wings guitarist Henry McCullough.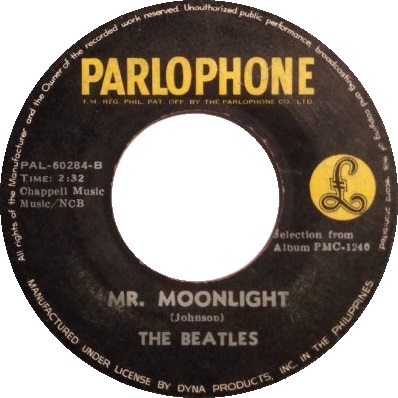 Recording History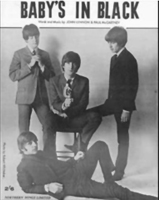 The Beatles entered EMI Studio Two on August 14th, 1964 for their second recording session for the "Beatles For Sale" album. Their first session for the album on August 11th, 1964 resulted in only one song being completed, which was "Baby's In Black." This evening session, which ran from 7 to 9 pm, started out putting another original composition, "I'm A Loser," in the can for possible consideration for their next single. At approximately 8 pm, the Beatles launched into "Mr. Moonlight" as a contender for the album, the first cover song they chose to include.
Four takes of the song were made on this evening, only two of which made it through to the end. The first didn't get past John's vocal introduction, John himself calling for the band to stop. McCartney encouragingly interjects "nearly!" while Lennon replies, "yes, not bad, that one." This first attempt can be heard on the "Anthology 1" album.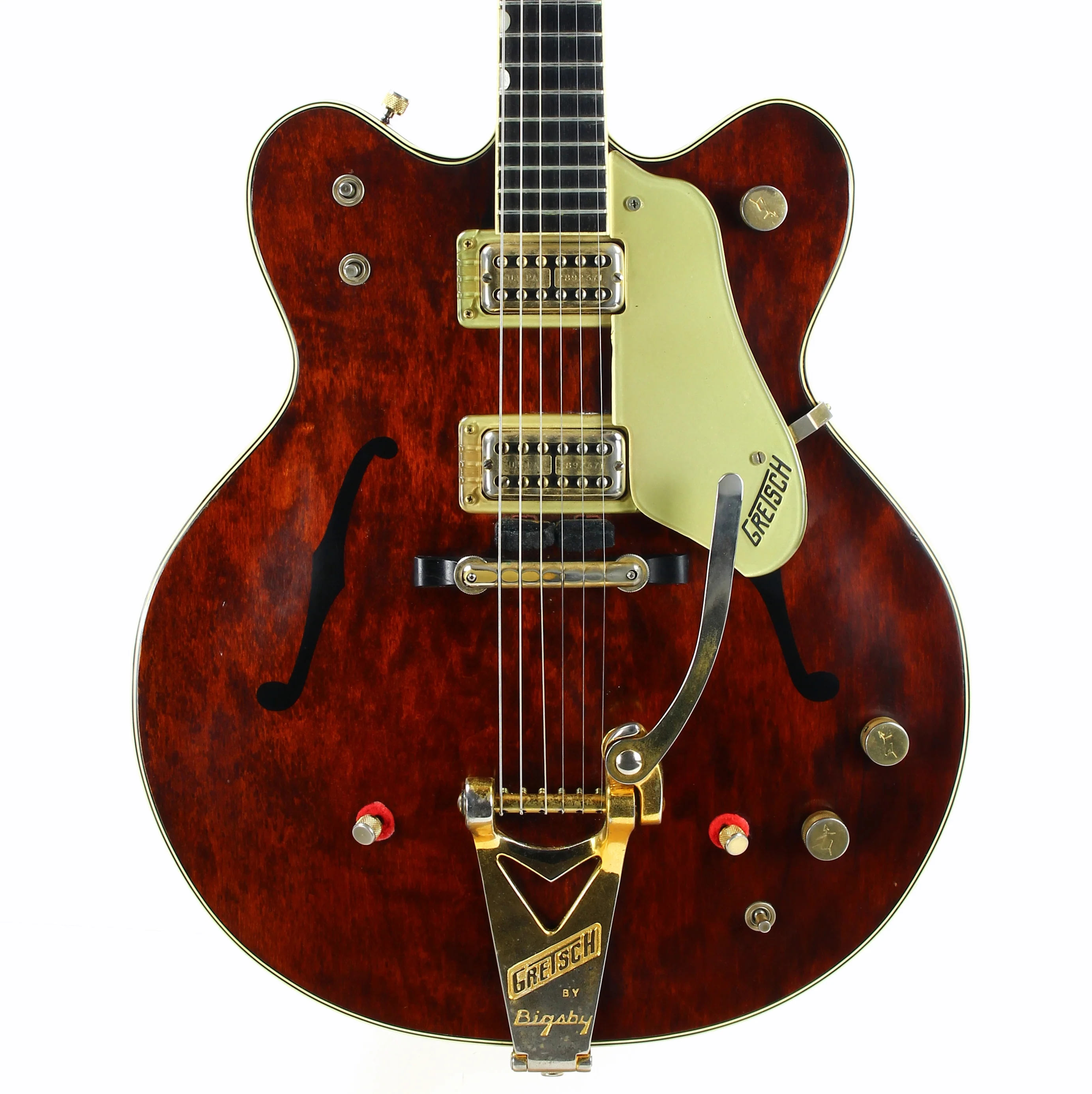 "Take four" on this day was temporarily deemed as best, although they understandably thought differently later. The primary reason undoubtedly was George Harrison's rather experimental shaky guitar solo which, even during the live performance, impelled McCartney to give out a couple of cat-calls that would mark the track as unusable. This performance is also included on "Anthology 1."
After the band took an hour break from 9 to 10 pm (during which time mono mixes of "I'm A Loser" and "Baby's In Black" were made) they returned to the studio for more recording. Instead of working more on "Mr. Moonlight" they started and completed another cover song as a contender for the album, the 1959 Little Willie John song "Leave My Kitten Alone." They worked until 11:15 on this song, even double-tracking Lennon's vocals. This excellent recording, unfortunately, was chosen to be omitted from the "Beatles For Sale" album and didn't get officially released until "Anthology 1." Instead, The Beatles were insistent on including "Mr. Moonlight," which they re-attempted at a later date.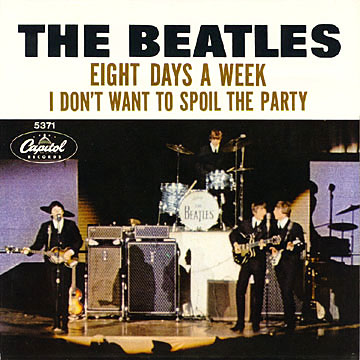 That later date was a marathon recording day on October 18th, 1964. They entered EMI Studio Two at 2:30 to begin nine hours of recording, resulting in the final completion of eight songs. After putting the finishing touches on "Eight Days A Week" and blistering through "Kansas City / Hey-Hey-Hey-Hey!," they started over on "Mr. Moonlight."

"Take five" through "take eight" showed the group running through the song with the same instrumentation as on August 14th, 1964, namely John on rhythm guitar while singing lead, George on lead guitar while singing harmony vocals and Paul on bass guitar while singing harmony vocals. The verdict is still out on what instrument Ringo is playing. Some writers suggest bongos, some a packing case (such as a guitar case) and some say he played the toms of his drum kit, such as he did when performing it live.
The first couple of takes still contained George Harrison's guitar solo, but this was quickly ruled out. Engineer Geoff Emerick explains: "The stumbling block again was Harrison's guitar solo - not the notes he was playing, but the odd, sped-up tremolo sound he was using...Lennon thought the unconventional sound was terrific - and, personally, so did I - but George Martin insisted that it was simply too weird. After some discussion, it was decided to overdub a cheesy organ solo instead. Even though I loathed the sound, I was most impressed to see Paul playing it - up until that point, I'd had no idea that he could even play keyboards."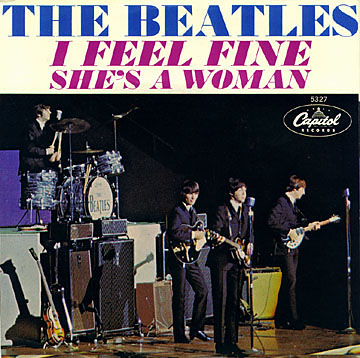 Take eight was the final rhythm track, onto which McCartney overdubbed his Hammond organ parts, in effect replacing Harrison's guitar solo in the song. George instead was relegated to hitting an African drum on the two-beat of every measure the band went into a 'break' in the song. That being accomplished, they commenced recording what would become their next single, "I Feel Fine."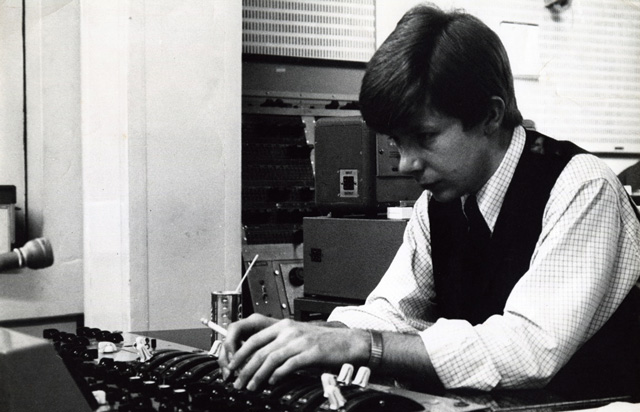 One good thing that did come out of the first version they attempted on August 14th was John's vocal introduction. When the time came for mono mixing the song on October 27th in the control room of Studio Two, two mixes were made; one for the vocal introduction of Take Four, and one for the rest of the song of Take Eight. These two mixes were then edited together to form the mono mix we've all come to know, which fades out after three repeats of the song's title at the end. This mono mix was prepared by producer George Martin and engineers Norman Smith and Ken Scott.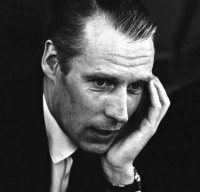 On November 4th, 1964, George Martin, Norman Smith and 2nd engineer Mike Stone created the stereo mix of the song in the control room of Studio Two. Once again, they made separate mixes of Take Four (John's vocal introduction) and Take Eight (the rest of the song) and edited them together. This time the mix lasted a few seconds longer to include four repeats of the song's title at the end, which displays an additional higher harmony. Another difference was some Hammond organ sounds as the song began to fade at the end. Apparently they turned the fader down on the organ overdub during the mono mix but inadvertently left it up during the stereo mix.
Both the stereo and mono mixes of "Mr. Moonlight" on the British "Beatles For Sale" album are identical to those released in the US on "Beatles '65."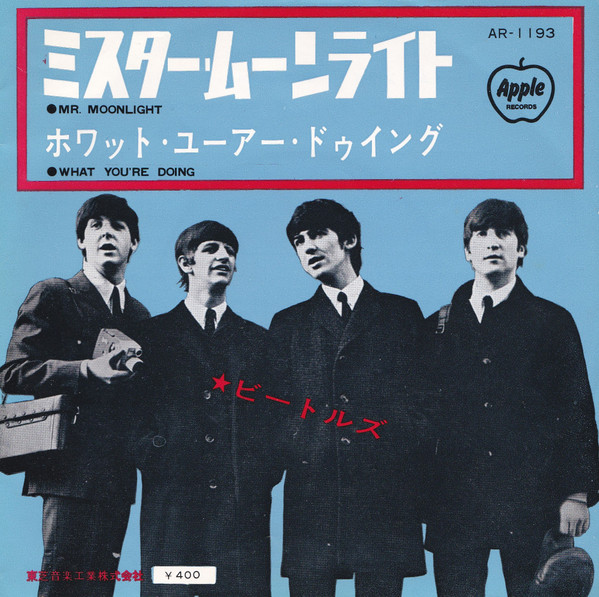 Song Structure and Style
This Latin sounding track follows a pattern that is somewhat unique, being that it is made up entirely of verses with no bridge, chorus or refrain in sight. More than this, the first verse is different than any other of the three verses in the song, not only in lyrics but in structure and length.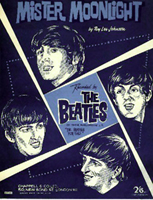 After a searing introductory scream from John, we enter into a two measure full-band musical introduction which creates anticipation for what is to come. The first verse then begins, which is a whopping 24 measures long. The first four vocal phrases of the song alternate between three-part harmony and John's solo vocal lines. The sixteenth measure consists of a "Beatles break" with only Paul's ascending bass line and George's African drum segueing into the remaining eight measures of the verse. The twenty-second measure is also taken up with a break, which is quickly followed by a return of the African drum and the harmonized title of the song, which finally concludes this unique verse.
Then we enter into the second verse, which structurally is repeated three times until the song fades out. These verses are all sixteen measures long, with the first of these beginning with two vocal phrases in three part harmony. This time the break appears in the eighth measure and contains the familiar African drum and ascending bass line. The second and final break of the verses occurs in the fourteenth measure, once again highlighting the title of the song.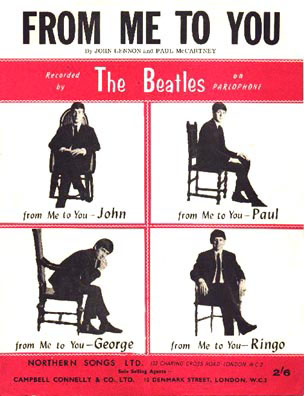 The next verse consists of the Hammond organ solo in the first eight measures and, after the usual break, a full repeat of the final eight measures of the previous verse. Utilizing the first half of a verse for a solo section was not something new in The Beatles cannon, as they performed this trick many times before (such as in "From Me To You" and "A Hard Day's Night"). We then go back into the second verse, once again with the exact same arrangement, until we hear them the title of the song repeated three more times (or two in the mono mix) with the harmonies progressively rising as the song fades away.
Lennon's convincing vocal delivery is the best, and some say only, thing that makes "Mr. Moonlight" work for the group. In fact, it was Lennon who insisted on covering this obscure song as a platform for his lead vocal, which he obviously enjoyed singing. The key was even lowered slightly from G on the original version to an odd F# Major, probably to allow him to hit the high notes better. While the campiness of the song may come across as laughable to some, John's vocal attack and straight delivery gives the proceedings plausibility.
Paul's excellent knack for harmonies comes into play here also, as well as his suitably subdued bass lines. While his Hammond organ chording and solo have been lambasted by authors left and right, describing it as "tasteless," "cheesy" and "gold lame ghastliness," we're so used to hearing it now that it's become an essential ingredient of the song. While both Lennon's and Harrison's guitar work are basically rhythm throughout, Ringo's percussion, whatever he was hitting (my vote is for his tom toms), is played with a highly skillful Latin feel. And let's not forget George's African drum pounds. Job well done, George!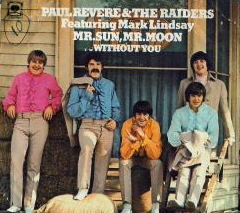 There have been a few songs that have lyrics depicting the singer addressing a heavenly body ("Hey, Mr. Sun" and "Mr. Sun, Mr. Moon" come to mind), but not with the sincerity and gut-wrenching appreciation displayed in "Mr. Moonlight." After all, he came "one summer night" and from his beaming rays he helped the singer find his true love "from the world," although the love they feel for each other came "from above." And while we're not exactly sure why both the singer and his girl want Mr. Moonlight to "come again, please," it is especially urgent, being that he is on his "kness, begging" for his return. Hopefully they're not having relationship problems and in need of his magic "beam" to fix things.
American Releases
Roy Lee Johnson was no doubt very proud to have his composition "Mr. Moonlight" rise from an obscure b-side to appearing on a million selling Beatles album. "Beatles '65," which contains the song, was released on December 15th, 1964, and rose to #1 on the Billboard album chart for nine straight weeks. This album then appeared as an individual compact disc on January 21st, 2014, both the mono and stereo versions of the album contained on a single CD.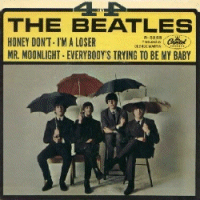 On February 1st, 1965, Capitol Records tried their hand once again at marketing The Beatles with an EP. "4-By The Beatles" contained four songs previously released on "Beatles '65," including "Mr. Moonlight" as the first track of side two. Although the EP only rose to #68 on the Billboard Hot 100, Capitol viewed the experiment as a success, but not one they were willing to repeat. This was the last EP of Beatles material they released.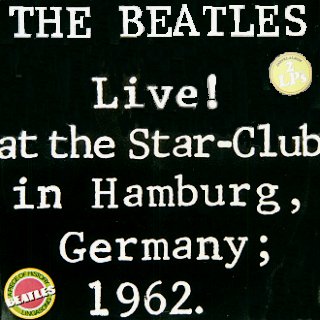 June 13th, 1977 was the next release of the song, albeit a rough live performance in Hamburg, Germany that dated back to the 1962 Christmas season. "Live! At the Star Club in Hamburg, Germany, 1962" was a double-album released on Lingasong Records and charted briefly in the Billboard album chart at #111.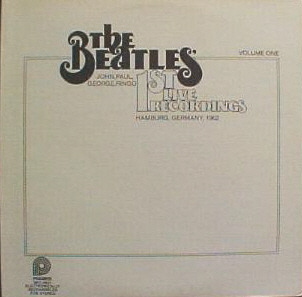 Pickwick Records then obtained the rights to release the above material, supposedly cleaning up the recordings a bit in the process. Sometime in 1978, they released three volumes of albums entitled "Recorded Live In Hamburg 1962," "Mr. Moonlight" being included on "Volume 3." Pickwick then repackaged the material into two volumes in 1979, "1st Live Recordings Vol. 1" containing "Mr. Moonlight." They then released both of these volumes together in a package called "The Historic First Live Recordings" in 1980, which is quite hard to find today.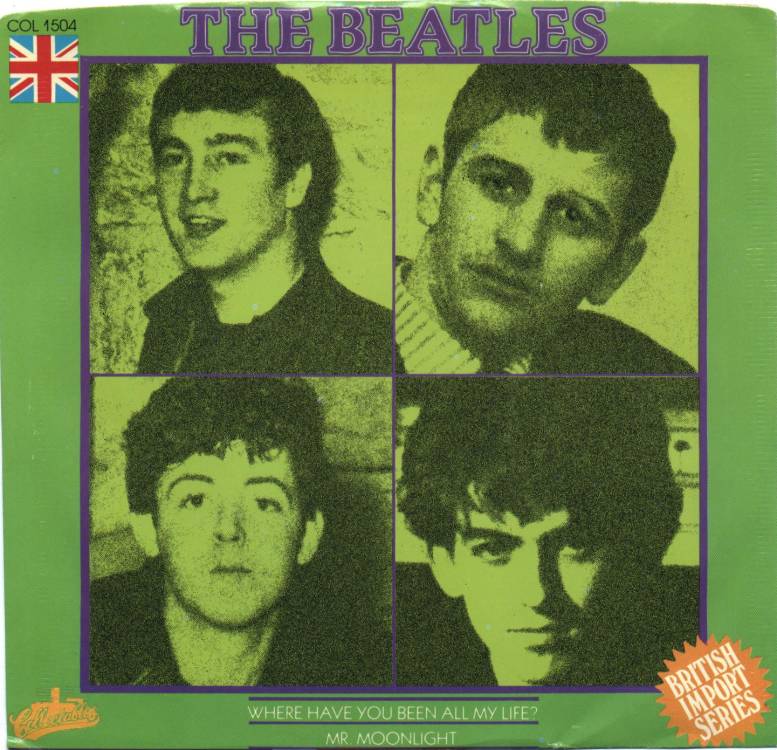 A small record label named Hall Of Music was next to release a double-album of the same Hamburg tapes titled "Live - 1962 - Hamburg Germany," which came out in 1981. Finally, the label Collectables released a series of singles in 1982 featuring these Hamburg tapes, "Mr. Moonlight" being paired with "Where Have You Been All My Life?"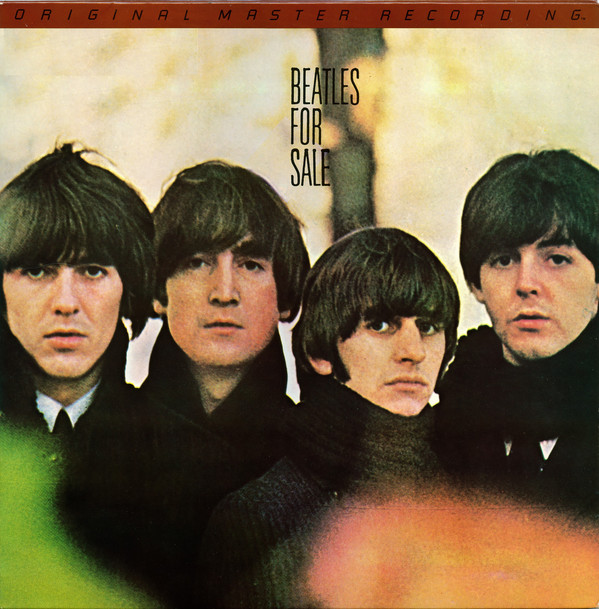 The first time the original British "Beatles For Sale" album was made available in the US was the "Original Master Recording" vinyl edition released through Mobile Fidelity Sound Lab in February of 1987. This album included "Mr. Moonlight" and was prepared utilizing half-speed mastering technology from the original master tape on loan from EMI. This version of the album was only available for a short time and is quite collectible today.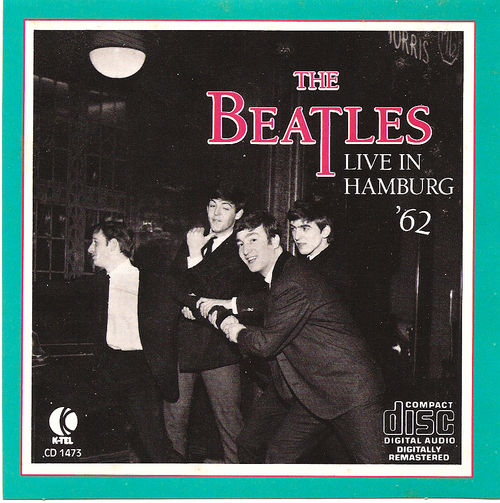 With the dawning of the compact disc era in the 1980's, music fans were eagerly waiting for the delayed release of the Beatles catalog on CD. K-Tel Records thought to cash in on this expectation by releasing "Live In Hamburg '62" in early February 1987, which was just prior to the release of the first four Beatles albums by Apple Records. Many Beatles fans couldn't resist owning a live CD by their favorite group that featured 20 tracks including "Mr. Moonlight," not realizing that this was such a lo-fi rough recording as released many times before on vinyl, as detailed above.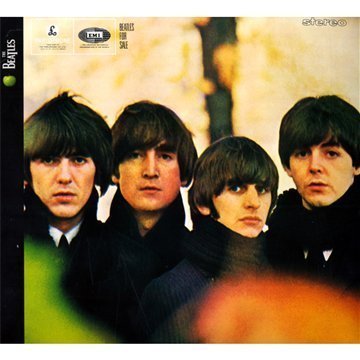 On February 26th, 1987, the original British "Beatles For Sale" album, featuring "Mr. Moonlight," was released for the first time in the US on compact disc, the vinyl edition coming out on July 21st, 1987. While these releases were in mono, a stereo remastered version made its appearance on CD on September 9th, 2009 and on vinyl on November 13th, 2012.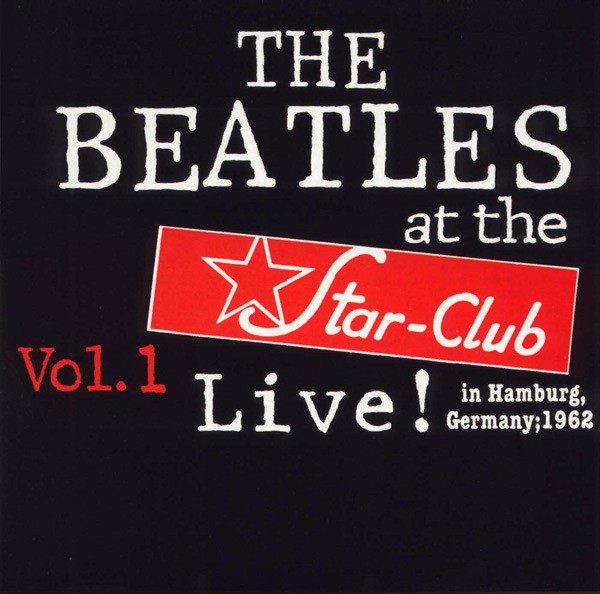 Sometime in 1991, Sony Music took it upon themselves to release two volumes of the above mentioned 1962 Hamburg recordings, "Live! At The Star Club In Hamburg, Germany; 1962 (Vol. 1)" containing "Mr. Moonlight." The release of these volumes prompted legal action from The Beatles, Sony discontinuing production of these volumes because of a lawsuit that had been filed. By 1998, The Beatles had won the right of ownership of these recordings, any releases surfacing after this point being illegally produced bootlegs.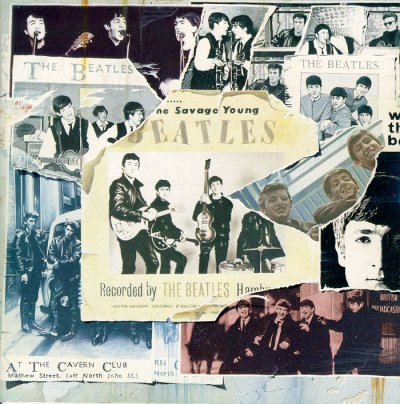 November 21st, 1995 saw the highly anticipated release of "Anthology 1," which contained "take one" and "take four" edited together from the first recording date The Beatles attempted for the song on August 14th, 1964. Take One was John's first attempt at the vocal introduction, after which we hear "take four," which ended up being the one used on the finished master, along with the entire performance of the song.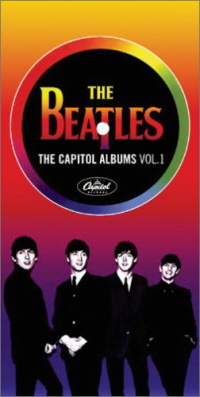 "The Capitol Albums, Vol. 1" was a box set released on November 15th, 2004, which included the first four Capitol albums in both stereo and mono exactly (with a little tweaking) as they were heard in 1964. The original "Beatles '65" album, including "Mr. Moonlight," is heard here in all its original glory.

The original mono mix was also remastered and released in the box set "The Beatles In Mono" on September 9th, 2009.


Live Performances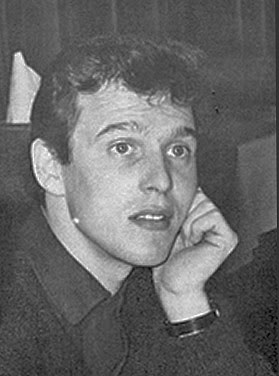 The Beatles became acquainted with "Mr. Moonlight" in June of 1962 while scrounging through the record department of Nems Whitechapel after their return to Liverpool from their third residency in Hamburg, Germany. They immediately learned the song and included it in their extensive performances at the Cavern Club and other local venues, such as the Grafton Rooms in West Derby Rd. on August 3rd, 1962. Many times the song was their opening number, which would command great attention from the crowd. Roadie Neil Aspinall explains: "'Mr. Moonlight was great because there would be this moment of tension in the audience. The song would be announced and everybody knew John would have to start on that note - 'MISTER! Moonlight.' There was no chord to precede it, he had to get it right from nothing." The song was also in the set lists for their final two Hamburg trips, their Star Club performance during the 1962 Christmas season being recorded and available in various releases mentioned above. Noteworthy here is their comedic touch, singing the line "here I am on my knees" as "on my nose."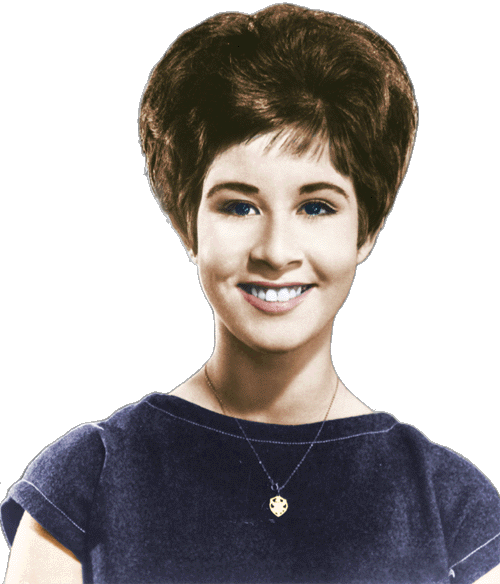 Early 1963 saw them continue their use of the song for their local performances at the Cavern Club and elsewhere. When they started their first national tour with Helen Shapiro in February, their set list was reduced to a small handful thereby dropping "Mr. Moonlight" forever. They never thought to use the song to promote the "Beatles For Sale" album, not even for BBC radio.
Conclusion
"Mr. Moonlight" has been described quite disparagingly by authors and fans alike, suggesting it as "the weakest track The Beatles ever recorded" and as the song "everyone loves to hate." In the company of rockers like "Kansas City" and "Rock And Roll Music," which they also decided to cover for this album, "Mr. Moonlight" does seem a little too campy for their tastes.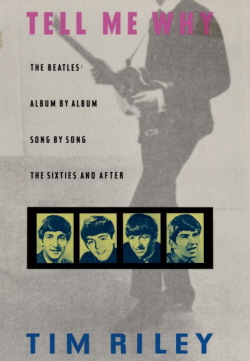 What most people fail to realize is, not only were The Beatles proud of the obscure tracks they unearthed, the sense of humor is very much on display in this song. How much of "Mr. Moonlight" was done 'tongue-in-cheek' is hard to tell, but an examination of the ingredients that make up the performance is very telling. For instance, the straight impassioned vocal delivery from Lennon, the African drum bursts from Harrison, the monotone background harmonies, and the "cheesy" organ solo all demonstrate the gaudiness of the track. As author Tim Riley states in his book "Tell Me Why": "By taking the whole thing so seriously, they actually make it hysterical."



Song Summary
"Mr. Moonlight"
Written by: Roy Lee Johnson
Instrumentation (most likely):
John Lennon - Lead Vocals, Rhythm Guitar (1964 Gibson J-160E)
Paul McCartney - Bass Guitar (1963 Hofner 500/1), Organ (Hammond RT-3 w/ Leslie 145 cabinet), backing vocals
George Harrison - Lead Guitar (1963 Gretsch 6122 Country Gentleman), African drum, backing vocals
Ringo Starr - Percussion (possibly bongos, packing case, guitar case, or drum kit - 1964 Ludwig Super Classic Black Oyster Pearl)
Written and compiled by Dave Rybaczewski
IF YOU WOULD LIKE TO MAKE A DONATION TO KEEP THIS WEBSITE UP AND RUNNING, PLEASE CLICK BELOW!