Search by Keyword
"ANNA (Go To Him)"
(Arthur Alexander)
In The Beatles Anthology program, McCartney states that the Beatles thought of themselves as an "R & B combo." This fact isn't more noticeable than in this first of their cover songs ever to be heard on American shores. The influence of rhythm and blues artists, such as Arthur Alexander, was immense on The Beatles, especially concerning John Lennon whose lead vocal contributions their cover of Arthur Alexander's "Anna" show that he was well rehearsed in capturing the intensity and warmth of the original recording. In an interview in 1987, McCartney actually goes as far as saying that in the early days, The Beatles "wanted to be like Arthur Alexander."
On a historic level, we will also focus on the little known fact that this song, in its single form, has appeared to be the rarest of all US Beatles records, at one point fetching up to $15,000 per copy!
Songwriting History
Arthur Alexander, who hailed from Florence, Alabama, became one of the biggest recording artists in the country-soul genre. His claim to fame on the Billboard Hot 100 was his hit, "You Better Move On," which peaked at #24 in April of 1962 (and was covered by The Rolling Stones). During The Beatles search for songs to perform in their "stage act," they were keen to learn songs that no one else was doing. Hence, many b-sides of records they admired became part of their live performances at the Cavern Club, in Hamburg and elsewhere. The b-side to "You Better Move On" was "A Shot Of Rhythm And Blues," which The Beatles performed live on stage as well as on BBC radio. (Their version of this song is available on their album "Live At The BBC.") Arthur Alexander's next single, "Where Have You Been All My Life" failed to make the US Top 40, but its b-side, "Soldier Of Love" was also performed by The Beatles live as well as on the BBC (also available on "Live At The BBC").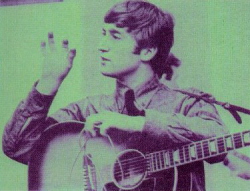 Arthur Alexander's next single, the self-penned "Anna (Go To Him)" (Dot Records #16387), named after Arthur's real-life wife Ann, became a Top 10 hit on the Billboard R&B charts (#68 on the pop chart), and made a big enough impact on The Beatles, especially John Lennon, to suggest that the song be recorded for their first British album, "Please Please Me." Arthur chose "Anna" for the title of the song simply because "it just fit better than Ann," as quoted in Richard Younger's 2000 biography, "Get A Shot Of Rhythm And Blues: The Arthur Alexander Story." Arthur based the song on how, during the early part of his relationship with his girlfriend and future wife Ann, her former boyfriend, who hailed from a wealthy family, fought to win her back. Ann had apparently not been unfaithful to Arthur throughout their marriage, but he felt that she regretted not getting back with her former boyfriend, whom had moved on after some time. As events turned out, Arthur's paranoia seemed to have ruined his relationship with Ann, their marriage eventually ending in divorce.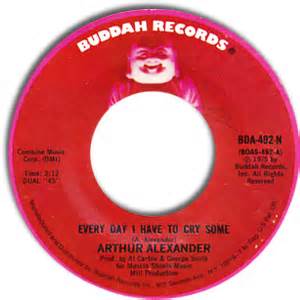 Arthur Alexander's R&B chart career continued off-and-on for many years, but without cracking the Billboard Top 40 again. His closest attempt was in 1975 with a remake of an earlier self-penned song, "Every Day I Have To Cry Some" released on Buddah records, which he never received any money for even though it peaked at #45 on the Billboard pop chart. Shortly after this, despite his repeated chart success over the years, Arthur Alexander dropped into obscurity. He had been struggling financially throughout his career and felt it was time to retire from the music business, becoming a bus driver in Cleveland, Ohio for a local social service organization.
After being tracked down by former musician friends he had recorded with in Muscle Shoals, Alabama in the '60s, he was encouraged to make a comeback. He recorded the album "Lonely Just Like Me" in 1993, but suffered a fatal heart attack in June of that year, three days after a performance in Nashville, Tennessee.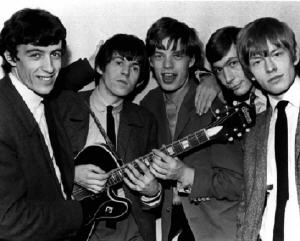 His legacy, although not widely known, is accented by cover versions of his material throughout the years. In 1963, Steve Alaimo's version of his song "Every Day I Have To Cry" (referred to above as "Every Day I Have To Cry Some") peaked at #46 on the US Billboard chart, thus keeping his career going through songwriting royalty payments. And being a singer / songwriter whose material has been covered by such noteworthy artists as The Rolling Stones, The Who, Esther Phillips, Joe Tex, Marshall Crenshaw, Bob Dylan, Pearl Jam, Ry Cooder, and of course The Beatles, definitely adds great credibility to his career. Even though his later career went largely unnoticed, respect from those who were acquainted with his work was abundant, as evidenced by John Lennon having several Arthur Alexander singles in his jukebox at the Dakota in New York City, as did George Harrison's jukebox at his "Friar Park" home in Henley-On-Thames in Oxfordshire, England.
Recording History
This song was also one of the ten songs recorded on that historic day of February 11th, 1963, the day chosen to produce the first Beatles album, "Please Please Me." The third of three sessions that day (the evening session) was held between 7:30 and 10:45 pm at EMI Studio Two. Keep in mind that they had been recording since 10 am with only two 1 and 1/2 hour breaks in between. But those weren't even breaks for The Beatles since they were determined to keep practicing while George Martin and his staff took their breaks.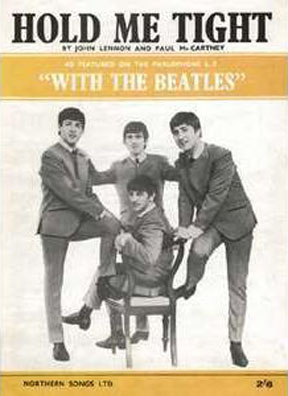 While just over two hours remained for the day's session, The Beatles still had half an album to record. So they got to work right away, but unfortunately they were off to an unproductive start. They tried, frustratingly, to record a McCartney / Lennon song entitled "Hold Me Tight," going through 13 takes of the song, which took up a lot of time. After many false starts, breakdowns, and edit pieces, only two complete versions were performed. It is estimated that about 40 minutes or so were wasted with this song that never did make it on the album. (It was redone for their next British album "With The Beatles.")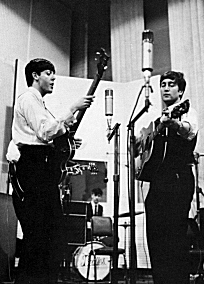 With that out of the way, and the pressure on, they started work on five cover versions of songs they had been performing on stage. The first one recorded was "Anna (Go To Him), which was probably started around 8:15 pm. John, as lead vocalist, had a bad cold on this day, which can be detected on the recording because of him singing it slightly above his normal vocal range, his delivery acheiving critical approval throughout the decades. Since The Beatles already had the song's arrangement rehearsed, they went through three complete takes of the song, "take three" being deemed the best. This was a completely live performance with no overdubs or edits needed.
Both the mono and stereo mixes of the song, as well as the rest of their first album, were created on February 25th, 1965 in the control room of EMI Studio One by George Martin and engineers Norman Smith and A.B. Lincoln.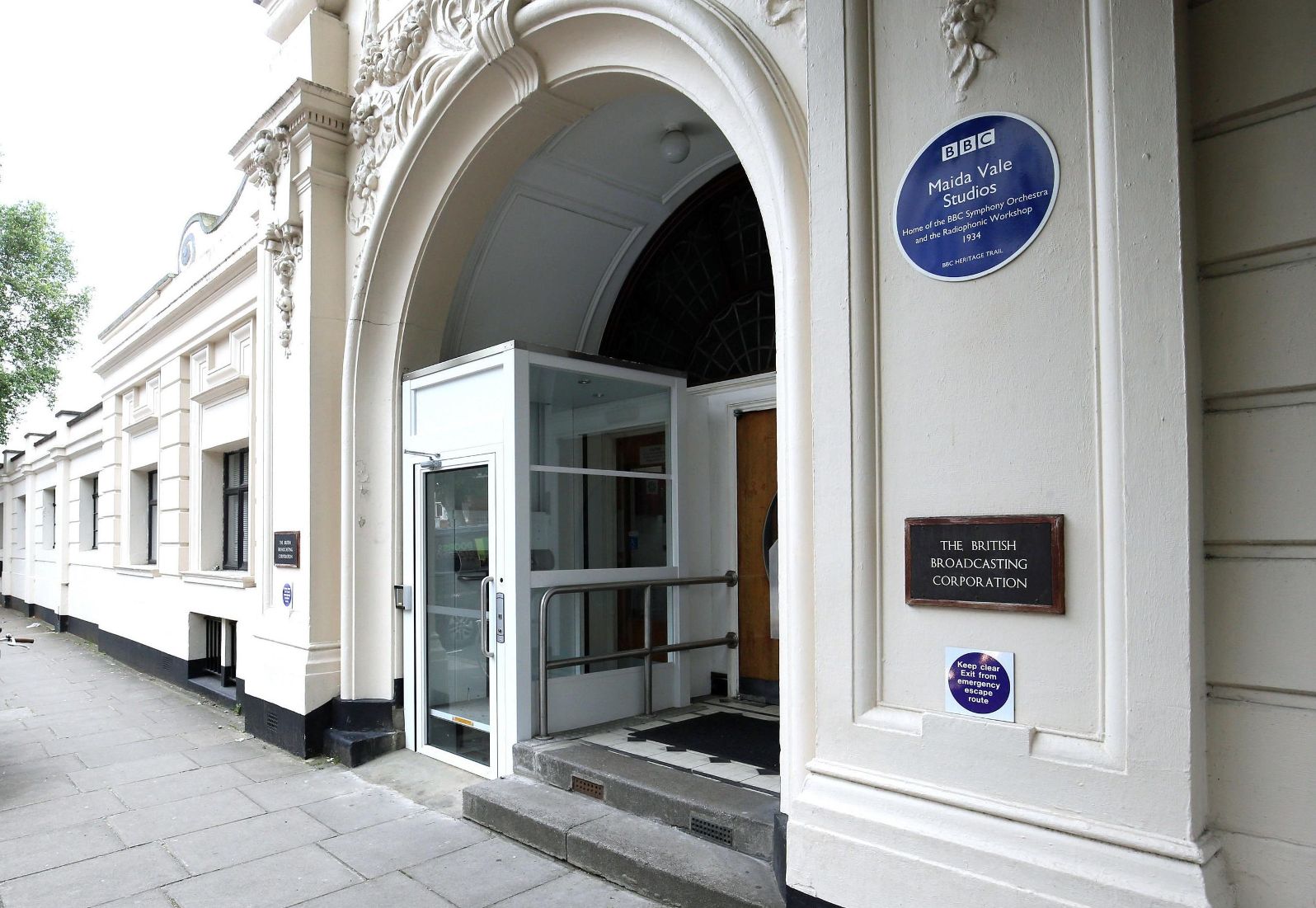 "Anna (Go To Him)" was recorded three more times by The Beatles. The first was on April 4th, 1963, a surprisingly clear private recording of the song being made by John Bloomfield, a fifteen-year-old student in the audience of Stowe School at Roxburgh Hall in Stowe where The Beatles performed 22 songs between 6:30 to 7:30 pm. The following two recordings of "Anna" were done for BBC Radio, the first being on June 17th, 1963 in Studio Five of Maida Vale Studios in London between 10:30 am and 1 pm. This was for the fourth edition of "Pop Go The Beatles," which was produced by Terry Henebery and broadcast on June 25th between 5 and 5:29 pm. The second BBC recording of the song was on August 1st, 1963 at Playhouse Theatre in Manchester between 1:30 and 4 pm for 11th edition of the series "Pop Go The Beatles." This recording was produced by Ian Grant and was aired on August 27th of that year between 5 and 5:29 pm, this apparently being the last time The Beatles ever played "Anna (Go To Him)."
Song Structure and Style
The song was written in one of the most established formulas of popular music of its time. It was written in the 'verse/ verse/ bridge/ verse' style (or aaba) which does not have a repeatable chorus. As with the original version of this song, The Beatles opted not to include a solo of any kind, which after the last verse, allows for an immediate repeating of the bridge and final verse. In this case, it is not the title of the song that is found at the end of each verse, but the subtitle, or hook-line, which is "go with him." Interestingly, music critic Dave Marsh, in his 2000 work "The Heart Of Rock And Roll," suggests that John Lennon may very well have learned to sing ballads like "In My Life" by listening to Arthur Alexander's singing style on this song.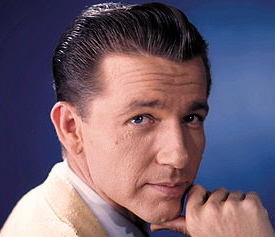 The song begins with a four measure instrumental introduction highlighted by George Harrison playing the piano riff heard on the original record (played by Floyd Cramer) very convincingly on his electric guitar while Ringo plays a drum rhythm not unlike the one heard two years later on "Ticket To Ride." Note the squeaky bass drum pedal which can be especially heard during the introduction, although it can be detected throughout the song. George Martin, when interviewed in 1987 concerning the album's first CD release, related that if he would have realized how closely scrutinized this album would have been so many years later, he would have done something about the squeaky drum pedal.
The Beatles give careful detail to the most intricate characteristics of the song, which shows how rehearsed and "fresh in their minds" it was. Lennon's vocal style is his precise interpretation of the original, as Arthur Alexander was known as one of his favorite singers. Note the pronunciation of certain words, which turns, for instance, "more" into "mo," as Lennon continued to be inspired to sing throughout the next couple of years (evidenced in "I Should Have Known Better", "When I Get Home" and "No Reply").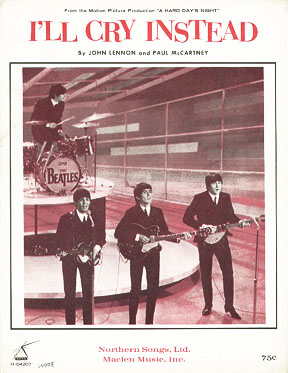 Note also the lyrical phrasing of the word "girl" which habitually appears at the end of many lines. Lennon, by inspiration, copies this style in his songwriting as well (evidenced in "Please Please Me" and "Thank You Girl"). As the first verse ends, we hear George and Paul copy the intricately hushed backing vocals, giving more evidence of precise detail. As the climactic bridge begins, the background vocals harmonize, sometimes slightly off key, while Lennon excitingly tackles the emotion of the lyrics that depict supreme self-pity, this reflecting his personal life experience with romance. This he is also inspired to continue in his future songwriting, for instance, in "I'll Cry Instead" and "I'm A Loser." He then concludes this emotive bridge with his catch-in-the-throat "oh-oh-oh-oh's" escalating downward to the last verse, which lyrically finalizes the relationship with the "give back your ring" line and the evidence of conceding to the other guy. The emotional punch of these lyrics, as well as the convincing delivery of The Beatles, brings this R&B standard to an audience who otherwise would have never experienced it.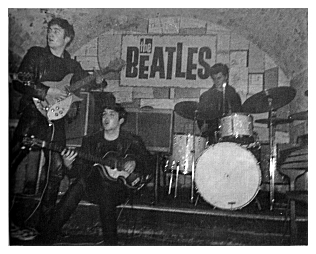 It's important to note once again that this was a live recording, just as they had rehearsed, with no edits or overdubs. One can only imagine the impact a performance of this caliber would have on a live audience at the Cavern Club in Liverpool, which would make this band stand head-and-shoulders above the other "beat" group competition floating around the clubs in the early '60s. And since the original was released in September of 1962, not all that much time had transpired to allow them to perfect the song in this way and to make it their own. This shows the dedication The Beatles had when they felt strongly enough about a good song.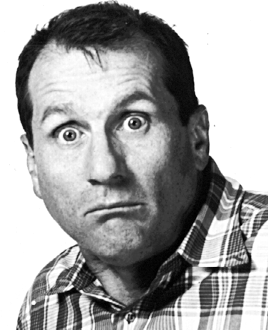 The test of a good song is also when you can retain the melody in your memory after being heard. This is the case with "Anna," as evidenced in the television show "Married…With Children." A classic episode of this show, "Oldies But Young'uns," shows character Al Bundy with this song "stuck in his head," but not being able to remember the words or identity.
American Releases
The first US appearance of the song "Anna" was on the album "Introducing…The Beatles" when it was finally released on January 10th, 1964, which peaked at #2 on the Billboad album chart just under Capitol's "Meet The Beatles!" at #1. The next US appearance was on the Vee-Jay EP, "The Beatles – Souvenir of Their Visit To America," which was released on March 23rd, 1964 in celebration of their first US visit in February. Both of these Vee-Jay releases, in their original form, are quite the collectors items today.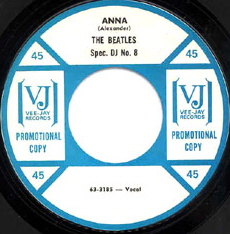 The next release of "Anna" appeared in the abortive intention of Vee-Jay featuring the song as a single. They printed a limited edition of test copies of a disc jockey promotional single pairing "Anna" with "Ask Me Why" (VJDJ #8). Being that Vee-Jay records had been primarily an R&B label, they may have been impressed enough with The Beatles' rendition of this rhythm and blues classic to feature it as a single. The numbers etched in the trail-off area of the single pre-date the February release of their single "Twist And Shout," so we can easily date the pressing of these promotional singles to February of 1964. Vee-Jay apparently decided to scrap this idea and release "Twist And Shout" as a single instead, possibly with the knowledge that this song was to be featured on the February 23rd, 1964 Ed Sullivan Show. An interesting note concerning this DJ single is that there are so far only four copies found to be in existence. This makes the Vee-Jay promotional single of "Anna / Ask Me Why" one of the rarest of all US Beatles records.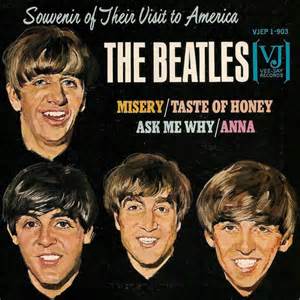 The next US appearance of "Anna" was on the Vee-Jay EP "The Beatles - Souvenir Of Their Visit To America," which was released on March 23rd, 1964 in celebration of their first US visit in February. Despite the fact that this EP had reportedly sold 78,800 copies, it did not make an appearance on the US Billboard chart because a sizable portion of these copies were sold through mail order offers.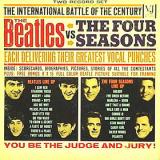 Then came the Vee-Jay double-album compilation "The Beatles vs. The Four Seasons," released on October 1st, 1964, which coupled The Beatles album with "The Golden Hits of the Four Seasons." The next appearance came less than two weeks later with another repackage of the Vee-Jay album under the name "Songs, Pictures And Stories Of The Fabulous Beatles," released on October 12th, 1964 and peaked at #63 on the US Billbaord album chart. Since Vee Jay records closed their doors in May of 1966, legitimate copies of both of these albums also bring high price tags for collectors.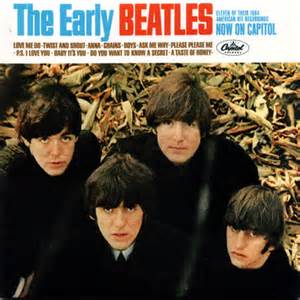 The next US appearance of the song then takes us to March 22nd, 1965, when Capitol records turned its attention to the early Beatles catalog with their release, "The Early Beatles." Being a part of this collection ensured that "Anna (Go To Him)" would be available to all Beatles fans to this day and beyond. Interestingly, Capitol didn't utilize the official EMI mono mix for the mono version of this disc but instead created their own "type B" foldover mono mix by combining both channels of the stereo mix. Therefore, the superior mono mix created by George Martin on February 25th, 1963 was not available in America for a long time. This album then appeared on an individual CD on January 21st, 2014, this CD containing both the original US 1964 mono and stereo mixes on one disc.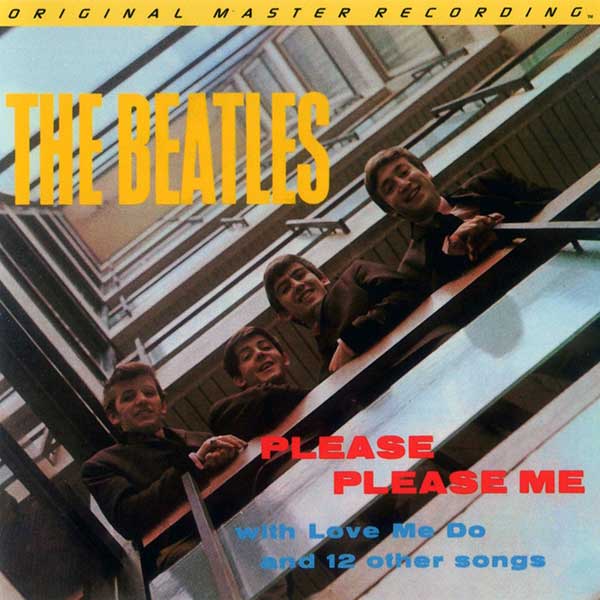 The first time the original British "Please Please Me" album was made available in the US was the "Original Master Recording" vinyl edition released through Mobile Fidelity Sound Lab in January of 1987. This album included "Anna" and was prepared utilizing half-speed mastering technology from the original master tape on loan from EMI. This version of the album was only available for a short time and is quite collectible today.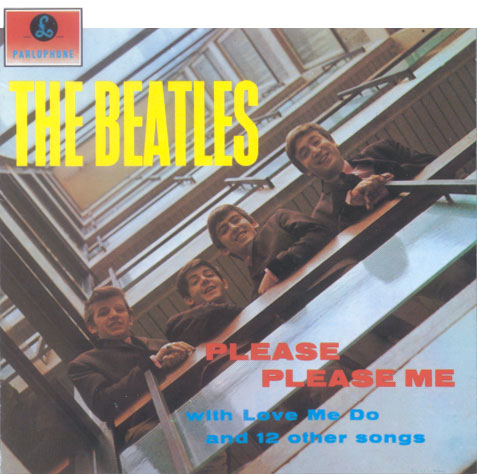 On February 26th, 1987, however, the original British "Please Please Me" album, containing "Anna," was released on compact disc for the first time, a vinyl version coming out on July 21st, 1987. This was only available in mono at the time of release and fortunately contained the excellent George Martin mono mix from February 25th, 1963. The album was then remastered in stereo and was released on CD on September 9th, 2009 and on vinyl on November 13th, 2012, restoring the original stereo mix of the song.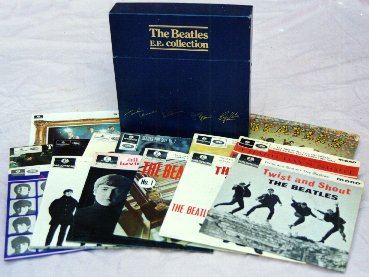 Capitol released the box set "Compact Disc EP Collection" on June 30th, 1992 which contained "Anna" due to its inclusion on the original British EP "Beatles No. 1."
On April 11th, 2006, the box set "The Capitol Albums, Volume 2" was released, which contains all four Beatles albums released in 1965. "The Early Beatles" was therefore contained in this set, including the song "Anna" in both stereo and "Type B" foldover mono as originally contained on the 1965 Capitol album.
The song was also included in a box set entitled "The Beatles In Mono," which was released on September 9th, 2009 and contained the entire EMI Beatles catalog in its original mono state.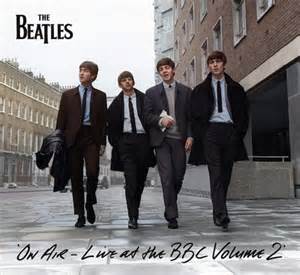 On November 11th, 2013, the album "On Air - Live At The BBC Volume 2" was released, which features an interesting version of "Anna" as recorded on August 1st, 1963 for the radio program "Pop Go The Beatles." This recording shows how the song became more comfortable for the group as time progressed, John's vocal delivery being near-flawless and Paul's bass work, very clear in this recording, being performed beautifully, not to mention the absence of the squeaky drum pedal! Also released around this date was a 14-track sampler of the above album for promotional purposes, "Anna" being included therein.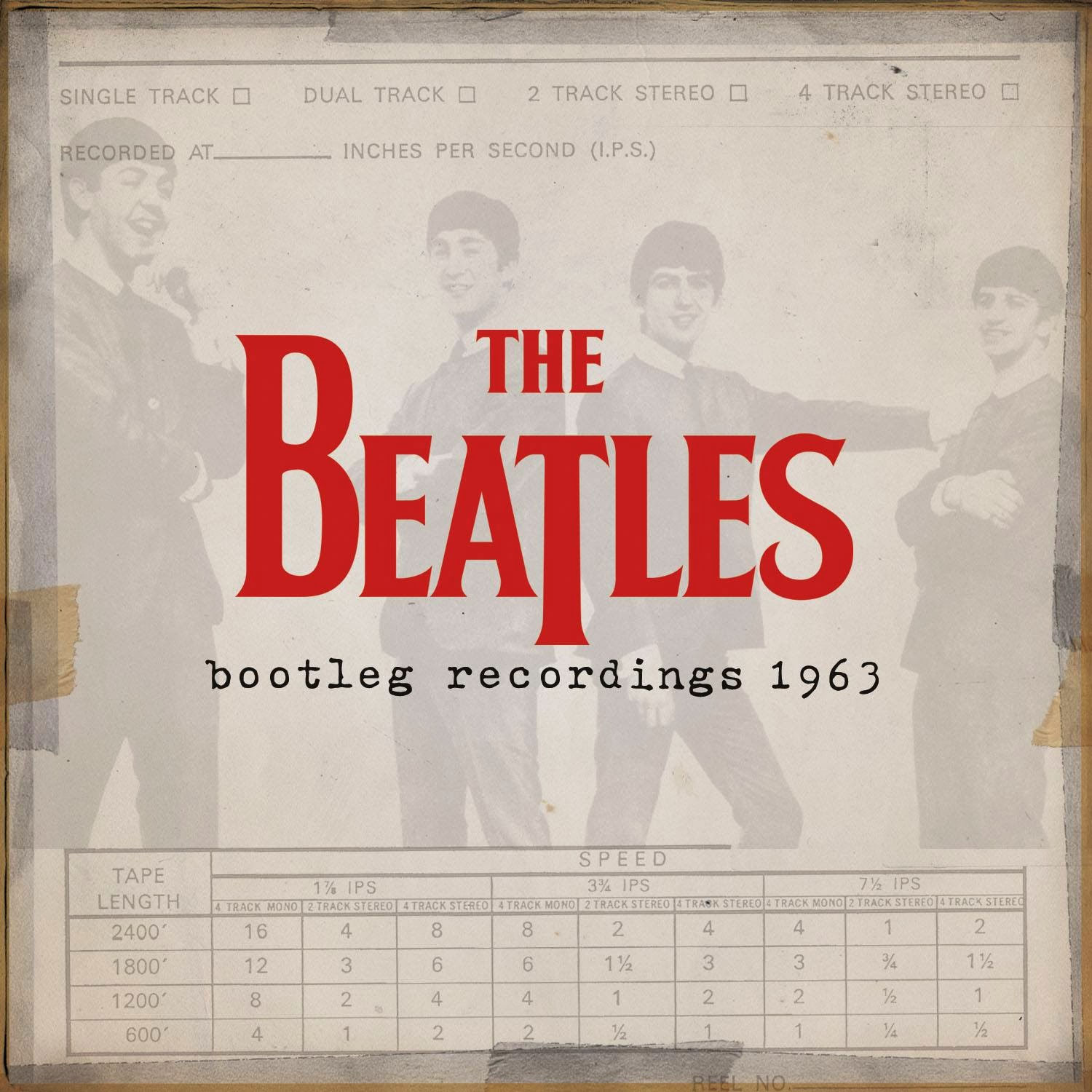 On December 17th, 2013, iTunes released a 59 track compilation album entitled "Bootleg Recordings 1963" only available on their downloading platform, their BBC June 25th, 1963 performance of "Anna" for the program "Pop Go The Beatles" being included therein. The purpose of this release was to extend the copyright of these recordings under European Union law from 50 years (which would have expired at the end of 2013) to 70 years (until 2033), this being considered an official release. This compilation album was only available in the US on that date to those in the know for a number of hours for $39.99 in its entirety or to be purchased as individual tracks, but was later made available for purchase as well.


Live Performances
The Beatles discovered "Anna" in December of 1962 while filing through new releases at Brian Epstein's "NEMS" record department. They quickly worked up an arrangement to compensate for the instruments used on the original, the piano parts being played on guitar and the string section of the bridge being replaced by Paul and George singing a sustained "aaah."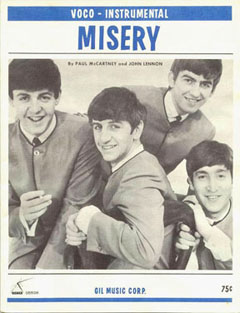 The song was not only a favorite of John's but of George's as well, fans sending up requests to the stage that read: "Please sing 'Anna' for George.'" They loved playing the song live and did so exhaustively between December, 1962 and January, 1963, locally and during their final Hamburg trip at the end of 1962. Therefore, they knew the song very well by the time the February recording date at EMI Studios came along. However, the song was performed only sparingly after this time, as it was not included in any of their national British tours of 1963 and thereafter absent from their set lists. They preferred to perform other tracks from their first album, such as "Misery" and "Baby It's You," as late as June of 1963, as well as the non-recorded track "Some Other Guy."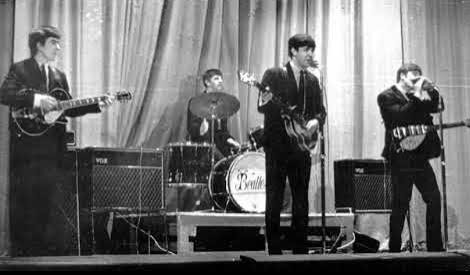 One time that they did perform "Anna" in 1963 was on April 4th during a unique hour-long concert at Roxburgh Hall, Stowe School in Stowe, Bucks, which was an all-boys school with minimal screaming girls in attenadance. As detailed above, "Anna" was among the 22 Beatles' songs performed on this day, this being only two weeks after their version was released on the "Please Please Me" album.
Conclusion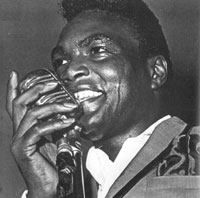 The music of Arthur Alexander, it is claimed, shaped the British Invasion of 1964. This is suggested because of his music being covered by The Rolling Stones and The Beatles during the early stages of their careers. Both bands have also acknowledged through the years that the country / R&B style of his music greatly influenced theirs. This is evidenced by the information above in which, despite having a particularly heavy cold that day, John Lennon gives the vocal performance of his life. Second only to "Twist And Shout," which was also recorded that day, this was arguably Lennon's best vocal performance on the album.
The sheer exuberance of the performance by the band (not just Lennon) shows the great respect they had for the song, which drove them to adapt musically to the original as well as mimic vocally as best as they could. Upon listening, you could tell that they took the task of recording this song very seriously, which was an excellent counterpoint to the previous lighthearted song, "Misery." "Anna (Go To Him)" by The Beatles, therefore, goes down in recording history as a testament to a great, but highly unnoticed, rhythm and blues singer / songwriter, Arthur Alexander.


Song Summary
"Anna (Go To Him)"
Written by: Arthur Alexander
Song Written:

August 1962 (approx.)
Song Recorded:

February 11, 1963
First US Release Date:

January 4, 1964
First US Album Release:

Vee Jay #VJLP 1062 "Introducing…The Beatles"

US

Single Release:

Vee Jay #VJDJ#8

(promotional disc jockey release)
Highest Chart Position:

n/a
British Album Release:

Parlophone #PCS3042 "Please Please Me"
Length:

2:57
Key:

D major
Producer: George Martin
Engineers: Norman Smith, Richard Langham
Instrumentation (most likely):
John Lennon –

Lead Vocals, Rhythm Guitar (1962 Gibson J160E)
Paul McCartney - Bass Guitar (1961 Hofner 500/1), Background Vocals
George Harrison – Rhythm Guitar (1957 Gretsch Duo Jet), Background Vocals
Ringo Starr – Drums (1960 Premier 58/54 Mahogany)
Written and compiled by Dave Rybaczewski
IF YOU WOULD LIKE TO MAKE A DONATION TO KEEP THIS WEBSITE UP AND RUNNING, PLEASE CLICK BELOW!
Sign Up Below for our MONTHLY BEATLES TRIVIA QUIZ!