Search by Keyword
"CHAINS"
(Gerry Goffin - Carole King)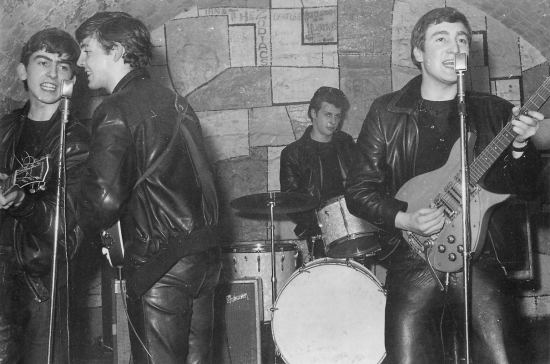 In their lean, early years, The Beatles were always on the hunt for new music to learn in order to perform it in their "stage act." Through those early times, as they gained confidence and exposure, they became quite in high demand locally, as well as in Hamburg, Germany. Being regulars at clubs such as the Cavern Club, the Jacaranda, the Indra, the Top Ten, the Kaiserkeller, the Star-Club, as well as other dance halls and special engagements, many long hours of entertainment were required of the band, most times for many days or nights in a row.
Therefore, a large repertoire of material needed to be continually learned in order to keep their regular following, as well as their growing audience, coming back for more. This gave The Beatles the opportunity to perform the music that they loved, from the greats of rock and roll as well as rhythm and blues. The music of Elvis, Chuck Berry, Carl Perkins, Little Richard, Arthur Alexander, Larry Williams, Eddie Cochran, Gene Vincent and Ray Charles was to be regularly heard in their set list on any given night.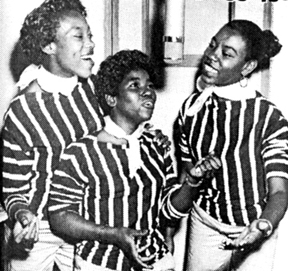 The American girl group The Cookies probably wouldn't fit into anyone's list of favorite rock and roll groups, as it surely didn't with The Beatles either. But The Beatles could definitely recognize a well written pop standard when they heard it. "With our manager Brian Epstein having a record shop - NEMS - we did have the opportunity to look around a bit more than the casual buyer," stated Paul McCartney in the liner notes of the album "On Air - Live At The BBC Volume 2." These liner notes also indicate that it was George Harrison, not Paul, who saw the potential in The Cookies' single "Chains" and thereby purchased the record at "NEMS" record shop in December of 1962. By January 16th, 1963, they had already perfected the song enough to perform it for BBC radio. Therefore, in the last gasps of their Cavern Club days, they added the song "Chains" to their, by now, huge repertoire. Being fresh in their minds, it was chosen to grace their first British album "Please Please Me" as well as their first American LP.
Songwriting History
Gerry Goffin and Carole King were songwriting partners who worked in the legendary Brill Building in New York City. The Brill Building was a center of activity for the popular music industry, especially in regards to music publishing and songwriting. It housed a large group of songwriting teams, mostly duos, that enjoyed immense success and who collectively wrote some of the biggest hits of the '60s.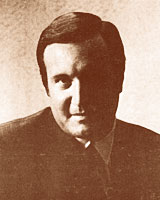 Carole King met Gerry Goffin while attending Queens College and they decided to become songwriting partners. They eventually married and, after being hired as professional songwriters at the Brill Building, they began to write a long string of successful hit songs, beginning with "Will You Love Me Tomorrow" by The Shirelles. After this topped the Billboard pop charts, their credibility as a pop songwriting team put them in high demand, as well as increasing the pressure from song publisher Don Kirshner to churn out more hits for his clients. In the process, they racked up an unprecedented string of hits for many artists until their divorce in 1968. Their most identifiable hits included "The Loco-Motion," "Take Good Care Of My Baby," "One Fine Day," "Up On The Roof," "(You Make Me Feel Like) A Natural Woman," "I'm Into Something Good," "Go Away Little Girl" and The Monkees' hit "Pleasant Valley Sunday." A minor triumph for them was placing their song "Chains" with the girl group The Cookies in the fall of 1962.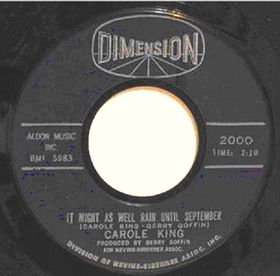 Unlike other Brill Building songwriters like Neil Sedaka and Neil Diamond, Carole King had a difficult time translating her successful songwriting into a successful recording career. Her answer song to Neil Sedaka's Top 10 hit "Oh Carol" (entitled "Oh Neil") didn't make any waves on the charts. She did have a modest hit with "It Might As Well Rain Until September," which peaked at #22 on the pop charts in 1962, but other than this, her recording career was put on hold in the '60s.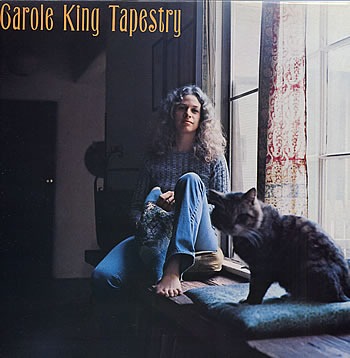 The '70s proved to be a different thing entirely. Starting with her 1971 album "Tapestry," her recording career blossomed. "Tapestry" has sold over 22 million copies worldwide and includes her #1 smash "It's Too Late" as well as her version of the groundbreaking James Taylor hit "You've Got A Friend." Carole continued a successful chart career throughout the '70s and early '80s.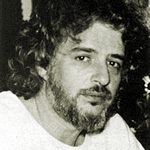 Gerry Goffin, who divorced Carole King in 1968 after becoming the parents of future singer-songwriter Louise Goffin, has continued a career in the music industry well into the 21st century. He continued collaborating with Carole after their divorce but also worked with many other songwriters, such as Barry Goldberg and Michael Masser. Later Top 10 hits composed by Gerry Goffin include "I've Got To Use My Imagination" by Gladys Knight and The Pips, "Theme From Mahogany" by Diana Ross, "Saving All My Love For You" by Whitney Houston and "Miss You Like Crazy" by Natalie Cole. Gerry Goffin was also one of the first people in the music business to notice the talents of Kelly Clarkson whom he hired to do demo work before she auditioned for the famous US television show American Idol in 2001. Gerry Goffin unfortunately passed away on June 19th, 2014 at the age of 75.
Having The Beatles record a Gerry Goffin and Carole King song does not necessarily add too much weight to their career resume. Your average Beatles' fan may not even be aware that they recorded "Chains" or that it was written by Gerry Goffin and Carole King, being that radio airplay of the song has been next to non-existent in the US (or anywhere else for that matter). On the other hand, The Beatles choosing to perform and record this song shows early on how they could recognize the talent of a potentially prolific and credible songwriting team. In fact, it has been said that Gerry Goffin and Carole King were very inspirational to Lennon and McCartney in their formative songwriting years. McCartney has been quoted as saying that he wishes he could write as well as Goffin and King.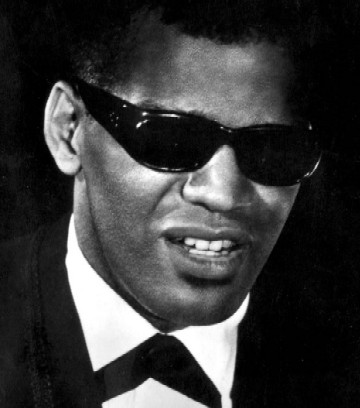 The Cookies, who recorded the song, got their start in Brooklyn, New York, where they began their recording career in 1954. Signed to Atlantic Records, they scored a Billboard Top Ten R&B hit in 1956 with "In Paradise." While recording for Atlantic, they were hired to sing background vocals for many artists on the label's roster including Ray Charles, with whom they accepted an offer to become his regular back-up singers, changing their name to The Raelettes.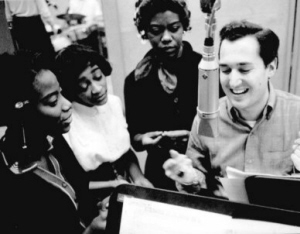 They were soon discovered by Neil Sedaka who used them as background vocalists on some of his songs, which led to their being enticed by Don Kirshner to join his publishing company, Aldon Music, where they continued to do background vocals for artists such as Little Eva. Six years later, once again with the name The Cookies, they were signed to the Dimension record label, recording songs written by songwriters at the Brill Building. They recorded a number of songs written by Gerry Goffin and Carole King, the single "Chains" being released in November of 1962. This was their first entry on the Billboard pop chart, peaking at #17 in late December of 1962, reaching #6 on Billboard's "Hot R&B Singles" chart and #4 in Canada. "Chains" was originally recorded by The Everly Brothers in July of 1962 but was never released by the duo. The Cookies' biggest US hit was another Gerry Goffin / Carole King composition, "Don't Say Nothing Bad About My Baby," which peaked at #7 in April of 1963. They had only one more hit in early 1964 ("Girls Grow Up Faster Than Boys," #33) before their pop chart history succumbed to the British Invasion.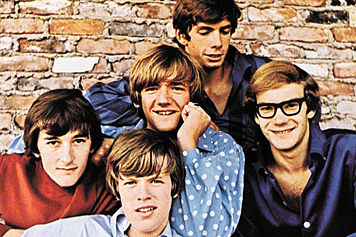 Earl-Jean McCree, one of the members of the Cookies, went solo later in 1964 and had one pop hit, the Gerry Goffin / Carole King penned "I'm Into Something Good," which peaked at #38 in August of that year. But, once again, the British Invasion dominated as Herman's Hermits took the same song a couple of months later into the Top 20 to launch their extensive US chart career. The Cookies then reformed and released their last, but unsuccessful, record on Warner Brothers in 1967.
Recording History
The first time The Beatles recorded "Chains" in a recording studio was on January 16th, 1963 at Playhouse Theatre in Manchester for the BBC radio show "Here We Go," this being three-and-a-half weeks before they officially recorded the song in EMI Studios. This live recording took place between 8:45 and 9:30 pm and was broadcast in Britain on January 25th of that year between 5 and 5:29 pm.

"Chains" was then one of the ten songs recorded on that historic day of February 11th, 1963, the day chosen to produce the first Beatles album, "Please Please Me." The third of three sessions that day (the evening session) was held between 7:30 and 10:45 pm at EMI Studio Two. Of the six songs hurriedly recorded during this evening session, "Chains" was the fourth. Since George Harrison sang lead vocals on this song, this being the fourth track on their debut album, this was the first song that many Beatles' fans became acquanited with George's vocal abilities.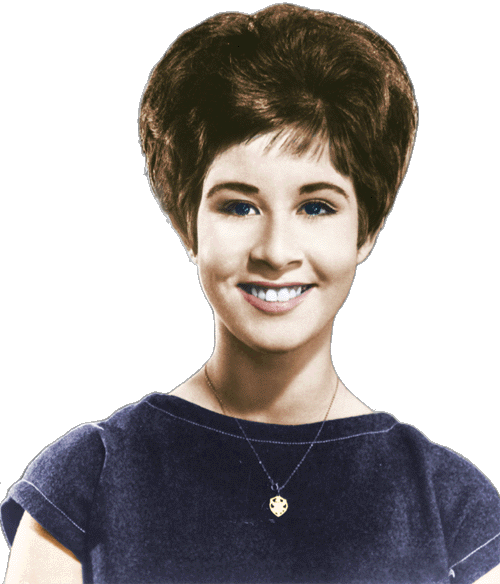 Just over three hours were required to finish the album at this point, being that The Beatles had to immediately go back on the road the next day to continue their first national tour with Helen Shapiro. Between approximately 9 and 9:30 pm, four takes of the song were performed, although "take one" was deemed the best. This was a fully live recording with no overdubs or edits. The faded ending to the song was done on February 25th, 1963 during the remix stage.
Both the stereo and mono mixes of the song, as well as their entire first album, were created by George Martin and engineers Norman Smith and A.B. Lincoln on February 25th, 1963 in the control room of EMI Studio One.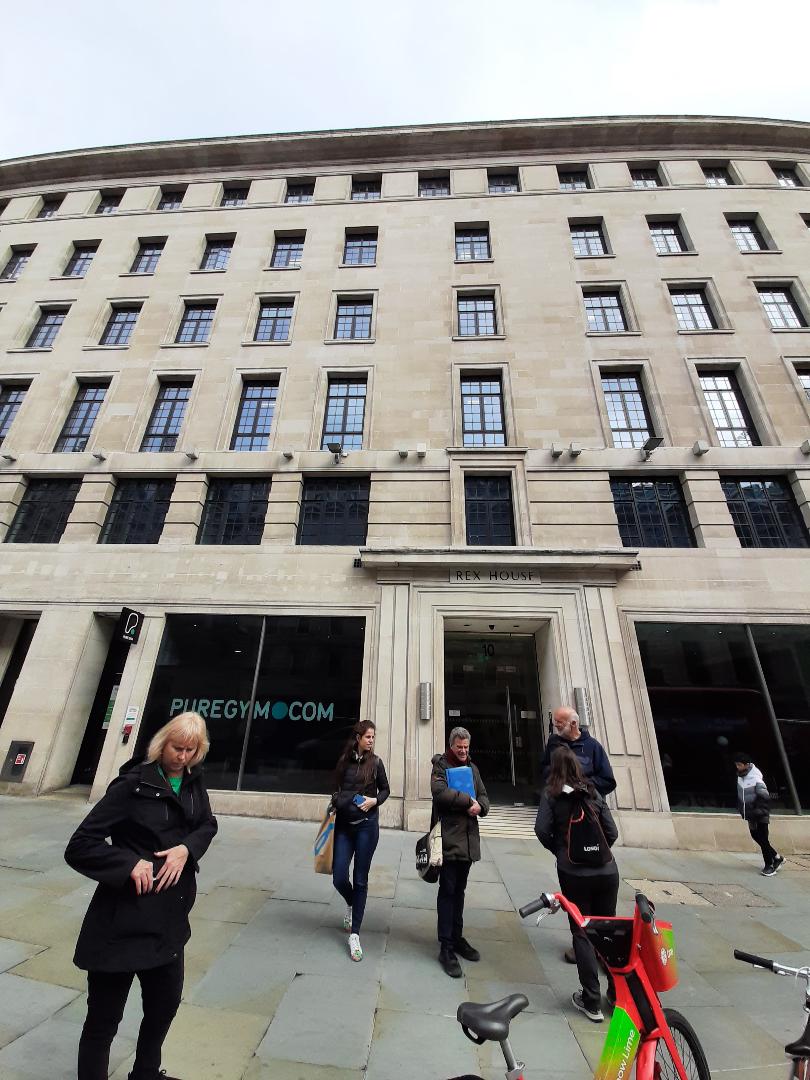 Their second BBC studio recording of "Chains" occurred on April 1st, 1963 in Studio One of BBC Piccadilly Studios in London between 6:30 and 10:30 pm. This version of the song was intended for the BBC show "Side By Side," which aired in the UK on May 13th of that year between 5 and 5:29 pm. The third BBC studio recording of the song was on June 17th, 1963 in Studio Five of Maida Vale Studios in London between 10:30 am and 1 pm with Terry Henebery producing. This was intended for the fourth edition of the BBC show "Pop Go The Beatles, which aired in the UK on June 25th, 1963 between 5 and 5:29 pm.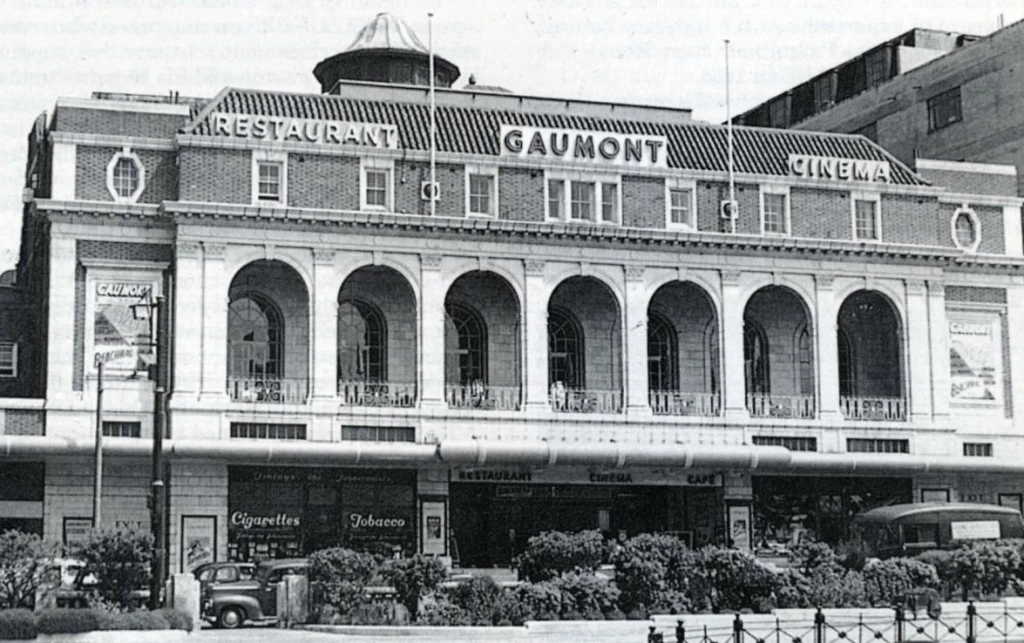 On August 21st, 1963, during a six consecutive night residency at in Bournemouth, Hants, England, the chief technician at the Gaumont Cinema recorded The Beatles performance on his reel-to-reel tape recorder in order to check the venue's sound system. The third song in their set list on this day was "Chains." This rather clear sounding 25-minute tape reel was sold by Christie's auction house in 1998 for 25,300 pounds and has not yet been made available commercially. The final BBC studio recording of "Chains" occurred on September 3rd, 1963 in Studio Two of Aeolian Hall in London between 5 and 7:30 pm. This recording was produced by Ian Grant for broadcast on the fourteenth edition of the BBC show "Pop Go The Beatles" on September 17th between 5 and 5:29 pm.
Song Structure and Style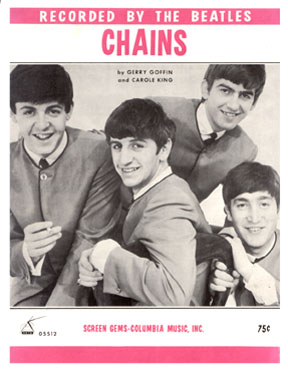 When The Beatles auditioned for Decca Records on January 1st, 1962, George Harrison was practically threatening to take over the role of lead singer of the group, having sung lead on a good number of the songs recorded that day. But for their first actual album, George was relegated to two lead vocal performances, the first being "Chains." The pattern then continued throughout The Beatles career, allowing either one or two Harrison lead vocal per LP disc (maybe three if he was lucky, as with "Revolver").
"Chains" was also written in the 'verse/ verse/ bridge/ verse' style (or aaba) which does not have a repeatable chorus. As with the original version of this song, The Beatles opted not to include a solo of any kind, which, after the last verse, allows for an immediate repeating of the bridge and final verse.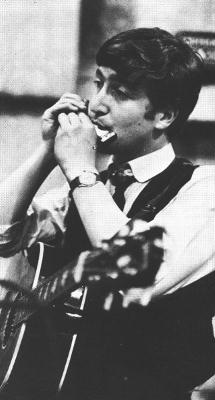 The most distinguishable ingredient in the four measure musical introduction to the song is the short but vibrant harmonica riff played by Lennon. This riff is abruptly, and awkwardly, cut short only in order for John to chime in on harmony background vocals, owing to the fact that the song was recorded live without any overdubs. If time wasn't of the essence, a decision might have been made to overdub the harmonica introduction in order to create a more natural transition, as was done on later recordings (such as "From Me To You" and "Thank You Girl"). But this was not to be, as the song was considered complete after today's performance.
The first verse, which contains the first example of actual three part harmony found on any Beatles record, then commences. This effect was to become a hallmark of The Beatles' sound through the years whenever they chose to use it, such as in "This Boy," "Yes It Is" and "Because." In this case, George sings lead, which is prominent in volume, while John sings a lower harmony to Paul's higher harmony. The results are shown to be very well rehearsed, as not much time beforehand could have been used to perfect it. After two verses, the bridge is sung solo by George, which when repeated later in the song, has a different set of lyrics.
During the third verse, Lennon's rhythm guitar breaks up somewhat, which may be a hint to the mystery voice that is heard just as the second bridge starts. A voice is faintly heard which seems to say "Is that enough?" or "Is that the rhythm?" This could be from John himself or from the control room, but either way, it is loud enough to appear on both the mono and stereo versions of the song.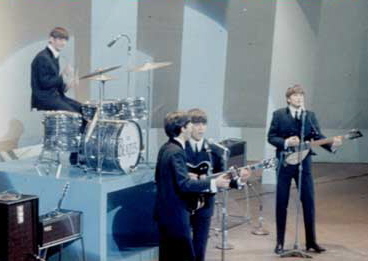 Since the original Cookies version of the song was released in November of 1962, it had only recently been added to The Beatles repertoire. This would account for the tight harmonies, spirited drum fills and excellent musicianship heard on this recording, being that the song was very fresh in their minds.
As for the lyrics, "Chains" is about that unfortunate circumstance of being in a committed relationship that is restricting you from 'running around,' which is what the singer is being tempted to do. Even though the person the song is addressed to is "fine" and their "lips are sweet," the "chains" of the current relationship keep the singer monogamous, although he (or she) wishes otherwise.
American Releases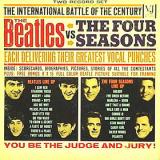 The first appearance of the song was on the Vee-Jay album "Introducing…The Beatles" when it was officially released on January 10th, 1964. The next US appearance of the song came with the Vee-Jay double-album compilation "The Beatles vs. The Four Seasons," released on October 1st, 1964, which coupled The Beatles album with "The Golden Hits of The Four Seasons."
The following appearance of the song came less than two weeks later with another repackage of the Vee-Jay album under the name "Songs, Pictures And Stories Of The Fabulous Beatles," released on October 12th, 1964.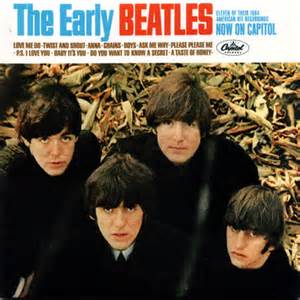 Then came another appearance of the song on March 22nd, 1965, when Capitol records turned its attention to the early Beatles catalog with their release, "The Early Beatles." Being a part of this collection ensured that "Chains" would always be part of the available Beatles catalog. Interestingly, Capitol decided not to use the superior mono mix of the song for the mono version of this album. Instead they created a "type B" foldover mono mix by combining both channels of the stereo mix. Therefore, the true mono mix made by George Martin on February 25th, 1963 was not available in the US for a long time. This album then appeared on an individual CD on January 21st, 2014, the CD containing both the mono and stereo mixes as originally released in the US on one disc.

Sometime in 1967, Capitol released Beatles music on a brand new but short-lived format called "Playtapes." These tape cartridges did not have the capability to include entire albums, so two truncated four-song versions of "The Early Beatles" were released in this portable format, "Chains" being on one of them. These "Playtapes" are highly collectible today.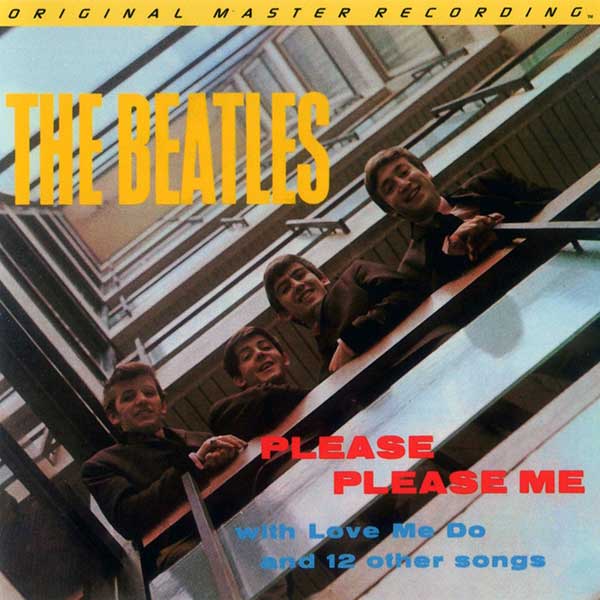 The first time the original British "Please Please Me" album was made available in the US was the "Original Master Recording" vinyl edition released through Mobile Fidelity Sound Lab in January of 1987. This album included "Chains" and was prepared utilizing half-speed mastering technology from the original master tape on loan from EMI. This version of the album was only available for a short time and is quite collectible today.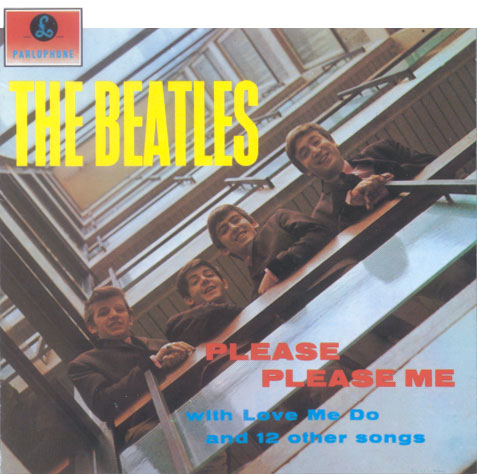 February 26th, 1987 saw the compact disc release of the original "Please Please Me" album, including "Chains," with the restored mono mix. A vinyl edition of this album was also released in the US, this coming out on July 21st, 1987. The September 9th, 2009 remastered version on CD brought the album once again into stereo, the vinyl edition coming out on November 13th, 2012.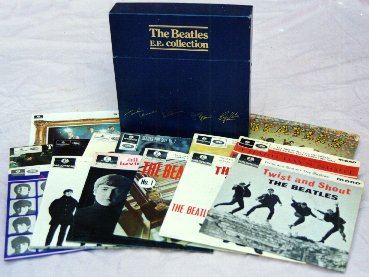 On June 30th, 1992, Capitol released the box set "Compact Disc EP Collection" which contained "Chains" due to its inclusion on the original British EP "Beatles No. 1."
Capitol then released the box set "The Capitol Albums, Volume 2" on April 11th, 2006 which featured the original "Early Beatles" album, including "Chains," in both stereo and "Type B" foldover mono.
The box set "The Beatles In Mono," containing the entire Beatles EMI mono catalog, was released on September 9th, 2009. The excellent original mono mix of "Chains" can also be heard in this remastered collection.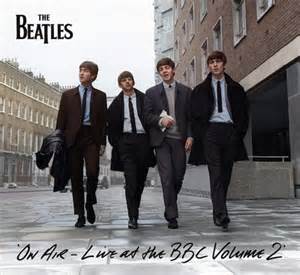 On November 11th, 2013, the album "On Air - Live At The BBC Volume 2" was released, which featured an excellent version of "Chains" as recorded on June 17th, 1963 for the radio program "Pop Go The Beatles." No harmonica introduction is performed here, but the obvious presence of two rhythm guitars is apparent, George's guitar coming in with the second verse.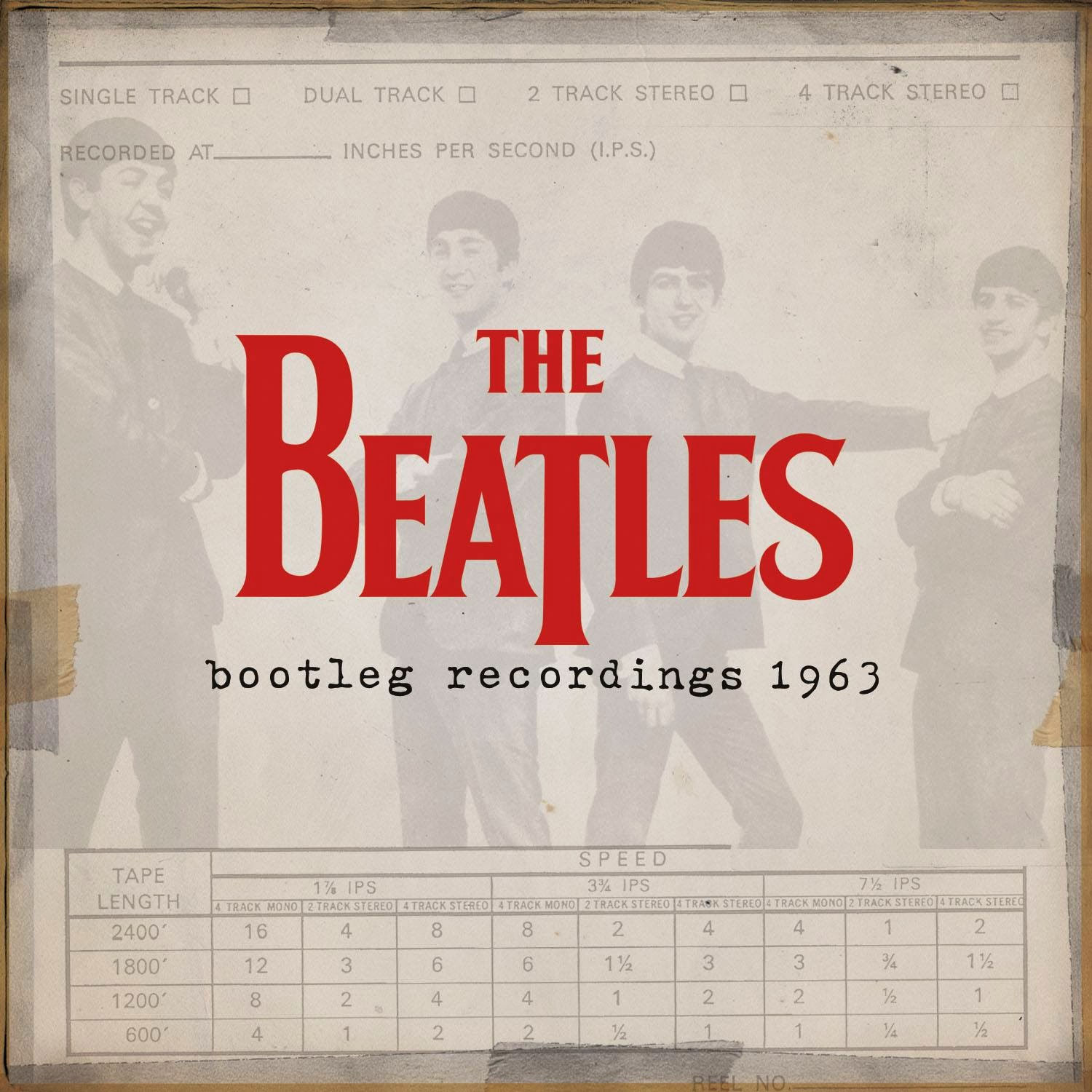 On December 17th, 2013, iTunes released a 59 track compilation album entitled "Bootleg Recordings 1963" only available on their downloading platform, their performances of "Chains" on September 17th, 1963 for the program "Pop Go The Beatles" and on May 13th, 1963 for the program "Side By Side" being included therein. The purpose of this release was to extend the copyright of these recordings under European Union law from 50 years (which would have expired at the end of 2013) to 70 years (until 2033), this being considered an official release. This compilation album was only available in the US on that date to those in the know for a number of hours for $39.99 in its entirety or to be purchased as individual tracks, but was later made available for purchase as well.
Live Performances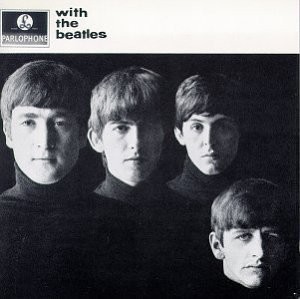 Since the original record by The Cookies first hit the charts in December of 1962, The Beatles no doubt perfected the song very quickly thereafter and started performing it in their "stage act" right away, just as many other Liverpudian groups were doing. We can deduce this because of the fact that they had it so well rehearsed, three-part harmonies and all, when the February recording date came along. The song continued to be in The Beatles' set list throughout their 1963 performances, as evidenced by its inclusion in their national British tour with Helen Shapiro between February 2nd and March 3rd, their week-long stint (July 8th through 13th) at the Winter Gardens at Margate, Kent, their six night residency (August 29th through 24th) at the Gaumont Cinema in Bournemouth, Hants, and their October 29th show in Eskilstuna, Sweden. After this date, the song was officially retired from their repertoire, being that their second British album, "With The Beatles," was out by then.
Conclusion
Although "Chains" may not be essential to The Beatles catalog, it establishes a "first" in two different ways. One – it was the first song available to record buyers in the US (or the UK) to feature George Harrison as lead vocalist. Two – it was the first song to show The Beatles' capabilities with singing three-part harmony, which was done with much skill and would become a hallmark of The Beatles sound. Both of these features would be used to better effect in the near future as well as throughout their career.


Song Summary
"Chains"
Written by: Gerry Goffin & Carole King)
Song Written:

September 1962 (approx.)

Song Recorded:

February 11, 1963
First US Release Date:

January 6, 1964
First US Album Release:

Vee Jay #VJLP 1062 "Introducing…The Beatles"

US

Single Release:

n/a
Highest Chart Position:

n/a
British Album Release:

Parlophone #PCS3042

"Please Please Me"
Length:

2:26
Key:

A major
Producer: George Martin
Engineers: Norman Smith, Richard Langham
Instrumentation (most likely):
George Harrison – Lead Vocals, Rhythm Guitar (1957 Gretsch Duo Jet)
John Lennon –

Rhythm Guitar (1958 Rickenbacker 325), Harmonica (Hohner Chromatic), Background Vocals
Paul McCartney - Bass Guitar (1961 Hofner 500/1), Background Vocals
Ringo Starr – Drums (1960 Premier 58/54 Mahogany)
Written and compiled by Dave Rybaczewski
IF YOU WOULD LIKE TO MAKE A DONATION TO KEEP THIS WEBSITE UP AND RUNNING, PLEASE CLICK BELOW!
Sign Up Below for our MONTHLY BEATLES TRIVIA QUIZ!