Search by Keyword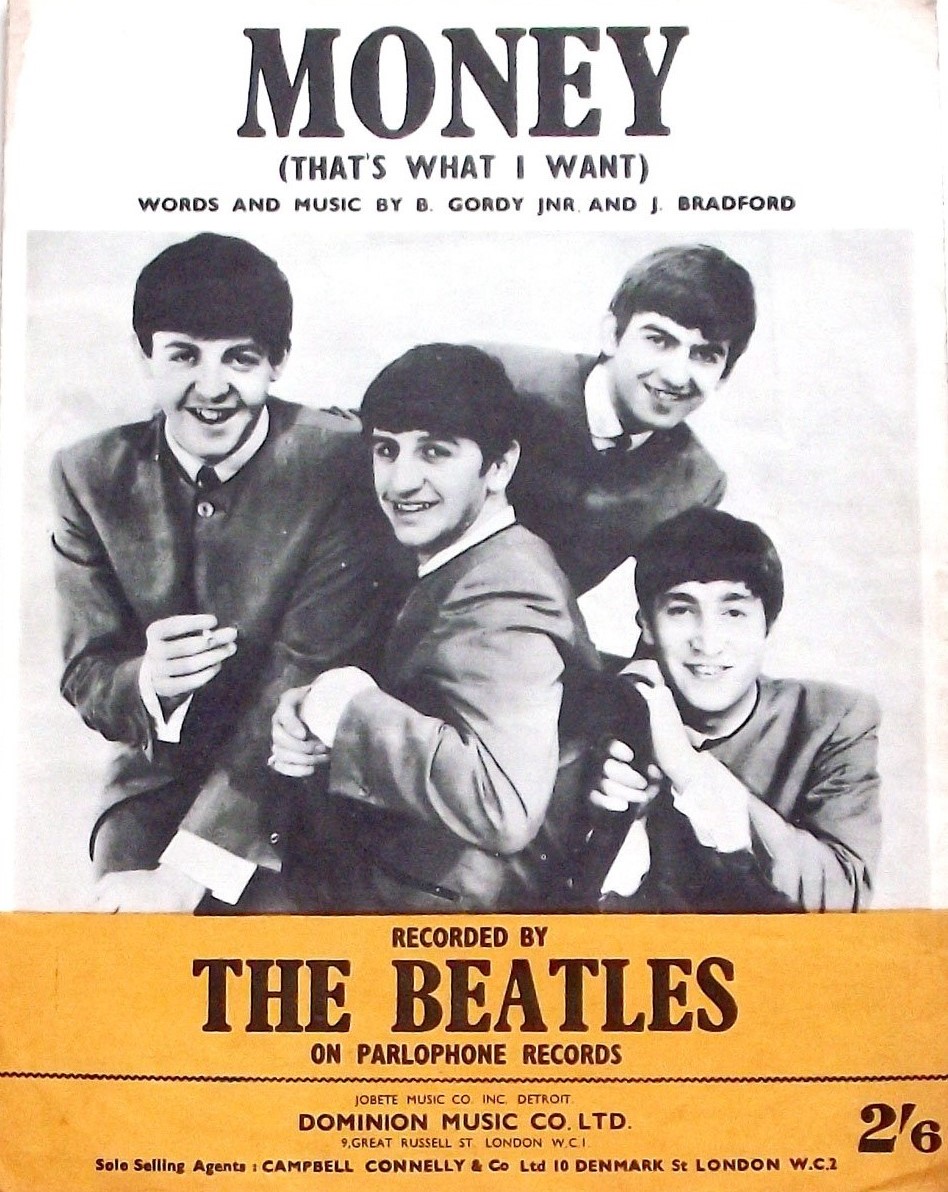 "MONEY (THAT'S WHAT I WANT)"
(Janie Bradford, Berry Gordy)
John Lennon always had a passion for money. This fact was no secret. There are many quotes from John saying that money was a big reason he got into the music business. When The Beatles first arrived in America on February 7th, 1964, and they were asked at the press conference if they could sing something, Lennon quipped, "No, we need money first." Even in his final years, John heard that Paul had built up a 25 million dollar fortune and, being the competitor that he was, set off to do the same with the help of Yoko's business acumen.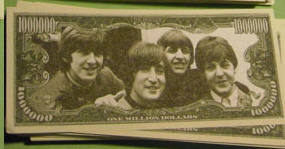 The song in question may not have been written by Lennon, but no other song could have been more suitable for The Beatles to include in their catalog, especially recognizing the fact that Lennon himself sang it. Unmistakably, John's love for music truly was the biggest force that ignited within him the desire for a career in music, but, as he stated to New Musical Express in 1963, his "professional ambition" was to "be rich and famous." Money really was what he wanted.
Songwriting History
Berry Gordy was born November 28th, 1929 in Detroit, Michigan. He first set his sights on becoming a professional boxer, which he did for a few years after dropping out of high school in his junior year. He was drafted by the United States Army and served in the Korean War from 1950 to 1953. After his return, his love for music won out and he began a career as a songwriter.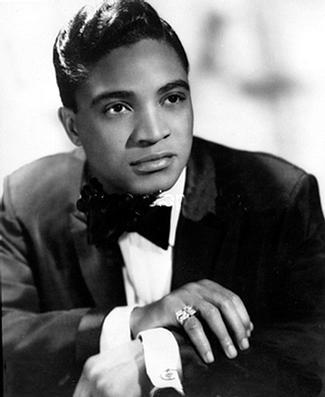 After meeting Jackie Wilson at The Flame Show Bar talent club, Berry Gordy got him to record five songs he had co-written, including "Lonely Teardrops" which became a Top 10 pop hit in early 1959 (#7 on the Billboard Hot 100). Using his songwriting fortunes, he changed focus to become a producer, establishing a clientele of artists, including The Miracles (featuring Smokey Robinson). With an $800 loan from his family, Berry Gordy founded his own R&B record label, Tamla Records, in January of 1959.
Tamla Records had regional success very quickly through their release of Marv Johnson's hit "Come To Me," which was picked up for national release by United Artists Records and hit #30 on the Billboard Hot 100. Berry Gordy still kept his hat in the ring as a songwriter, co-writing Marv Johnson's follow up "You Got What It Takes," which was also picked up by United Artists and brought Berry Gordy his second Top 10 pop hit, peaking at #10 on the Billboard Hot 100.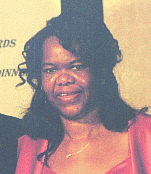 Berry Gordy collaborated with many songwriters, even including the receptionist at his Hitsville, USA office, Janie Bradford. Together they wrote "Money (That's What I Want)" in 1959 and gave it to Janie Bradford's high school friend and new recruit, Barrett Strong, to record on Berry Gordy's Tamla label.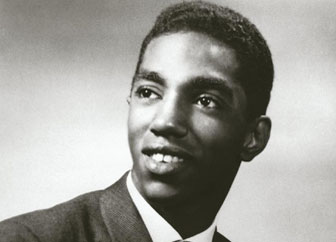 While Berry Gordy was sitting at the piano writing a song, Janie Bradford walked in and inquired about it. One conversation led to another and, as Berry Gordy was complaining that he needed money, they both incorporated that conversation into the song he was writing. Barrett Strong then arrived at that time and asked him to move over and let him play the chords that Berry Gordy had written, saying that he could play piano better. Berry Gordy and Janie Bradford finished writing the song then and there as Barrett Strong rehearsed singing the new lyrics. Berry Gordy was impressed enough by his impromptu performance that he promised Barrett Strong that he would allow him to sing and play piano on the recording.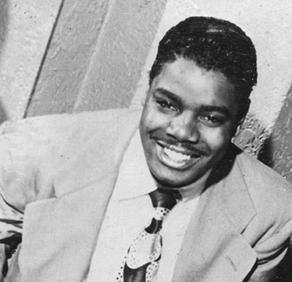 The original Barrett Strong recording of "Money (That's What I Want)" in Studio A of Hitsville USA in Detroit, Michigan is detailed by authors Jim Cogan and William Clark in their book "Temples Of Sound: Inside The Great Recording Studios." Barrett Strong and Berry Gordy were improvising the song on piano and vocals while drummer Benny Benjamin joined in along with Brian Holland on tambourine. "Two white kids walking home from high school heard the music out on the street," according to the "Temples Of Sound" book, "and wandered into Hitsville (and) asked if they could play along...(Barrett) Strong claimed he never saw the two boys who played bass and guitar again." The guitarist is now known to have been Eugene Grew, who claims Barrett Strong instructed him on what to play. The bass guitarist is said to have never been identified.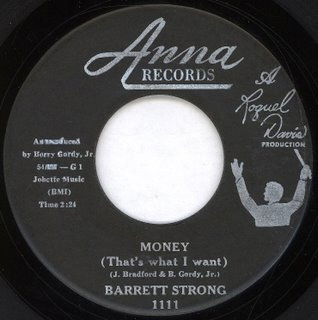 Once again, since the song was doing well in the Midwest, it was picked up by another record label to be distributed nationally. This label happened to be Anna Records, which was also founded in 1959 by Berry Gordy's sisters Anna Gordy and Gwen Gordy along with Roquel "Billy" Davis. Anna Records was able to handle national distribution with the help of Chicago-based Chess Records, so "Money" became a #2 hit on Billboard's R&B chart (#23 on the Billboard Hot 100), making it become known as Motown's first hit.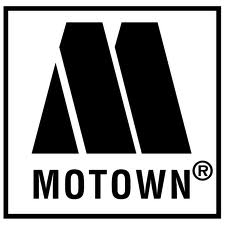 Berry Gordy's career as producer and president of Motown Records is legendary, discovering and working with multiple award-winning recording artists such as The Supremes, The Temptations, The Four Tops, The Jackson 5, Marvin Gaye, Stevie Wonder, Gladys Knight & The Pips, The Commodores and many more. Berry also delved into movie making, producing "Lady Sings The Blues," "Mahogany" and "The Last Dragon."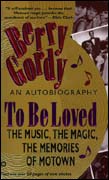 After relocating his entire Motown company to Los Angeles, California, Berry continued the success of the label well into the '80s with artists including Rick James, Lionel Richie, Smokey Robinson and Stevie Wonder. He eventually retired as a company mogul by finally selling the label to MCA and Boston Ventures on June 28, 1988 for 61 million dollars. He was inducted into the Rock And Roll Hall Of Fame in 1990 and has written a biography in 1994 entitled "To Be Loved."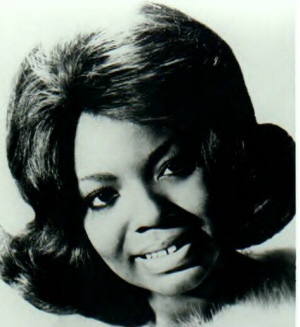 Co-writer Janie Bradford continued a songwriting career for Motown, even co-writing songs with Smokey Robinson, such as "Your Old Standby" performed by both Mary Wells and Gladys Knight & The Pips. She also composed for other labels under the pseudonym Nikki Todd because of her being on the staff at Motown. For instance, she co-wrote both sides of the debut single by Theresa Lindsey, "Gotta Find A Way" and "Wonderful One," with Richard "Popcorn" Wylie. "Janie was my writing partner," Wylie explained. "We did a lot of things under cover."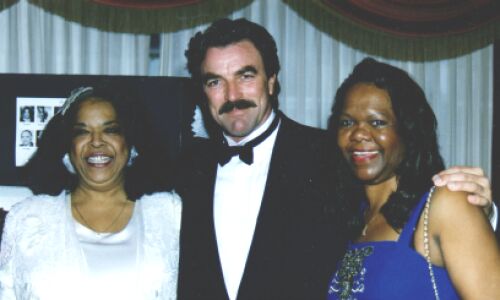 Because of Janie's exposure to the music world, she recognized how would-be recording artists had a very difficult time getting signed by a record label, most times never even being given an explanation of why they didn't make the grade. Therefore, she founded the "Heroes and Legends" award, which is held annually in Beverly Hills, California. This is a scholarship fundraiser designed to put students of the arts in touch with industry executives and assist them in their education.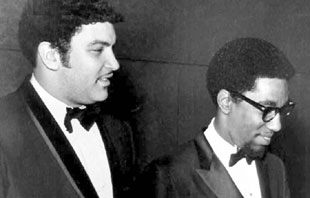 Barrett Strong's career as a performer did not blossom past his first and only charted pop hit "Money (That's What I Want)." He instead turned to a career as Motown's staff lyricist, teaming up with Norman Whitfield. Together they composed a lengthy list of classic hits, including "I Heard It Through The Grapevine," "War," "I Can't Get Next To You," "Cloud Nine," "Ball Of Confusion" and "Smiling Faces Sometimes." He also received a Grammy Award for Best R&B Song in 1973 for his "Papa Was A Rollin' Stone," recorded by The Temptations. Barrett Strong was inducted into the Songwriters Hall Of Fame in 2004.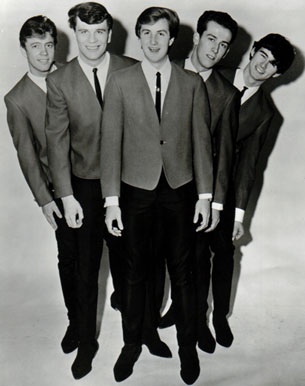 "Money (That's What I Want)" was recorded by many artists throughout the years and has gained great exposure, even in documentaries on The Beatles when the filmmakers didn't want to fork over the high payments to use an actual Lennon / McCartney song. Barrett Strong may have recorded the original version, but the most successful US version of the song was recorded by The Kingsmen, as a follow-up to their classic "garage rock" anthem, "Louie Louie." Their version of the song peaked at #16 on the Billboard Hot 100 in May of 1964.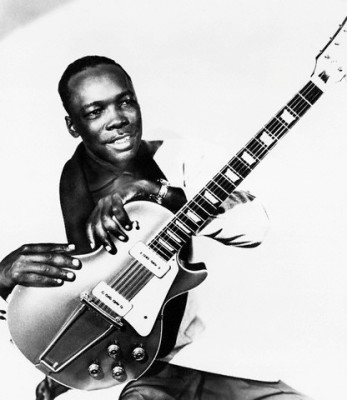 The writing of the song has generated a degree of controversy, which requires a bit of speculation. The appearance of a very similar blues song by John Lee Hooker, entitled "I Need Some Money," creates the problem. His song, recorded on February 9th, 1960 and released that June, is almost identical in lyrics and melody line. John Lee Hooker claims songwriting for his tune, as well as copyright, which may indicate that he had been performing the song well before Berry Gordy and Janie Bradford had allegedly written their song. Either way, neither party has taken the other to court, which rests the matter in the hands of speculation.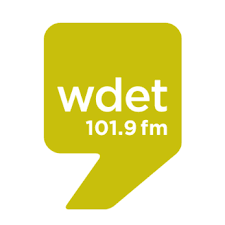 Another point of contention regarding the songwriting credit is the inclusion of Barrett Strong as co-composer. In a radio interview on February 20th, 2016 with WDET-FM, Barrett Strong claimed songwriting credit. The copyright registration did originally include his name, which Berry Gordy claims was due to a clerical error, but was removed three years later in 1962. When the copyright was renewed in 1987, Barrett Strong's name was included once again as co-composer, but it was removed again the following year.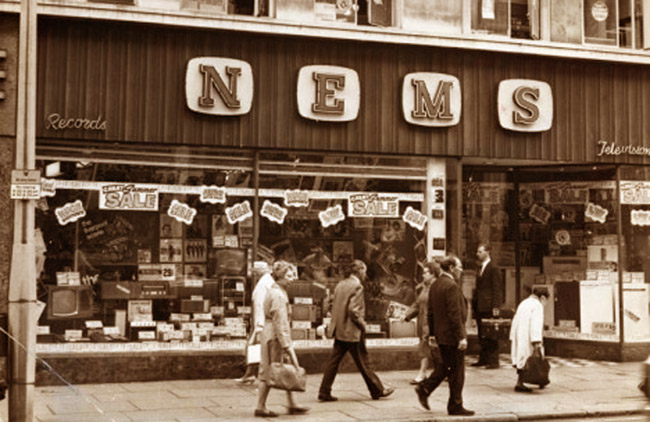 "Money (That's What I Want)" was not a hit for Barrett Strong in the UK, although it was released there in 1960 on London Records. However, like kids in a candy store, The Beatles would go through Brian Epstein's NEMS record store in Liverpool after hours and pick through the latest records, hits or not, to consider which one of their latest finds they would add to their set list. "'Devil In Her Heart' and Barrett Strong's 'Money' were records that we'd picked up and played in the shop and thought were interesting," stated George Harrison in the "Beatles Anthology" book. Ringo, as also quoted in "Beatles Anthology," adds: "The cover songs recorded for "With The Beatles" were chosen by whoever liked them. It was interesting that when I joined The Beatles we didn't really know each other, but if you looked at each of our record collections, the four of us had virtually the same records. We all had The Miracles, we all had Barrett Strong and people like that. I suppose that helped us gel as musicians, and as a group.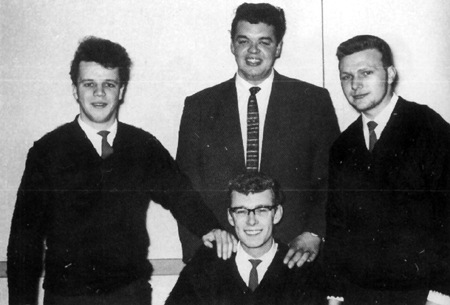 As for The Beatles learning how to sing and perform the song, credit is apparently due to a rival Liverpool group "King Size Taylor And The Dominoes." In an interview with Mark Lewisohn for his book "Tune In," lead singer Ted "King-Size" Taylor recalled that The Beatles "all sat in a row and took down one line each of all the songs we did - 'Dizzy Miss Lizzy,' 'Slow Down,' 'Money,' all of those - and the next time we saw them they were playing all our stuff."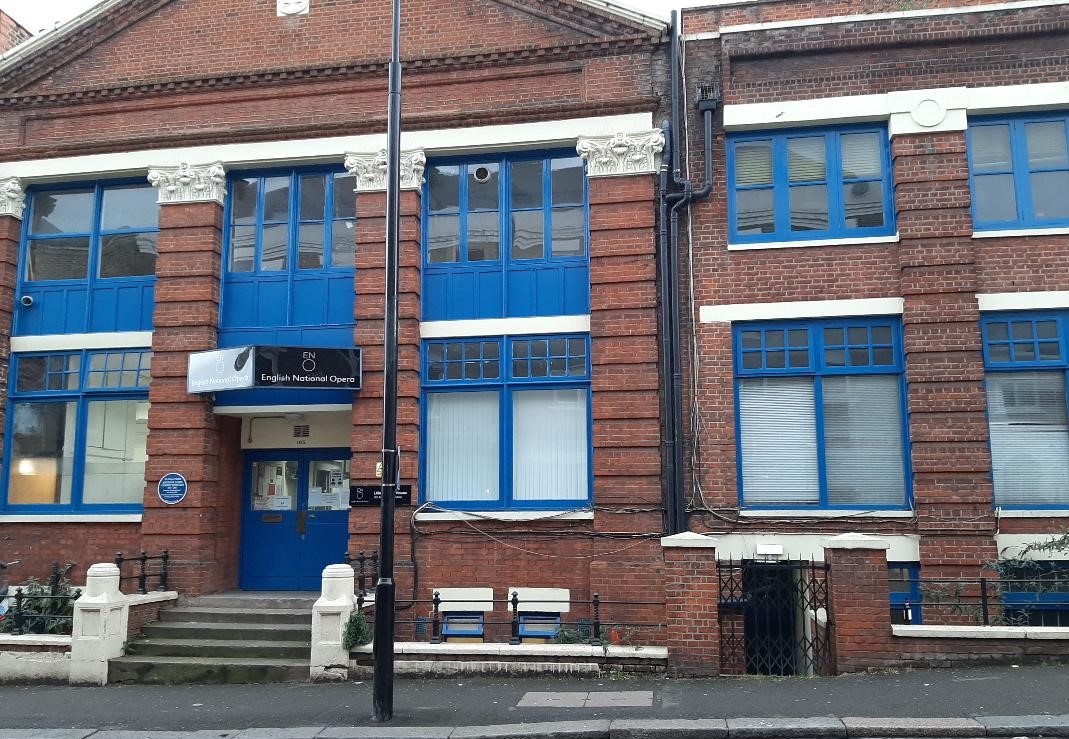 English National Opera, formerly Decca Studios in London where The Beatles first officially recorded "Money (That's What I Want)"
Recording History
The first time The Beatles took "Money (That's What I Want)" into the recording studio was on January 1st, 1962 for their audition for Decca Records at Decca Studios in London. All of the fifteen songs recorded on that day were quickly done in one take. With original drummer Pete Best playing primarily on the toms throughout the song, it plods along at a quicker pace than we're used to hearing and sounds quite rudimentary. The arrangement is polished due to their performing the song quite regularly in their stage act by this time, but they hadn't made it their own yet. They were simply performing their take on a Barrett Strong song.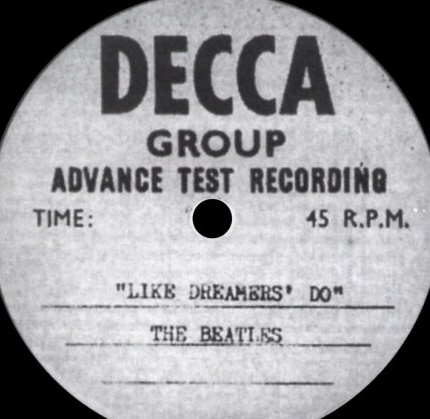 This session, produced by A&R man Mike Smith, ran from approximately 11 am until noon, "Money" most likely being the second song recorded after the Lennon / McCartney original "Like Dreamers Do." The Beatles used Decca studio equipment instead of their usual beat-up Vox amplifiers which conveyed the dirty and enthusiastic club sound that created such a stir with their audiences. One can easily see why Decca executives passed up The Beatles on this occasion, only to deeply regret it later.

Mark Lewisohn, in his book "Tune In," describes John's vocal performance of "Money" on this day: "(John) later said he sang 'Money' 'like a madman.' This could suggest he gave it his usual full-on blistering voice - but actually he meant he was crazed. Far from belting it out, he audibly pulls back, playing safe, ending up neither one thing nor the other, in no-man's-land. Where was the Lennon soul, edge, bite?...Only once in John Lennon's life would he be heard timid, and it was here today."

Interestingly, on April 4th, 1963, a surprisingly clear private recording of the song was made by John Bloomfield, a fifteen-year-old student in the audience of Stowe School at Roxburgh Hall in Stowe where The Beatles performed 22 songs between 6:30 to 7:30 pm. This being nearly four months prior to their offical EMI recording of the song, The Beatles put in a rousing rendition for the mostly male audience at this school performance, captured by John Bloomfield on his reel-to-reel tape recorder.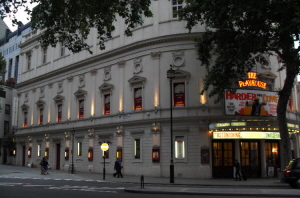 With Ringo Starr now in the band, The Beatles brought "Money (That's What I Want)" to a recording studio on May 21st, 1963 specifically for broadcast on BBC radio. They recorded the song at The Playhouse Theatre in London on this day between 5:30 and 6:30 pm for the popular "Saturday Club" program, which was broadcast on May 25th, 1963 between 10 am and 12 noon. They recorded it again on June 1st, 1963 at BBC Paris Studio in London between 9:30 am and 1:30 pm for the third edition of their radio show "Pop Go The Beatles," which was produced by Terry Henebery and broadcast on June 18th, 1963 between 5 and 5:29 pm. They recorded it once again on June 24th, 1963 at The Playhouse Theatre in London between 5:30 and 6:30 pm for another "Saturday Club" show, which was produced by Jimmy Grant and Bernie Andrews and broadcast on June 29th, 1963 between 10 am and 12 noon.
When entering EMI Studio Two on July 18th, 1963 to start recording their second album, their love for the song caused them to record it officially for their second album "With The Beatles." Manager Brian Epstein negotioated at one-and-a-half cent per record payment with Berry Gordy of Motown Records for their permission to use the song on the album, a reduction form the standard two cents per record. The evening session ran from 7 to 10:45 pm and, after recording "You Really Got A Hold On Me," they immediately recorded the bulk of "Money," starting approximately at 8 pm, lowering the key from F on the original Barrett Strong recording to E which suited John's vocal range better.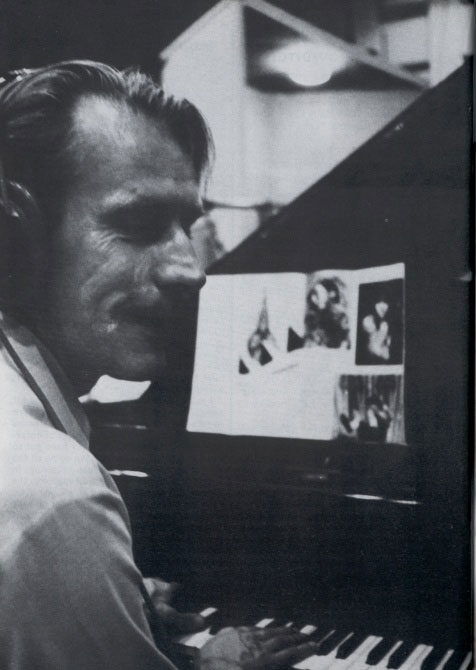 With George Martin on piano, the group performed the song live, vocals and all, for six full takes until everyone was satisfied, "take six" being deemed the best. All instruments were recorded on one track of the two-track tape, the other track consisting of only John's vocal. A piano edit piece by George Martin, probably for the song's introduction, immediately followed the final take, which brought this to "take seven." This completed The Beatles' recording of "Money" for the time being.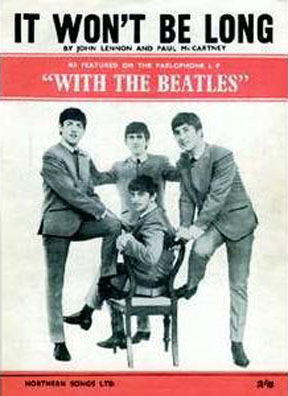 July 30th, 1963 was the second session for their second British album "With The Beatles." There were morning and evening sessions this day, "Please Mister Postman" and "It Won't Be Long" being worked on in the morning. The evening session, which began at 5 pm, started with George Martin overdubbing more piano work throughout the song "Money" onto the track that contained John's vocal. After doing a test run, he performed seven more piano overdubs on the song, these takes being numbered 8 through 14. Only George Martin worked on "Money" on this day, but right after this was done, The Beatles worked on three more songs for the album: "Till There Was You," "Roll Over Beethoven" and "All My Loving," plus more work on "It Won't Be Long" started earlier that day.

They brought "Money" back into a BBC Studio again on August 1st, 1963 at The Playhouse Theatre in Manchester between 4 and 6 pm for the twelfth edition of "Pop Go The Beatles." This was produced by Terry Henebery and was broadcast on September 3rd, 1963 between 5 and 5:29 pm.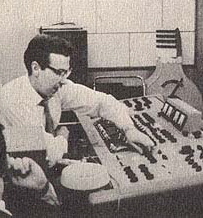 August 21st, 1963 was the day George Martin, with engineers Norman Smith and Geoff Emerick, edited the complete performance of the song ("take 6") with the original piano edit piece ("take 7") to form the master copy. Interestingly, the piano overdubs from July 30th, 1963 were not used for this master and therefore didn't appear on the mono mix of the song. That mono mix, also made on this day by George Martin, Norman Smith and Geoff Emerick, was the only mono mix done on the song and is what appeared throughout most of the world at that time.
Surprisingly, while The Beatles were on vacation, George Martin went back into EMI Studio Two on September 30th, 1963 to perform more piano overdubs onto "Money." He recorded three unnumbered takes of piano onto "take 7," which meant that the overdubs he did on July 30th, 1963 (takes 8-14) were viewed as unsuitable. Even though mono mixes of other tracks on the album were completed on this day, "Money" was not one of them. This apparently meant that George Martin still didn't view the song as complete, even though The Beatles were through recording the song nearly two-and-a-half months earlier.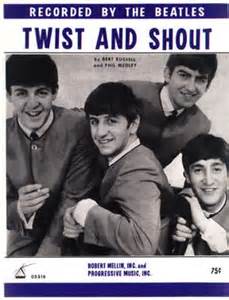 October 29th, 1963 was the day George Martin chose to do the stereo mixing for the entire "With The Beatles" album. He created these stereo mixes in the order he chose the album tracks to run, which means that, at least at this point if not earlier, he realized that the impact of "Money" would make a great album closer just like "Twist And Shout" had for the first album. The only problem was that the stereo mix made of the song on this day apparently didn't suit his fancy, since it was not used. Once again, engineers Norman Smith and Geoff Emerick were present on this day, as well as the mysterious B.T.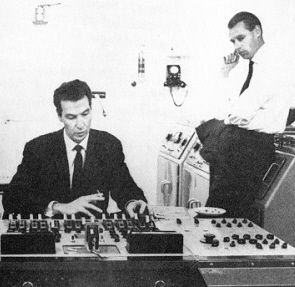 The next day, October 30th, 1963, was when the final stereo mix of "Money" was made, once again by George Martin and Norman Smith, but this time with A.B. Lincoln as second engineer. George Martin decided that, in order to get a proper stereo mix of the song, two separate two-track mono mixes would be utilized together, one for each channel. It was decided to proceed in this way to avoid any further tape-to-tape copying, which decreases sound quality and increases tape hiss. This is the final released stereo mix of the song, which is significantly different from the mono mix made on August 21st, 1963 that predated the piano overdubs made on September 30th, 1963.
The mixes differ in other ways as well, such as the mono mix including Ringo's taps in the intro of the song. Another difference is, on the stereo mix, George Harrison's lead guitar part comes in forcefully just before the third measure, where the mono mix fades his guitar part in on the fourth measure. And, since Capitol Records in the US habitually made "Type B" mono mixes out of the stereo mixes by combining both channels together into one, American audiences became acquainted with only the stereo mix of the song at that time, even if they purchased the mono album.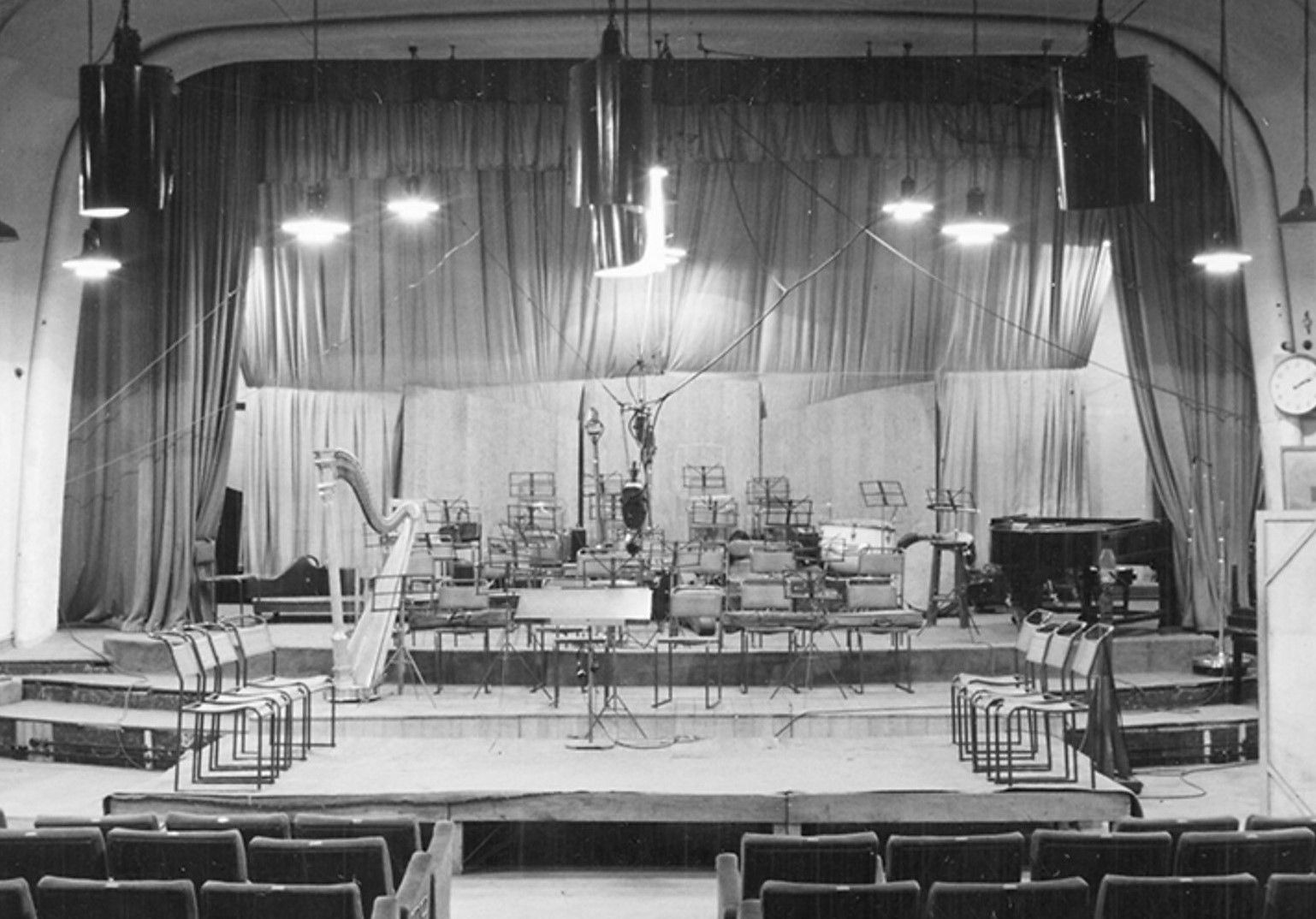 The Beatles recorded "Money (That's What I Want)" twice more for BBC radio, the first being on December 18th, 1963 at BBC Paris Studio in London between 7 and 10:30 pm for the first edition of their new program "From Us To You." This new recording was produced by Bryant Marriott and was aired on boxing day, December 26th, 1963 between 10 am and 12 noon. The final BBC recording of the song takes us into 1964, which was done at The Playhouse Theatre in London on January 7th, 1964 between 2:30 and 4 pm for the show "Saturday Club," which was produced by Jimmy Grant and Bernie Andrews and broadcast on the February 15th, 1964 between 10 am and 12 noon.
As can be expected, when The Beatles gathered in January 1969 to work on the "Get Back / Let It Be" project, "Money" was early on the list for having an impromptu jam during the sessions. January 3rd, 1969 saw the group naturally doing a run-through of "Money," this being one of their favorite early stage songs, while rehearsing at Twickenham Film Studios. At this point, they were rehearsing for a proposed live concert, going over potential songs for this show, which never materialized.
January 6th, 1969, saw the group going over the song once again in Twickenham studios in an aimless rehearsal which resulted in George and Paul having their first of many disagreements. Neither of these renditions have ever been released commercially and are the last times "Money (That's What I Want)" were ever performed by the group.

Not to be forgotten is the September 13th, 1969 live performance of the song by John with his newly formulated Plastic Ono Band in Toronto, the results being released on the album "Live Peace In Toronto 1969" later that year.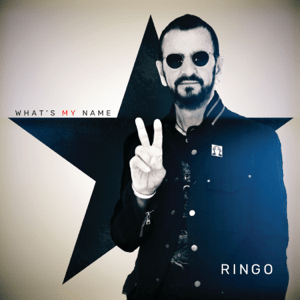 Sometime in 2019, Ringo took it upon himself to record a solo version of "Money" at Roccabella West Studio in Los Angeles for his self produced album "What's My Name." With musicians Pete Min and Steve Dudas on guitars, Bruce Sugar on synthesizers and keyboards, and Windy Wagner on backing vocals, Ringo drums and sings lead vocals using a strong presence of autotune.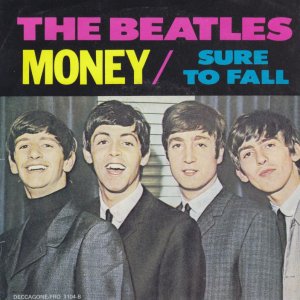 Song Structure and Style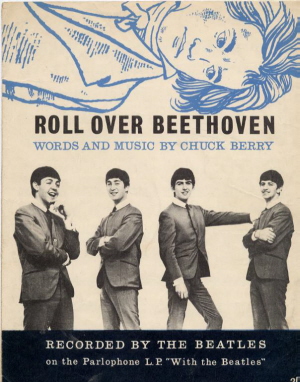 "Money" follows the standard 12-bar style quite common in late '50s / early '60s R&B and rock and roll. You hear it in other cover songs The Beatles chose, such as "Boys," "Roll Over Beethoven," "Matchbox" and "Everybody's Trying To Be My Baby." The song mostly consists of verses, though each verse can be broken up into a verse section and refrain section. In this case, the verse section is the first four measures ("the best things in life are free" etc.) and the refrain section is the remaining eight measures ("money, that's what I want" etc.) "Everybody's Trying To Be My Baby" and the verses in "Boys" follow this pattern as well.
This pattern follows throughout the song with three exceptions. The intro section and solo section are abbreviated to eight measures, unlike the original Barrett Strong version which continues its 12-bar pattern throughout the song. Also, the final two 12-bar sections of the song consist entirely of refrain lyrics with a complete ending, also unlike the Barrett Strong version which fades out at the end.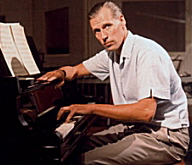 The eight-measure introduction begins with George Martin on piano all by itself playing the distinctive and powerful riff that propels the song through to its end. After two measures of this riff, The Beatles all kick in together for the remaining six measures of the introduction, which is an abbreviated version of the 12-bar pattern heard throughout the song and as heard on the original version by Barrett Strong (the third and fourth measures are deleted). The Beatles' deletion of these two measures dates back to at least January 1st, 1962, as they played it the same way at their Decca auditions on that day.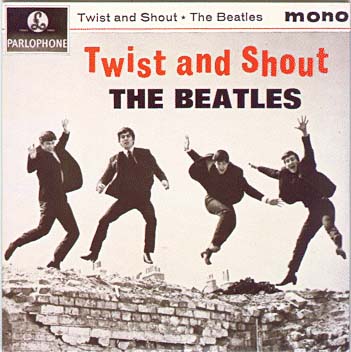 The first verse begins with Lennon's blistering vocals while the group lets the chords ring out on the one beat of the first and third measures and Ringo stays locked to the snare drum and floor tom. At the fifth measure, where the refrain section of the verse begins, George Harrison carries the distinctive riff while John plays the chords. At the same time, Paul and George harmonize the characteristic background vocals "that's what I want" while Ringo keeps a beat-style drum beat, quite similar to "Twist And Shout," but still staying on the snare and floor tom.
After a second and third verse, which differ only because of different lyrics, we enter into an instrumental section which is segued by a blood-curdling scream from Lennon. This section is also only eight measures long, deleting the third and fourth measures as we heard in the song's introduction. This also is a Beatles decision dating back to January 1962, as Barrett Strong's version keeps the 12-bar pattern for his instrumental section. Instead of hearing a guitar solo, we hear George Harrison and George Martin together vamping that remarkable riff. Because of the hypnotic feel of this riff, we don't even miss a hearing a solo. It definitely sounds full enough.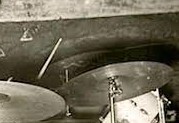 A repeat of the third verse then commences (once again differing from Barrett Strong's version) which leads into two more 12-bar patterns set to be the conclusion to the song. Lennon accentuates and ad-libs around the word "money" while Paul and George continue their "that's what I want" harmony vocals non stop for these 24 measures. With the appearance of this conclusion, finally we hear Ringo ride on the cymbals to bring the song home. Unlike Barrett Strong's faded ending, the Beatles conclude with a full band triplet ending reminiscent of their ending to "Twist And Shout."
As for The Beatles' performance on the track, the ferocity of all four members is unparalleled. Lennon, of course, stands out because of his irreverent steamroller vocal which turns the tongue-in-cheek lyrics into a demanding paean of materialism. Not bad rhythm guitar either.
McCartney is also at full-throttle vocally as he holds his own on the high harmonies and periodic gut-wrenching screams. Paul also effortlessly copies the piano/guitar riff throughout the song, creating a powerful tension from beginning to end. George Harrison, while not needing to offer up a solo, helps propel the song forward adding to the intensity. Ringo doesn't need to add drum fills to create the atmosphere but only accents to bridge the verses together, which he does to great effect.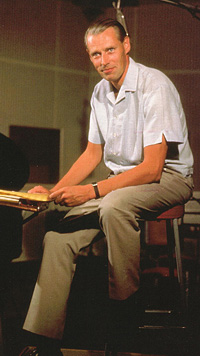 Not to be forgotten is George Martin on piano which, because of his numerous overdubbing attempts to create the proper feel for the album's finale, comes through like the consummate professional that he is. You could always expect nothing but perfection from producer George.
Lyrically speaking, you can almost see the smiles on Berry Gordy and Janie Bradford's faces as they put these comic lyrics to this addictive blues riff and chord pattern. Dissolving the cliché "the best things in life are free" with "you can keep them for the birds and bees" is priceless, as well as following it with the irreverent phrase "I want money." The same goes with "your lovin' won't pay my bills," as we dispense with the thought that young lovers only need each other to get by. While not considered by many as a novelty or comedy song, it surely fits the bill in its stripped-down form. This, of course, is not the case when The Beatles growl it at you with the intensity that they did.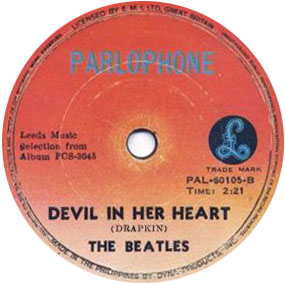 An interesting point that needs to be included here is the so-called ad-libbed phrase "I want to be free" that Lennon includes during the final twelve bar pattern. Many authors and commentators read ideas into this phrase, some saying Lennon feels as "a prisoner to the passion that the rest of the song denied" or that he is "saying what he expects money to do for him." Could it be simply a misheard adlib from Barrett Strong that John uttered? Barrett is heard to exclaim something sounding like he wants "mean green" at precisely the same measure that John screams about being "free." The Beatles were prone to mishear lyrics from a recording and simply sing what they think they heard, such as "no, no nay will she deceive" instead of "no, not me will he deceive" in the song "Devil In Her Heart." Just a thought.
American Releases
US audiences first got to hear "Money (That's What I Want)" by The Beatles from the Capitol release, "The Beatles' Second Album," released April 10th, 1964. With Capitol only utilizing the stereo mix that George Martin labored over, adding some reverb to the stereo copies and creating a "Type B" foldover mono mix by folding the two stereo channels into one, America got acquainted with a punchier, fuller sounding song than Britain did. Interestingly, the label on this album incorrectly listed the song as written by "Berry - Gordy - Bradford," crediting both names of one of its composers. On January 21st, 2014, this album was released as an individual compact disc for the first time, the standard British mono and stereo mixes being contained on a single CD.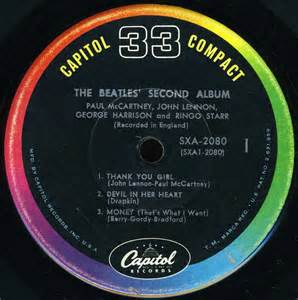 Also in April 1964, Capitol released a limited edition "Compact 33" version of the "Second Album" intended for juke boxes. This six song EP contained "Money" as the third song on side one.

Sometime in 1967, Capitol released Beatles music on a brand new but short-lived format called "Playtapes." These tape cartridges did not have the capability to include entire albums, so two truncated four-song versions of "The Beatles Second Album" were released in this portable format, "Money (That's What I Want)" being on one of these releases. These "Playtapes" are highly collectable today.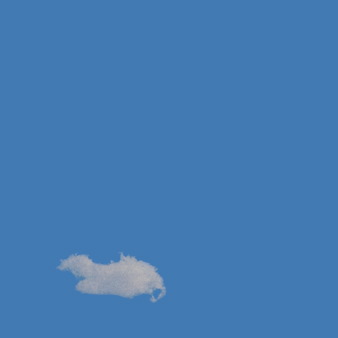 The next release was actually not by The Beatles at all, but The Plastic Ono Band. Lennon performed the song at a rock and roll revival show in Toronto on September 13th, 1969 with his hastily formed band. The album of this performance, "Live Peace In Toronto 1969," was released on November 12, 1969 and furnished John with a Gold album, the best selling non-Beatles album he had released to that point. It reached #10 on the Billboard album chart. Interestingly, most early pressings of the album contained a 13-month calendar for 1970, which is quite the collectors' item today.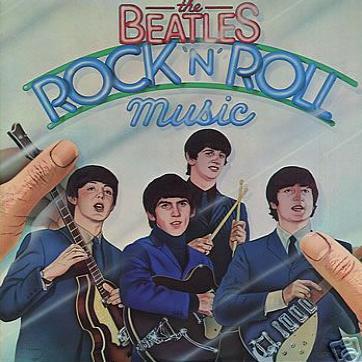 June 6th, 1976 saw the third US release of the song on the Capitol double-album "Rock 'n' Roll Music." George Martin was consulted regarding the preparation of this album and, with access to only the mixes that EMI had originally sent to Capitol in the '60s, decided it was necessary make some changes to this song in particular. The piano was switched from the right to the left channel, while the live rhythm track with vocals is panned from the center slightly to the right, resulting in George Martin's piano and John's vocal to be louder in the overall mix. The bass frequencies in the right channel were also boosted somewhat to give more prominence to the bass and drums. This altered mix was also included on the October 27th, 1980 released single-album "Rock 'n' Roll Music, Volume 1," which was Capitol's way of dividing the album into single albums for budget sales.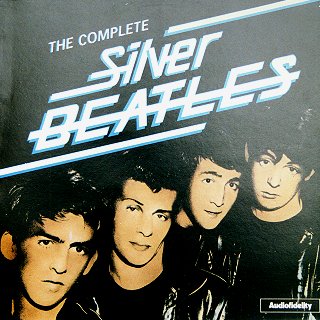 In the '80s, many small labels gained access to the Beatles' January 1st, 1962 Decca audition and took their chances with releasing it commercially, these featuring "Money (That's What I Want)" with Pete Best on drums. The first appears to be "Dawn Of The Silver Beatles" on Pac Records, this being released sometime in 1981. Then came an album entitled "Like Dreamers Do" on Backstage Records in May of 1982, this appearing as both a conventional vinyl album and as a picture disc, a 1982 interview with Pete Best and mid '60s interviews with The Beatles included. Also in 1982, the Audio Rarities label released the album "Silver Beatles," which featured the same Decca audition. Audio-Fidelity Records released the album "The Complete Silver Beatles" on September 10th, 1982, a single from this album, complete with picture sleeve, being released in October of that year, which features "Money (That's What I Want)" as the b-side along with "Till There Was You."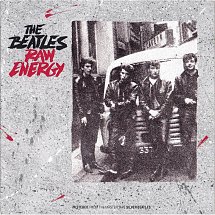 Then, in January of 1987 when music fans were anxiously awaiting the official release of The Beatles catalog on compact disc, Romance Records released the CD "Raw Energy" which also contained The Beatles' Decca audition of "Money (That's What I Want)." Lawsuits were filed afterward and, since the true ownership of these tapes hasn't been determined, the complete set of these 15 songs have not been officially available in full as of this date. However, Apple Records received permission to release a handful of these tracks on their "Anthology 1" album, but "Money (That's What I Want)" was not included.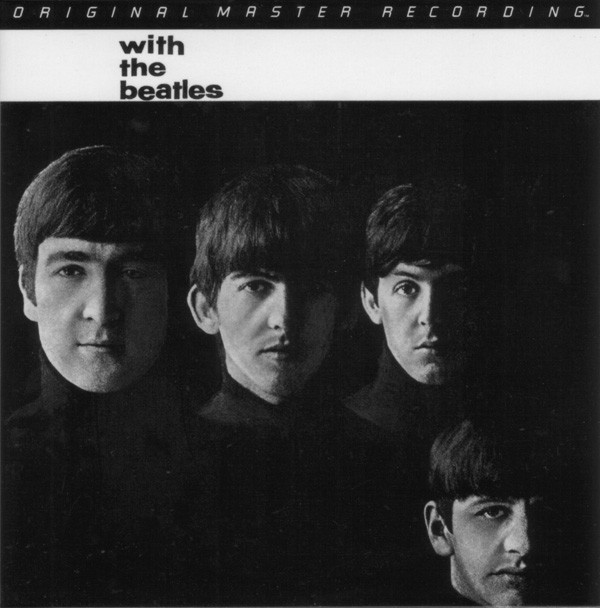 The first time the original British "With The Beatles" album was made available in the US was the "Original Master Recording" vinyl edition released through Mobile Fidelity Sound Lab in January of 1987. This album included "Money (That's What I Want)" and was prepared utilizing half-speed mastering technology from the original master tape on loan from EMI. This title had a limited production, reportedly because of a damaged metal part that was needed for pressing the vinyl. Therefore, this album is said to be the rarest and most valuable Beatles album in the "Original Master Recording" series.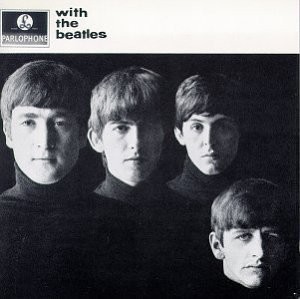 February 26th, 1987 saw the release of the original British "With The Beatles" album, which included "Money," on compact disc. A vinyl edition of this album was released in the US on July 21st, 1987. It was only released in mono at this time, but the September 9th, 2009 remastered version of the CD edition was in stereo (and on vinyl on November 13th, 2012), so the stereo mix originally heard on "The Beatles' Second Album" could finally be heard as intended, that is, without the extra reverb Capitol added in 1964.
On June 30th, 1992, Capitol released the box set "Compact Disc EP Collection," which featured the mono mix of "Money (That's What I Want)" because of its inclusion on the original British EP "All My Loving" released on February 7th, 1964.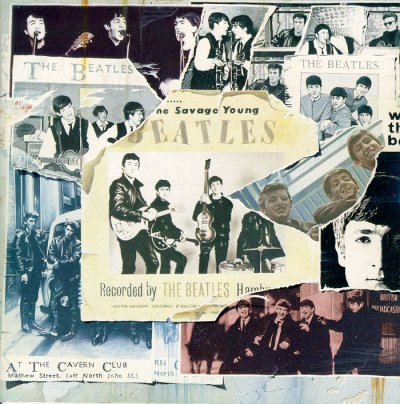 "Anthology 1" contained the version of "Money (That's What I Want)" that was performed live before a studio audience in Stockholm, Sweden, on October 24, 1963. It was one of five songs performed that day which was broadcast on Sveriges Radio on November 11th of that year. All five songs appear on the album, which was released on November 21, 1995.
November 15th, 2004 saw the release of the box set "The Capitol Albums, Vol. 1," which contains the song in stereo and "Type B" foldover mono as originally heard on "The Beatles' Second Album" in case you wanted to hear the extra reverb.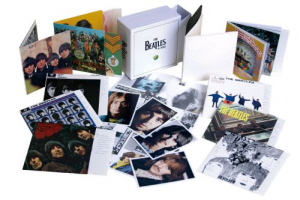 September 9th, 2009 was the date that the box set "The Beatles In Mono" was released in the US, which featured a remastered (and therefore more vibrant) version of "Money (That's What I Want)."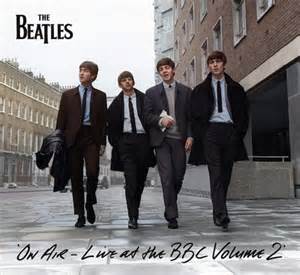 On November 11th, 2013, the album "On Air - Live At The BBC Volume 2" was released, which features yet another version of the song recorded at the BBC Paris Theater in London on December 18th, 1963. This recording originally aired on the radio program "The Beatles Say From Us To You" on Boxing Day (December 26th) 1963.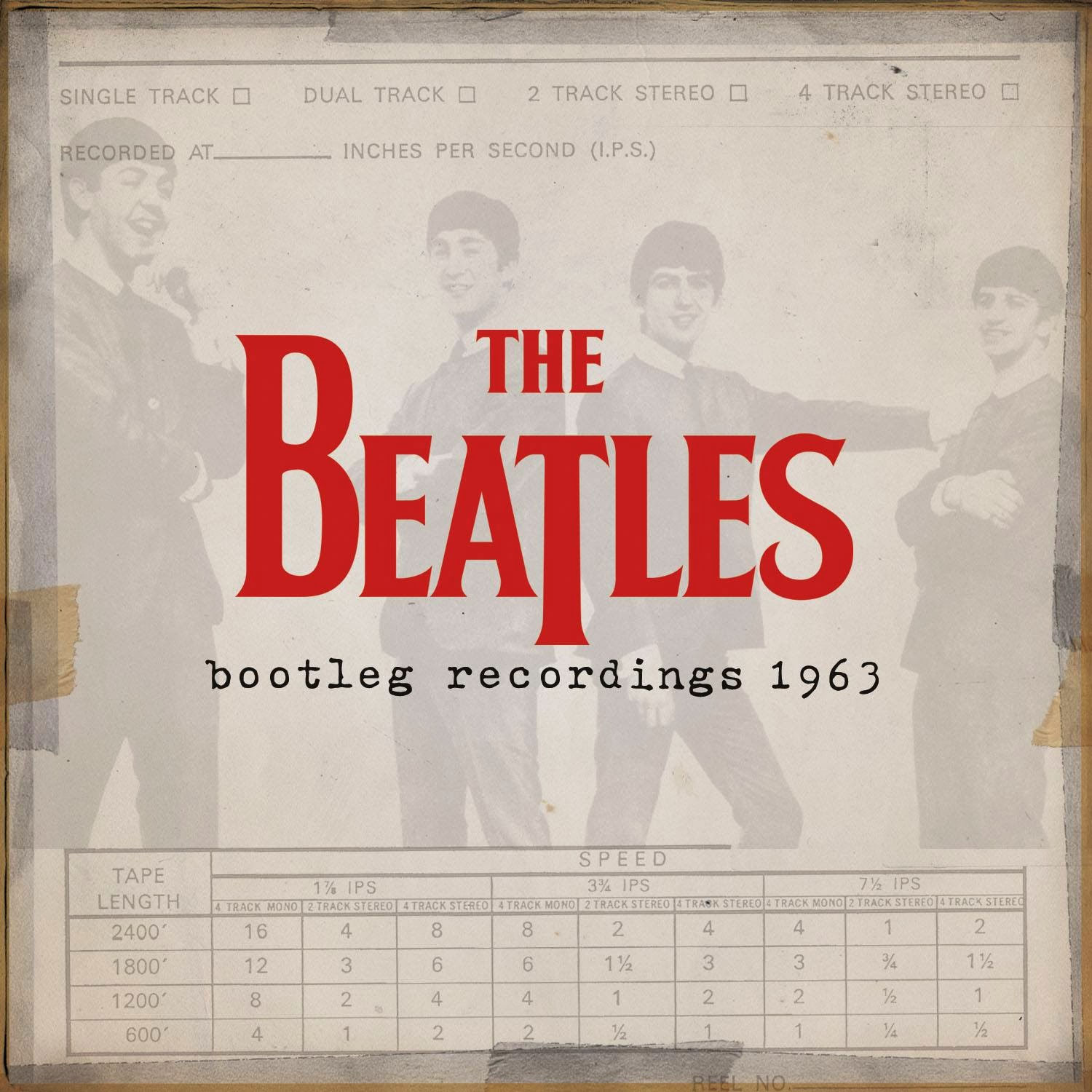 On December 17th, 2013, iTunes released a 59 track compilation album entitled "Bootleg Recordings 1963" only available on their downloading platform, studio "take seven" of "Money (That's What I Want)" from the group's July 18th, 1963 EMI recording session included therein, minus George Martin's piano overdub. Also included on this album in the June 18th, 1963 performance of the song as broadcast on the program "Pop Go The Beatles." The purpose of this release was to extend the copyright of these recordings under European Union law from 50 years (which would have expired at the end of 2013) to 70 years (until 2033), this being considered an official release. This compilation album was only available in the US on that date to those in the know for a number of hours for $39.99 in its entirety or to be purchased as individual tracks, but was later made available for purchase as well.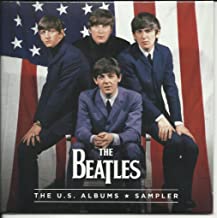 In promotion of the 2014 box set "The US Albums," a 25-song sampler CD was manufactured for limited release on January 21st, 2014, this containing the mono mix of "Money (That's What I Want)."

On October 25th, 2019, Ringo released his album "What's My Name" featuring his solo rendition of "Money (That's What I Want)," as detailed above.
Live Performances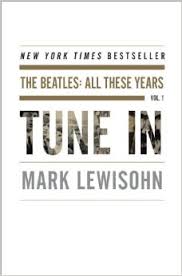 The Beatles began performing "Money" as early as their first visit to Hamburg, Germany in August of 1960. Mark Lewisohn's book "Tune In" relates: "'Money' became John Lennon's song, one he always sang, a scarred boy who craved money and sex and was injecting passion into every performance." Lewisohn also includes a quote from Steve Carlow in his book, someone who sat in on lead vocals with The Beatles in the Cavern Club in 1961. Relating the experience, Carlow states: "John would read out requests like 'Will John sing 'Money' because we want to see his face turn red.'" From this quote it's apparent that Lennon really put his all into performing this rousing Motown number.

Geoff Davies witnessed The Beatles performing the song in December of 1961 at the Cavern Club. "One of my favorite numbers was 'Money," he states in the book "Tune In." "They always varied the intro - sometimes they'd keep it going for a long time - and then there was John Lennon's voice as he came in with 'The best things in life are free!' No one had ever sung like this before. It was so dirty and horrible, but horrible-great."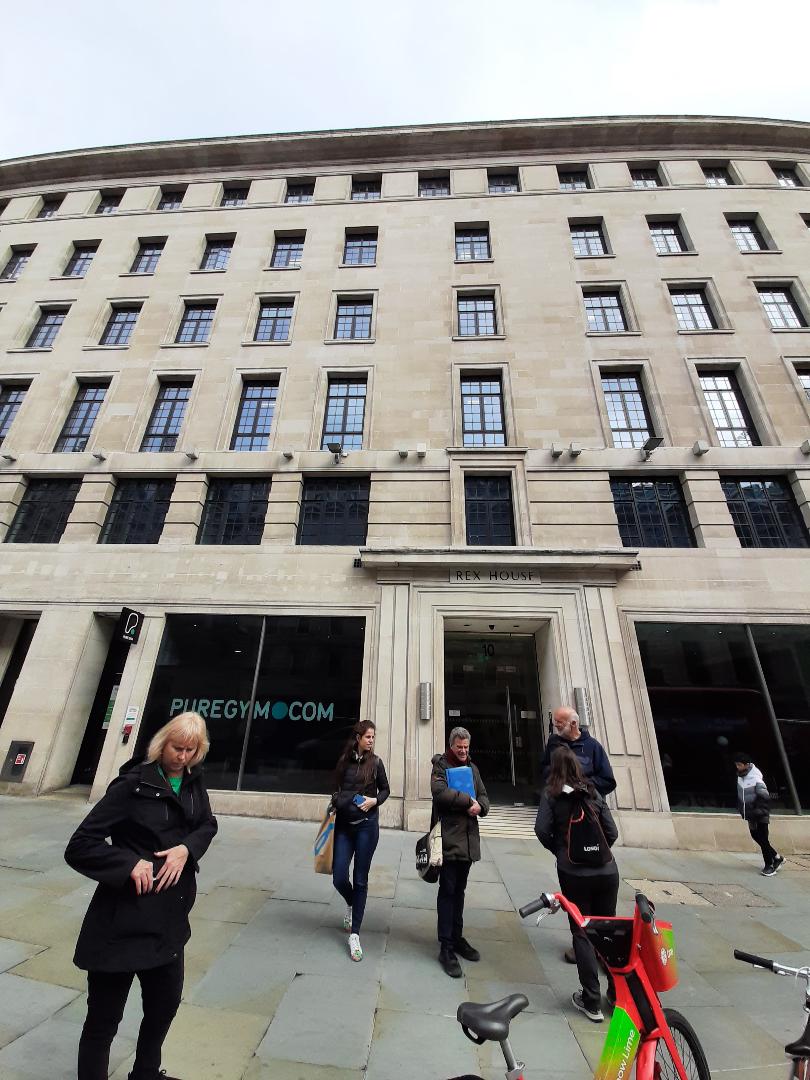 They continued to perform the song throughout 1962 but put it on the back burner in the first half of 1963. This was due to their performing in national British tours which limited their set list dramatically, focusing mostly on their recent hit singles and album tracks. On April 4th, 1963, however, The Beatles did include "Money (That's What I Want)" in a unique hour-long concert at Roxburgh Hall, Stowe School in Stowe, Bucks, as detailed above. They pulled the song out again in the middle months of the year during BBC radio spots and, remembering their adoration of the song, decided to record it properly at EMI for their second album and reincorporate it into their stage shows. Evidence of this is its inclusion in their Stockholm, Sweden show on October 24th, 1963, which we can hear on "Anthology 1."
The Beatles rounded out 1963 promoting "Money" in their concerts, most notably during their British Autumn Tour, which spanned from November 1 through December 13th, and then their London Christmas Show, which lasted from December 24th through 31st of that year. The last verified live performance of the song by The Beatles was at the legendary London Palladium on January 12th, 1964. Interestingly, on all of these occasions, they played the song second to last in the set, always followed by the equally rip-roaring "Twist And Shout."
The Beatles performed the song four times on television, the first being a mimed version taped on October 30th, 1963 for the British show "Thank Your Lucky Stars," this being broadcast on October 26th of that year. Then came their live concert at the Empire Theatre in Liverpool on December 7th, 1963, this airing on TV later that evening on a show named "It's The Beatles!" Then, on January 12th, 1964, as mentioned above, a live broadcast of The Beatles performing the song was seen on "Val Parnell's Sunday Night At The London Palladium." And finally, the last known performance of "Money" was on the British variety show "Big Night Out," their lip-synced performance of the song being taped on February 23rd, 1964 at the Teddington Studio Centre of ABC Television and broadcast nationally on February 29th (March 3rd in London).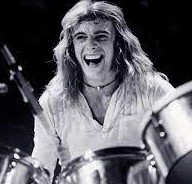 This is not to say it was totally the end of live performances of the song. September 13th, 1969 saw the debut concert appearance of John's Plastic Ono Band at a rock and roll revival concert at the Varsity Studium, Toronto, Canada. This last minute invitation to play called for a last minute incarnation of the Plastic Ono Band itself, which at this time included John, Yoko Ono, Eric Clapton, old-time Beatles friend Klaus Voormann on Bass, and future Yes drummer Alan White. As they were practicing on the way there, they decided to perform a short set of old rock and roll numbers, which included "Money (That's What I Want)." The enthusiastic 27,000 in attendance witnessed a piece of history, which was then quickly released on the album "Live Peace In Toronto 1969" by The Plastic Ono Band and proceeded to sell half a million copies.
Conclusion
One of many skills that The Beatles possessed was their ability to choose the best songs to add to their stage repertoire. This Motown classic was taken by the group and turned into a pure rocker, another evidence of taking over ownership of the song by interpretation. "With The Beatles" has been claimed to contain the best Beatles cover songs of their career. Evidenced by this song alone, that claim truly becomes undisputed.


Song Summary
"Money (That's What I Want)"
Written by: Janie Bradford / Berry Gordy
Song Written:

June, 1959 (approx.)
Song Recorded:

July 18 and September 30, 1963
First US Release Date:

April 10, 1964
First US Album Release:

Capitol #ST 2080"The Beatles' Second Album"
US Single Release: Capitol #SXA 2080

(The Beatles' Second Album Jukebox EP)
Highest Chart Position:

n/a
British Album Release:

Parlophone # PCS 3045

"With The Beatles"
Length:

2:47
Key:

E minor
Producer: George Martin
Engineers: Norman Smith, Richard Langham, Geoff Emerick
Instrumentation (most likely):
John Lennon - Lead Vocals, Rhythm Guitar (1958 Rickenbacker 325)
Paul McCartney - Harmony Vocals, Bass Guitar (1961 Hofner 500/1)
George Harrison – Harmony Vocals, Lead Guitar (1962 Gretsch 6122 Country Gentleman)
Ringo Starr – Drums (1963 Ludwig Downbeat Black Oyster Pearl)
George Martin -

Piano (Baldwin Satin Ebony Grand)
Written and compiled by Dave Rybaczewski
IF YOU WOULD LIKE TO MAKE A DONATION TO KEEP THIS WEBSITE UP AND RUNNING, PLEASE CLICK BELOW!
Sign Up Below for our MONTHLY BEATLES TRIVIA QUIZ!