Search by Keyword
"MATCHBOX"
(Carl Perkins)
In the early 1960's when the concept of a self-contained band was brand new, most groups still had only one lead singer, with the rest of the members consigned to backing vocals if they showed any aptitude for it. Generally the rest of the players in the group were non-singing instrumentalists. The drummer was usually one of these, content to contribute musically while leaving the spotlight to others. Unless they were playing a solo (and these were rare), the drummer was usually the least noticed in any lineup, all the way back to pop music's origins in the early part of the 20th century. With only a couple of exceptions mostly during the swing era, the drummer was never the star of the band, and certainly nobody ever expected the drummer to also be a good singer.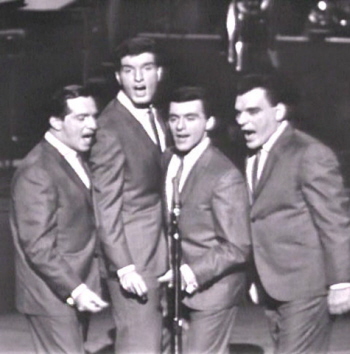 It was quite a revolutionary thing in the early 1960's for a band to have all of their members sing lead vocals. Even vocal groups, such as The Four Seasons, The Beach Boys and folk groups like The Kingston Trio, mostly followed the formula of having one lead singer with the others singing background. But an actual band would comprise a lead vocalist who usually stood up front and, if he played an instrument, it most likely would be rhythm guitar.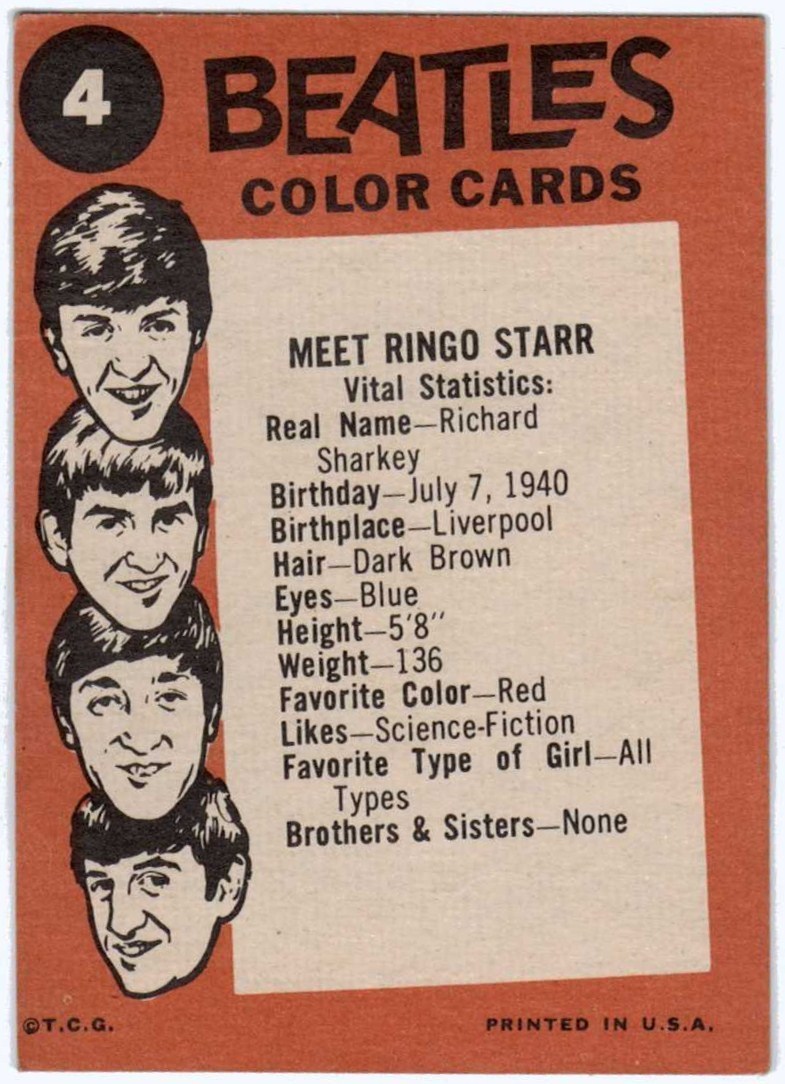 This all changed with the arrival of The Beatles. The difference was that all four Beatles were becoming very popular individually as "Beatlemania" set in. And whereas British audiences were quite content to consider Ringo Starr as the fourth Beatle in the background, he was arguably becoming the most popular member of the band in America in 1964.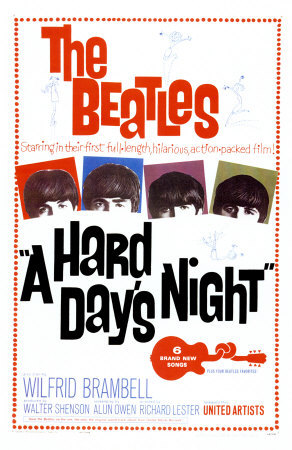 No doubt because of his critically acclaimed solo sequence in the movie "A Hard Day's Night," fans around the world (especially in the US) felt an attraction to this sad-looking but happy-go-lucky guy. The results included a "Beatles For President" campaign in America, with bumper stickers and buttons abounding. Presidential contender William Scranton had his rally in Union Square, San Francisco overshadowed by approximately 200 teenagers demonstrating in support for their candidate Ringo Starr. He was even interviewed around this time as to, if he won the election, whether he would nominate the other Beatles as his cabinet members. He responded, "Well, I'd have to...wouldn't I?"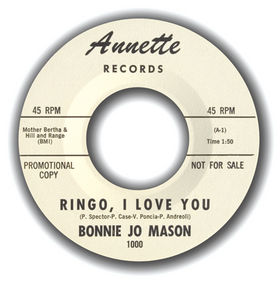 With all this popularity, along with tribute records being released (such as the Phil Spector song "Ringo, I Love You" sung by Bonnie Jo Mason, aka Cher), Capitol Records thought it time to release a single with Ringo singing lead. By the summer of 1964, they only had three to choose from. They went with the most recent, which happened to be a track on their latest album "Something New." Since radio stations weren't sure which side of this latest single they should promote, they played both. With Ringo's doleful vocal delivery, "Matchbox" was the clear winner as to popularity, peaking at #17 on the Billboard charts in October of 1964, the Lennon vocal flip-side "Slow Down," clocking in at a respectable #25.
Songwriting History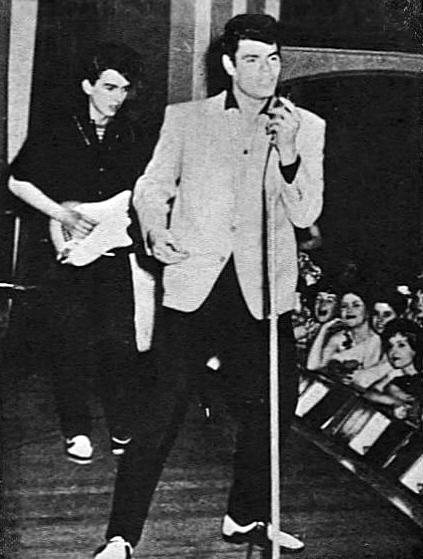 When researching the recording artists that inspired The Beatles in their formative years, the name Carl Perkins keeps popping up. "There have only been two great albums that I listened to all the way through when I was about sixteen," John Lennon recalled in 1980. "One was Carl Perkins's first or second, I can't remember which...I really enjoyed every track." McCartney described Perkins as "our big hero, who had written 'Blue Suede Shoes.'" When they all came up with pseudonyms during their brief Scotland tour backing Johnny Gentle, George Harrison came up with the name Carl Harrison in tribute to Carl Perkins. It was John Lennon, however, who was the first proud owner of a copy of "Matchbox," which was Britain's second long awaited Carl Perkins single. John bought the single upon release in 1957 at the age of 16, having purchased his first single "Blue Suede Shoes / Honey Don't" the year before.
Dubbed "The King Of Rockabilly," Carl Lee Perkins was born April 9th, 1932 in Tiptonville, Tennessee. His interest in music began as a child from a combination of the gospel music he'd hear in church and listening to the Grand Ole Opry on the radio, which prompted him to ask his parents for a guitar. For a couple of dollars, his father bought him a used Gene Autry model from a neighbor who was going through hard times.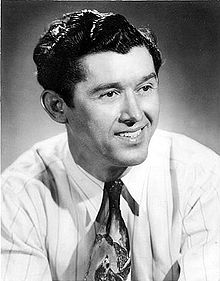 Through inspiration from Roy Acuff and Bill Monroe, Carl took about a year to teach himself to play guitar. John Westbrook, a fellow field-worker in his sixties, worked with Carl to help him master his bluesy guitar-playing technique. Carl came up with a way to bend notes when the old strings would break and he couldn't afford new ones. He would tie the strings, which would cut into his fingers at certain places on the neck, so he would bend the strings to hit the desired note.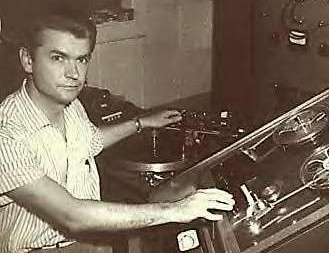 In 1947, the Perkins family moved to Madison County which placed Carl quite closer to the music of Memphis. His blend of country and blues chord patterns influenced him to write the song "Let Me Take You To The Movie, Magg," which caught the ear of Sam Phillips, eventually bringing him a contract with Sun Records.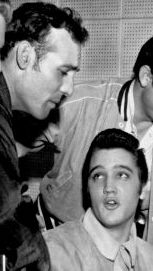 While working day jobs such as picking cotton and at a dairy, Carl began to gain local notoriety as a performer in acts such as The Perkins Brothers and The Tennessee Ramblers. In 1953 he married Valda Crider who encouraged Carl to work full-time as a musician when he lost hours at his bakery job. After hearing Elvis Presley's version of "Blue Moon Of Kentucky" on the radio, he decided to audition for Sun Records.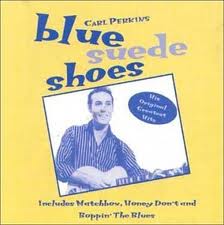 After passing the audition, Carl's first single was "Movie Magg" backed with the song "Turn Around," which gave him some regional success. After touring with Elvis, he received more airplay with his next single "Gone, Gone, Gone." After Elvis left Sun Records for RCA, Sam Phillips set his attention on promoting Carl, telling him "You're my rockabilly cat now." His next single did the trick, which was "Blue Suede Shoes" backed with "Honey Don't." Hitting #1 on the Billboard country music charts and #2 on the pop charts, it was the first release for Sun Records to sell a million copies.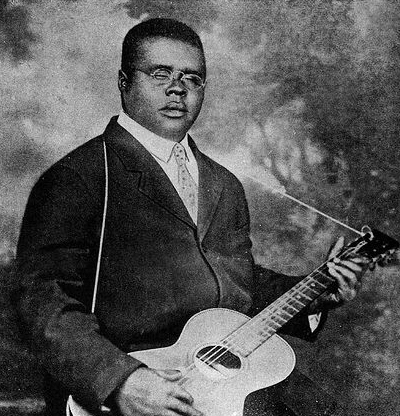 Three Sun singles later came the rockabilly classic "Matchbox." Although credited on the label as written by Carl, the song has a long history. The earliest use of similar lyrics is heard in a blues song by Ma Rainey called "Lost Wandering Blues." This song, which was recorded in 1923, contains the line "I'm sitting here wonderin', will a matchbox hold my clothes? I've got a sun to beat, I'll be farther down the road." In 1927, Blind Lemon Jefferson recorded the more popular "Match Box Blues" which featured the lyric "I'm sitting here wonderin', will a matchbox hold my clothes? I ain't got no matches but I still got a long way to go."
During a Perkins recording session on December 4th, 1956, his father Buck suggested he do a version of "Match Box Blues." Although Buck only remembered a couple lines of the song as probably heard from a version recorded by the country act The Shelton Brothers from the 30's, Carl tried to put something together. Jerry Lee Lewis, who was a session musician that day, began a boogie-woogie riff on the piano while Carl picked along on the guitar and improvised the rest of the lyrics.
Perkins incorporated other traditional blues lyrics into the song, such as the reference to being her "little dog till your big dog comes." Overall, the song depicts the story of a "poor boy" with bad luck, unlike the original Jefferson version about a mean-spirited woman, a song which Carl claims not to have been familiar with at the time.
Recording History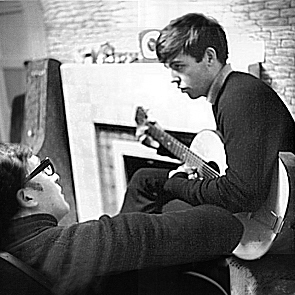 Sometime in 1960, possibly on Paul's birthday of June 18th, John, Paul and Stuart Sutcliffe (George may have been present) recorded a fourty-seven minute demo tape of current songs they had written or had been rehearsing. They had just acquired a new amplifier, a fifteen watt Selmer Truvoice, and put it to good use at Paul's home at 20 Forthlin Road, Liverpool. When interviewed by author Mark Lewisohn in 1994, Paul remembered, "Sometimes I'd borrow a tape recorder - a Grundig with a little green eye - (or) John would manage to borrow one, and we'd go around my house and try to record things...They were very much home demos, very bad sound quality." Among the nineteen songs included on this lengthy tape is the earliest Beatles recording of "Matchbox" with John singing lead. It has never officially been released.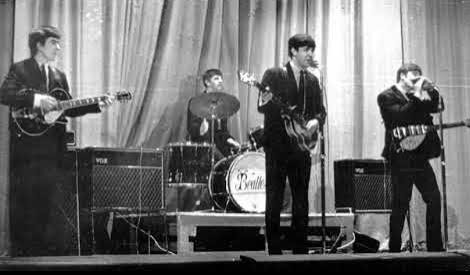 Interestingly, on April 4th, 1963, a surprisingly clear private recording of the song was made by John Bloomfield, a fifteen-year-old student in the audience of Stowe School at Roxburgh Hall in Stowe where The Beatles performed from 6:30 to 7:30 pm. The packed audience of this all boys' school (with a few girls in the back of the auditorium) didn't seem to mind too much that The Beatles were late in arriving to their scheduled 5:30 show.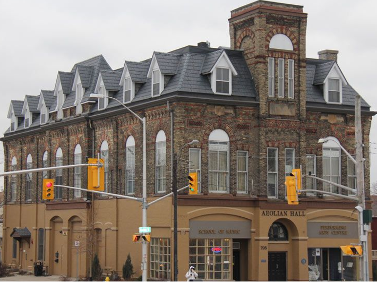 The Beatles very much enjoyed reviving classic material for their BBC radio appearances, so they pulled "Matchbox" out of the archives on July 10th, 1963 and gave it to Ringo to sing (since he had a history of singing the song) and record in Studio Two of Aeolian Hall in London between 1:30 and 3:30 pm. This recording was produced by Terry Henebery for the seventh edition of their radio show "Pop Go The Beatles," which aired on July 30th between 5 and 5:29 pm. This recording, which appears on the 1994 Beatles album "Live At The BBC," was recorded almost eleven months before it was officially recorded in EMI studios. Then, just before leaving for vacation in May of 1964, they recorded the song once again on May 1st, 1964 at BBC Paris Studio in London between 6:30 and 9:30 pm for the third edition of their BBC radio show "From Us To You," which was produced by Bryant Marriott and broadcast on May 18th between 10 am and 12 noon.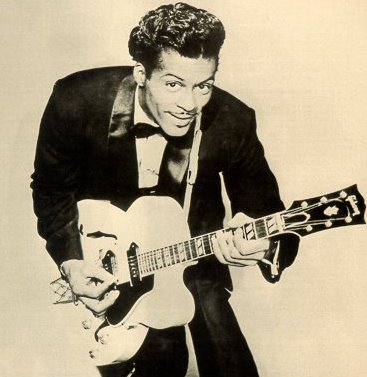 One of the perks of The Beatles' rise to fame was their good fortune to meet and/or rub shoulders with many of their long-time heroes, one of which was the "king of rockabilly" himself. Carl Perkins toured Britain with Chuck Berry (The Animals backed both artists) in May of 1964, which ended with a big party attended by The Beatles. Ringo took advantage of this occasion to ask permission for The Beatles to record some of Carl's songs. Seeing dollar signs in his eyes, his response was "Man, go ahead, have at it!" and he welcomed them to his whole catalog.
The Beatles' first day in the recording studio after their month of vacation in May was on June 1st, 1964. First on the agenda was making good on their recent request to record a Carl Perkins song, "Matchbox" being the selected track. As a gesture of goodwill, Carl himself was invited to the session to witness the event. Contrary to rumors that he actually played on the track, he was merely an observer, although they reportedly did jam together briefly before the tapes rolled.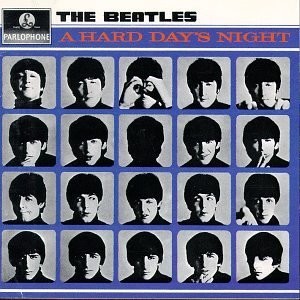 This session, at EMI Studio Two, ran from 2:30 to 5:30 pm, the first hour being utilized to fully record "Matchbox." Not being sure about the running order of the soon to be released "A Hard Day's Night" album, they probably figured this would be Ringo's vocal contribution to the album, although it wasn't to be.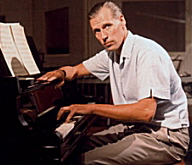 Five takes of the song were recorded, only three of them complete, which comprised a full live performance by all four Beatles plus George Martin on piano. Ringo proudly plays his newly acquired Ludwig drum kit, his third, for the first time on this track, the difference from the others being the 22" bass drum as opposed to his usual smaller 20" bass drum. John Lennon appears to have played the guitar solo in the song as evidenced in the version recorded for the BBC where Ringo yells out "alright John" before the solo begins.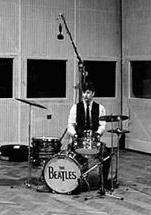 Ringo opted to sing while playing the drums, although vocal overdubbing was done afterward. In fact, Ringo triple-tracked the vocals, which is especially evident as the last verse begins, with the word "well" beginning at three different times. John's guitar solo, which attempted to recreate the flavor of the original version, was double-tracked, although it started to sound muddled at the end due to the overdub. This overdubbing was performed onto the best rhythm take, which turned out to be Take Five.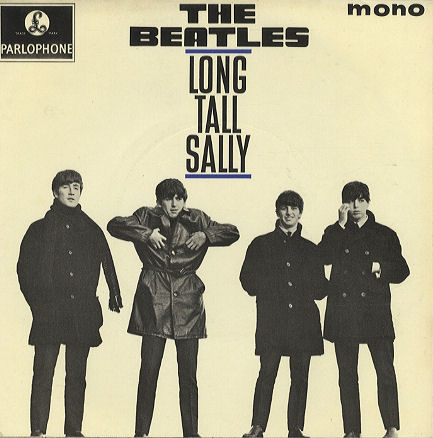 The mono mix was made very quickly afterwards on June 4th, 1964 by George Martin and engineers Norman Smith and Richard Langham at EMI Studio Two. One fault of this mix was the incoherent ending of the fourth verse during the line "watch how your puppy dog runs." Ringo had even greater trouble than John when double-tracking vocals, not being able to sing each line very closely to how it was sung the first time. Even with this obvious mixing flub, they felt it good enough to release in Britain on the "Long Tall Sally" EP as well as for the rest of the world.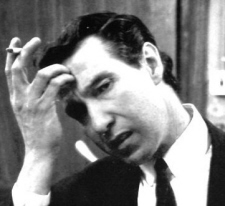 It wasn't until after the British EP was released that the EMI staff thought to create the stereo mix of the song. This was done on June 22nd, 1964 in the control room of EMI Studio One by George Martin, Norman Smith and 2nd engineer Geoff Emerick. Even though this full day mixing session (from 10 am to 9 pm) created a plethora of usable mono and stereo mixes, more care was taken to assure the stereo mix came out better than the mono had.
For instance, they altered the levels of certain tracks to isolate Ringo's phrase "watch how your puppy dog runs" so that you could decipher the words. They also turned down one of the tracks toward the end of the guitar solo when that started to sound jumbled during double-tracking. This being said, "Matchbox" is another rare example during the early Beatles recordings of the mono mix being inferior to the stereo.
At the end of this mixing session, tape copies of a few songs were made, undoubtedly to send to Capitol Records in America. The mono mix of "Matchbox" that was made on June 4th was copied at this time.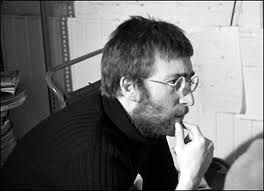 To be complete, mention should be made of a recording by John Lennon during the sessions for his 1970 album "Plastic Ono Band." With Ringo and bassist Klaus Voorman, Lennon recorded an ad-lib medley of "Honey Don't," "Don't Be Cruel" and "Matchbox," although this recording has never been officially released.


Also, on January 21st, 1990, Paul McCartney and his band recorded the song during a sound check for their performance at the Wembley Arena in London, this recording appearing on the 1990 live album "Tripping The Live Fantastic." He also performed the song during his "Secret Tour" of 2007, a recording of his June 27th, 2007 Amoeba Music show in Hollywood, California being released on the album "Amoeba Gig."

A recording of the song with Ringo sharing lead vocals with its writer, Carl Perkins, was done on October 21st, 1985 for a British television show, the result eventually being released on an album entitled "Blue Suede Shoes - A Rockabilly Performance."


Song Structure and Style
The twelve-bar blues style has never been more traditional in the entire Beatles catalog than evidenced on this track. Apart from a four-measure introduction, the song is entirely made up of six twelve-measure verses, the fourth of which comprises a guitar solo. All of the vocal verses follow the blues formula of repeating the first line twice and climaxing the thought in the third line. Each of the verses is also identical in the fact that they follow the standard three-chord sequence found throughout the history of the blues.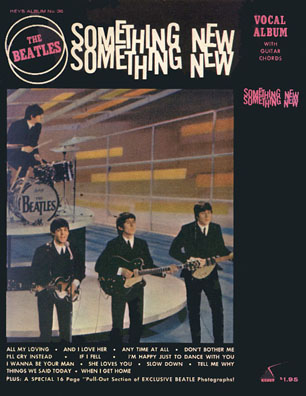 The four-measure introduction is divided into two parts, the first two measures made up of the low-keyed guitar riff that propels the song throughout, which is held down by George Harrison. The rest of the group, including George Martin on piano, kicks in for the final two measure of this introduction and continues unchanged for the rest of the song.
As the first verse begins, we see Ringo adding variations (or mistakes) to the original lyrics. Both in the first and final verse, he says he's "sitting here watching matchbox hole in my clothes" when the original clearly states that he's "wondering" if his clothes would fit into a matchbox. Being a "poor boy," it only makes sense that he pities his financial situation, but Ringo clearly does not understand the sentiments being expressed in this song.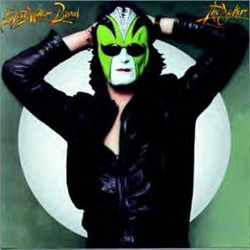 In the structurally identical second verse about the "poor boy," Ringo lyrically adds to the hopelessness of his situation by changing the lyrics from "everything I do is wrong" to "everything I ever did was wrong." Then, instead of going into the guitar solo as the original does, Ringo adds another verse beginning with "if you don't want my peaches, honey, please don't shake my tree," which was not in the original version at all. One shouldn't be quick to credit The Beatles with writing this verse since it is actually based on lyrical ideas that had been circulating in the blues world for decades. A case in point would be the 1973 classic "The Joker" by the bluesy Steve Miller which includes the similarly famous line "really love your peaches, wanna shake your tree." Also, The Beatles may very well have been familiar with the version of "Matchbox" by Jerry Lee Lewis which features a verse with similar lyrics.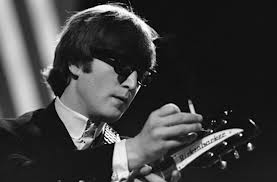 After an "alright" encouragement from Ringo, the fourth verse consists of a double-tracked John Lennon guitar solo which, while uneventful and indistinct at the end, does well to fit the mood of the song. Afterwards, another verse begins about a "little dog" and a "big dog." Ringo once again alters the verse's lyrics from a bravado message to one of humiliation, changing the original final line from "when your big dog gets here, show him what this little puppy done" to "watch how your puppy dog runs."
Instead of going into another guitar solo as the original does, The Beatles immediately go into a final repeat of the first verse with George Martin stepping up his piano work into a higher octave. With a note of finality in Ringo's final line "long way to goooo" and a standard blues ending, The Beatles put a quick finale to their rendition of a rockabilly classic.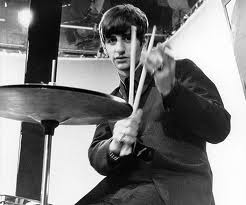 It would not be amiss to say that the song was rushed through in the studio to provide a quick outlet for Ringo. "Some of them we just couldn't get behind," McCartney has stated. "I must admit, we didn't really, until later, think of Ringo's songs as seriously as our own. That's not very kind but it's the way it was. Ringo, in fact, had to be persuaded quite heavily to sing...generally we never thought of those songs as being that good...John and I were really concentrating on 'We'll do the real records!'"
Performance wise, Ringo truly steals the spotlight with his typical 'poor me' vocal delivery, which seemed to permeate a lot of his output during The Beatles years (note "Honey Don't," "Act Naturally," "What Goes On" and even "Don't Pass Me By"). His drumming style suits the occasion perfectly, adding the occasional drum fill and accentuated ending that only came naturally for him.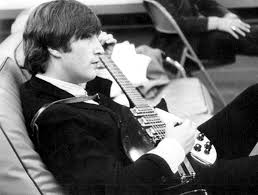 George Harrison does well to hold down the signature guitar riff throughout the song, which occupies him as rhythm guitarist. John Lennon, for the second time in 1964 recordings, shows his guitar chops once again as lead guitarist, the other being "You Can't Do That." Having had much practice with this lead since they had been performing the song live since 1960, he shows his aptitude for the guitar spotlight. While not flaunting or fully developing this ability, he did resurrect it on occasion, such as on "Get Back" and Abbey Road's "The End."
McCartney stays somewhat low-keyed on the song, exhibiting a standard four-square bass pattern. George Martin, on the other hand, did much to excite the recording above mediocrity. The pleased Carl Perkins gave a proverbial 'thumbs up' to the session and was able to sit back and wait for his royalty checks to come in.
American Releases
America got its first taste of The Beatles' version of "Matchbox" a month after Britain heard it. The British EP "Long Tall Sally" was released on June 19th while the Capitol album "Something New," which contained the song, arrived on July 20th, 1964. This album was released on compact disc on January 21st, 2014, with both the mono and stereo mixes contained on one CD.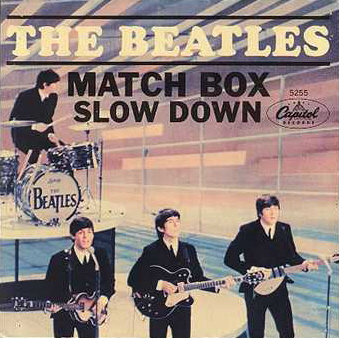 Capitol also saw fit to release it as a single on August 24th, 1964. Having a single featuring Ringo singing lead propelled the song into the Top 20 on the Billboard charts, peaking at #17 in October. With "Slow Down" on the B-side, both songs managed to crack the Top 40, which hadn't been done with the last four Capitol singles.
An interesting fact regarding the single is the misprint concerning the length of the song. The song is listed as being 1:37, which would have been the shortest Beatles single ever released, but its length is actually 1:57.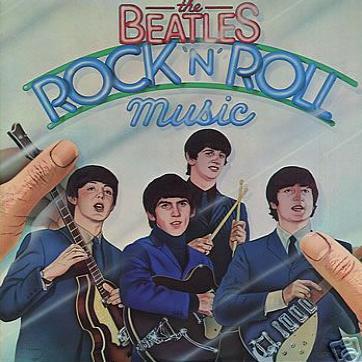 June 7th, 1976 was the next official release of the song on the Capitol double album compilation "Rock 'n' Roll Music." This highly successful album peaked at #2 on the Billboard album charts, but created a stir because of the album cover. It depicted the Beatles among 50's nostalgia, such as drive-in movies, coca-cola and Marilyn Monroe. Ringo complained about it and John even offered to design a new cover, which was declined. George Martin was consulted regarding the preparation of this album and, with access to only the Capitol mixes, decided it was necessary to reverse the right and left channels of the original stereo mix of this song for this album.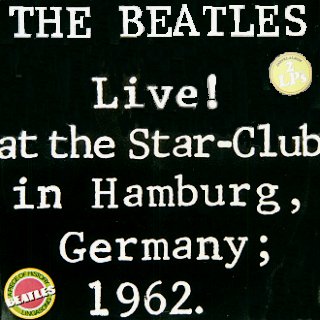 Even more controversial was the next release of "Matchbox" on the album "Live! At The Star-Club In Hamburg, Germany: 1962," released on Lingasong Records on June 13th, 1977. This time it was the poor sound quality and the legality of ownership that caused the stir. The fairly audible version of the song featured John Lennon on vocals.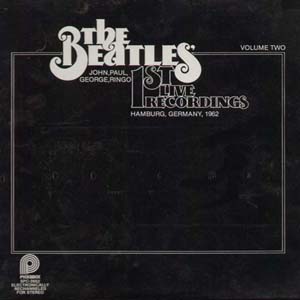 Pickwick Records took the ball in 1978 and first released the Hamburg tapes in three single-album volumes after trying to clean up the recordings somewhat. Interestingly, this version of "Matchbox" was featured in both "Volume 1" and "Volume 2" of the series that Pickwick titled "Recorded Live In Hamburg 1962." In 1979, the label repackaged these songs in two volumes that did not repeat any tracks, "1st Live Recordings, Volume Two" featuring "Matchbox" as the third track. Pickwick then combined both of these volumes into a double-album in 1980 under the name "The Historic First Live Recordings," which is quite hard to find today.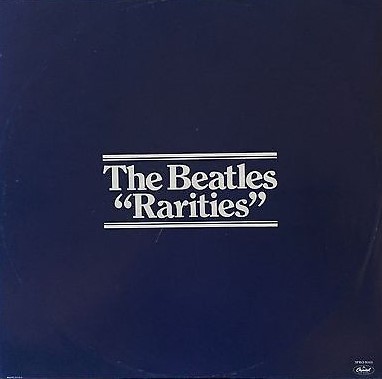 Because of EMI's decision to release a box set that included all of the British Beatles albums as well as an additional album entitled "Rarities" that included songs that did not appear on any British Beatles album, Capitol had initially decided to release this album in America. 2,000 promotional copies of this album were manufactured (#SPRO-8969) and then another unlimited number of advance copies (ESN-SN-12009) were printed in the fall of 1979. "Matchbox" was included on this proposed album which was decided to be abondoned due to the fact that this and most of the songs contained therein were available on other Beatles albums in the US at the time. These promotional albums are very collectible today.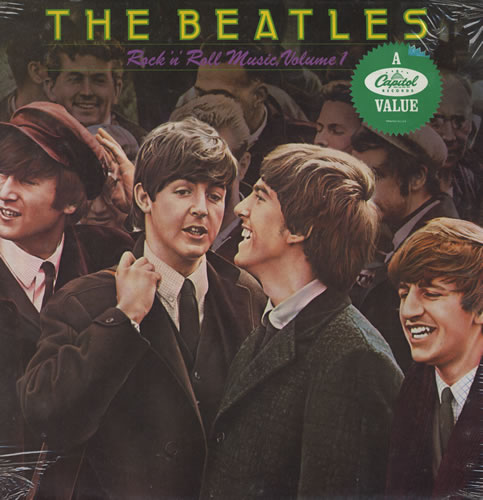 October 27th, 1980 saw Capitol Records re-release the "Rock 'n' Roll Music" album in two volumes, "Rock 'n' Roll Music, Volume 1" containing "Matchbox." To avoid further controversy, the cover now depicted a shot of the group arriving in America in February of 1964.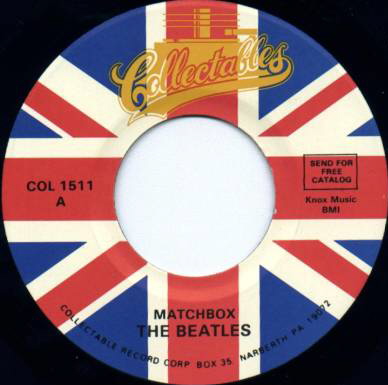 The record label Hall Of Music took their turn releasing the Hamburg tapes under the title "Live - 1962 - Hamburg Germany" in 1981. One more 80's US vinyl release of the Hamburg recording of "Matchbox" happened in 1982 on the Collectables record label. With "Red Sails In The Sunset" on the flip-side, this highly collectable single is a rare find today.
With the dawning of the compact disc era in the 1980's, music fans were eagerly waiting for the delayed release of the Beatles catalog on CD. K-Tel Records thought to cash in on this expectation by releasing "Live In Hamburg '62" in early February 1987, which was just prior to the release of the first four Beatles albums by Apple Records. Many Beatles fans couldn't resist owning a live CD by their favorite group that featured 20 tracks including "Matchbox," not realizing that this was such a lo-fi rough recording as released many times before on vinyl, as detailed above.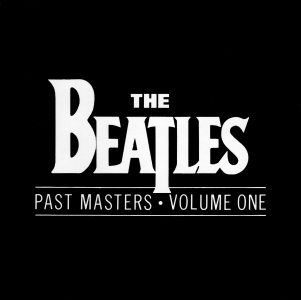 March 7th, 1988 saw the official release of the song in the US in the compact disc format. Since it wasn't contained on any British album, it was put on "Past Masters, Volume One." This album was combined with its companion "Past Masters, Volume Two" for a double-album vinyl release on October 24th, 1988. Then on September 9th, 2009, a remastered edition of the "Past Masters" set was released on CD, a remastered vinyl set coming out on November 12th, 2012.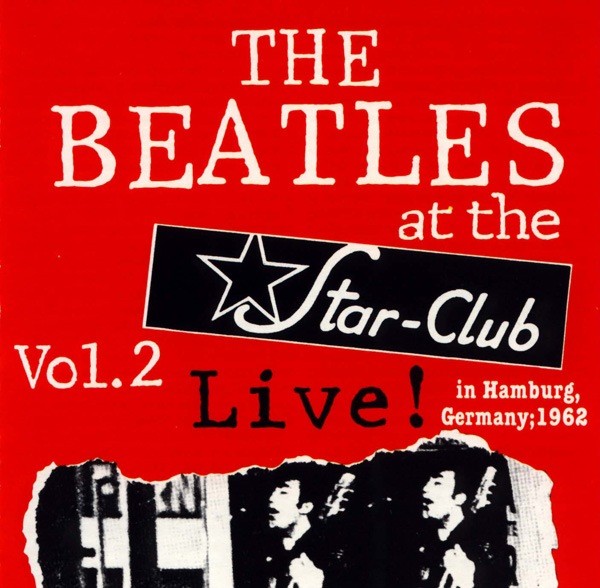 Sometime in 1991, Sony Music took it upon themselves to release two volumes of the above mentioned 1962 Hamburg recordings, "Live! At The Star Club In Hamburg, Germany; 1962 (Vol. 2)" containing "Matchbox." The release of these volumes prompted legal action from The Beatles, Sony discontinuing production of these volumes because of a lawsuit that had been filed. By 1998, The Beatles had won the right of ownership of these recordings, any releases surfacing after this point being illegally produced bootlegs.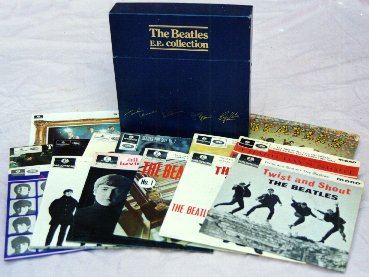 On June 30th, 1992, Capitol released the box set "Compact Disc EP Collection," which featured "Matchbox" as part of the original British EP "Long Tall Sally," as first released on June 19th, 1964.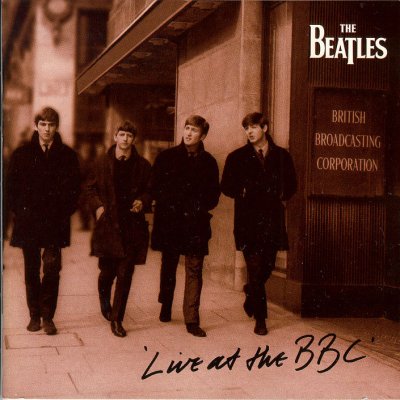 Then on November 30th, 1994, "Live At The BBC" was released, which included the first known version with Ringo singing lead vocals. This BBC recording from July 10th, 1963 was done almost eleven months before it was officially recorded in EMI studios. On November 11th, 2013, this album was remastered, re-packaged and re-released.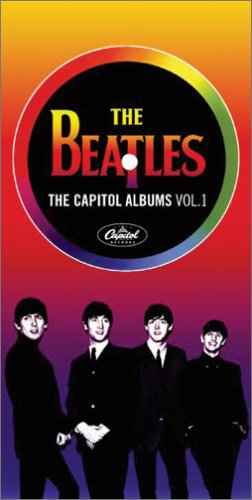 "The Capitol Albums, Vol. 1" was released on November 15th, 2004, which features the song both in stereo and mono as it was originally released in 1964 on the "Something New" album.

The mono mix of "Matchbox" was also included in the September 9th, 2009 released box set "The Beatles In Mono" on the disc "Mono Masters."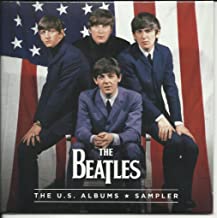 In promotion of the 2014 box set "The US Albums," a 25-song sampler CD was manufactured for limited release on January 21st, 2014, this containing the stereo mix of "Matchbox."
Paul McCartney has released his own live version of "Matchbox" from a sound check on his "World Tour" of 1989/90 on the album "Tripping The Live Fantastic," released October 29th, 1990. The July 12th, 2019 released album "Amoeba Gig" also contains a live rendition of the song Paul performed back in 2007, as mentioned above.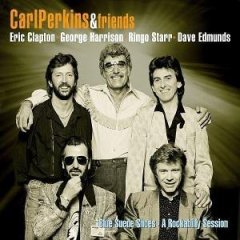 Also of note is an album entitled "Blue Suede Shoes - A Rockabilly Performance" by "Carl Perkins & Friends," which included Ringo Starr, George Harrison, Eric Clapton and Dave Edmunds. This album (and video) is the result of a British TV show from 1985 that celebrated the 30th anniversary of the release of "Blue Suede Shoes." Contained therein is a live version of "Matchbox" sung by Perkins, Clapton and Ringo. The album and video were released on the Snapper label on July 17th, 2006.

"Matchbox" was also included as the opening track in the 2CD set "Live At The Greek Theatre 2019," which was released on November 25th, 2022, this also being released on on 2CD/Blu-Ray set that same day.
Live Performances
"Matchbox" became part of The Beatles' growing repertoire in 1960 as a vocal feature for their new drummer Pete Best. Having joined the group just prior to leaving for their first Hamburg appearance on August 17th, they no doubt added the song shortly thereafter to fill the long demanding hours playing at the Indra Club and then the Kaiserkeller. Coincidentally, beginning around the same time in 1960, Ringo was singing lead on "Matchbox" during his summer residency at Butlin's summer camp with his rival group Rory Storm And The Hurricanes.
The Beatles continued to spotlight Pete with this song throughout the entire time he was with the band, which encompassed their future Hamburg visits as well as at the Cavern Club and other Liverpool engagements. On August 16th, 1962, Brian Epstein broke the news that Pete was dismissed from The Beatles and, at that point, John Lennon took over lead vocals on the song. The Hamburg recording made during the 1962 Christmas season shows John singing lead.

On April 4th, 1963, The Beatles played a unique hour-long concert at Roxburgh Hall, Stowe School in Stowe, Bucks, which was an all-boys school. Interestingly, fifteen-year-old student John Bloomfield recorded most of this performance on his reel-to-reel tape recorder. Among the twenty-two Beatles' songs caught on tape was "Matchbox."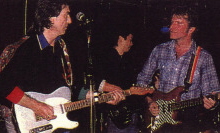 This is not to say that the individual Beatles didn't perform the song from time to time. The filmed rockabilly session in 1985 mentioned above, featuring Ringo, Eric Clapton, Dave Edmunds and Carl Perkins himself, included the song with shared lead vocals from Carl, Ringo and Eric. Also, a group who were posthemously dubbed The Silver Wilburys, which included George Harrison, Bob Dylan and John Fogerty, performed the song on February 19th, 1987 at the Palomino Club in North Hollywood, California.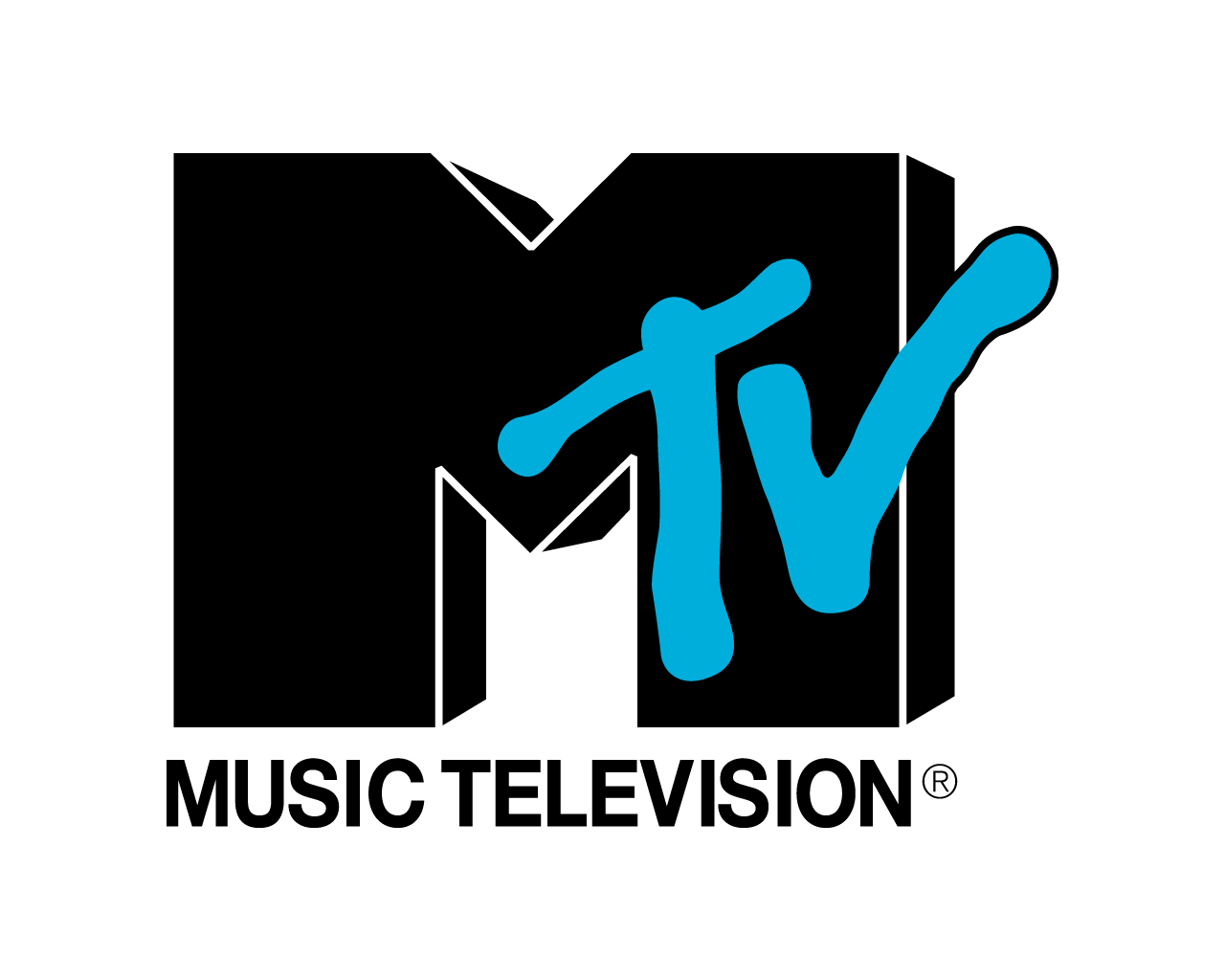 Paul McCartney loved the song enough to perform it during sound checks for his "World Tour" of 1989/90, a recording of which from January 21st, 1990 at Wembley in London, England being included on his "Tripping The Live Fantastic" album. And, although not featured on his "Unplugged" album, Paul performed the song during his "MTV Unplugged" performance on January 25th, 1991.

Also during the above time period, Paul did a live interview on BBC Radio 1's "The Steve Wright Show" on June 13th, 1990. When asked to get out his acoustic guitar and play a quick tune, Paul's surprising first choice was a portion of "Matchbox," which was obviously well received. Paul later performed the song during his "Secret Tour" of 2007, evidenced by a live rendition being performed on June 27th of that year at Amoeba Music in Hollywood, California which was contained on his album "Amoeba Gig."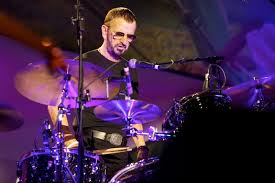 Surprisingly, Ringo waited until his twelfth tour of his "All-Star Band" (running from the year 2012 through 2013) to include "Matchbox" in his set list, the drummer including the song in all of his tours since then. The song was obviously not one he was eager to offer up thoughout all his post-Beatles touring years.

On January 27th, 2014, at the Los Angeles Convention Center, Ringo performed "Matchbox" during the 50th Anniversary of The Beatles' first appearance on the Ed Sullivan Show, this televised show being broadcast on CBS on February 9th of that year.


Conclusion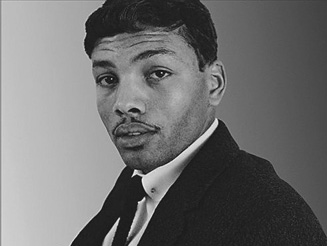 Since "Matchbox" was the first of three Carl Perkins numbers they decided to record and release in 1964, The Beatles were obviously awe-struck by their being able to meet one of their long-standing idols in May of that year. Only one other artist, Larry Williams, was fortunate enough to have The Beatles officially record three of his songs. This shows that while they made it a point to pay tribute to rock legends such as Chuck Berry and Buddy Holly, they had a penchant for the abilities of those a little less in the limelight; the underdog, so to speak.
Because of the timelessness of The Beatles music, the songs of these lesser known songwriters of the 50's have become indelibly stamped on the minds of music culture. Otherwise, songs like "Dizzy Miss Lizzy," "Honey Don't" and "Matchbox" would assuredly have vanished in the haze of yesteryear. Knowingly or unknowingly, we have The Beatles to thank for this.


Song Summary
"Matchbox"
Written by: Carl Perkins
Instrumentation (most likely):
Ringo Starr - Lead Vocals, Drums (1964 Ludwig Super Classic Black Oyster Pearl)
John Lennon - Lead Guitar (1964 Rickenbacker 325)
George Harrison - Rhythm Guitar (1963 Gretsch 6122 Country Gentleman)
Paul McCartney - Bass Guitar (1963 Hofner 500/1)
George Martin - Piano (1905 Steinway Vertegrand upright)
Written and compiled by Dave Rybaczewski
IF YOU WOULD LIKE TO MAKE A DONATION TO KEEP THIS WEBSITE UP AND RUNNING, PLEASE CLICK BELOW!
Sign Up Below for our MONTHLY BEATLES TRIVIA QUIZ!