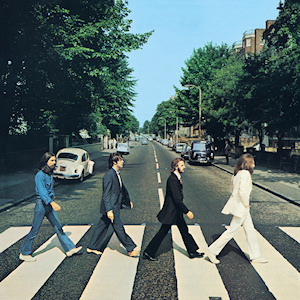 "ABBEY ROAD"
(Apple SO 383)
Released October 1st, 1969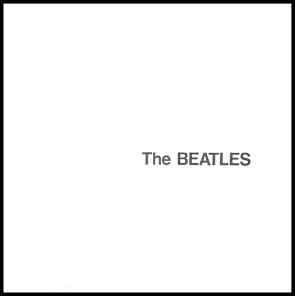 1969 was a very happy year for American Beatles fans, as well as fans the world over. As the year began, they had just begun dissecting and digesting the 30-song double album affectionately known as the "White Album," which had been released in late November of the previous year. Also released that November and still enjoying a good run in the movie theaters in January of 1969 was their animated classic "Yellow Submarine," which was a sizable box office hit. Also in January, the Soundtrack Album for the movie was released which quickly went Gold, this album featuring four never-before-released Beatles songs for public consumption.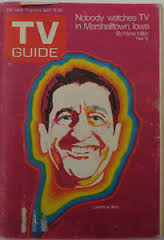 Then, the April 19-25, 1969 issue of TV Guide featured a two-page article entitled "Four cats on a London roof" which got many American Beatles fans very excited. The magazine made mention of a "TV documentary" that The Beatles had filmed, the contents of which was "to let the world – all over which The Beatles hope to sell the documentary in a few months – know just how The Beatles go about their work."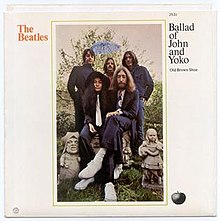 A week or so after this article appeared, a new spring Beatles single was released, not unlike last spring's "Lady Madonna," the highly successful "Get Back" which zoomed to the #1 position on the Billboard singles chart and stayed there for five weeks. Less than a month later, yet another Beatles single was released, "The Ballad Of John And Yoko" which, despite being beat out by "Get Back" which was at #1 at the time, as well as many radio stations refusing to play it due to some lyrical content, still made the Top Ten.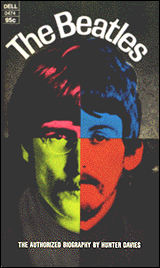 And for die-hard Beatles fans who wanted to know the intimate details of their idol's lives, the September 1968 released Hunter Davies biography "The Beatles" was flying off the shelves. The early months of 1969 were undoubtedly spent by many devouring these pages, including this quote from Paul McCartney which whetted the appetite for what was to be expected next musically from the group: "All of us will always appear to be changing, just because we don't conform. It's this not conforming, wanting to do something different all the time, which keeps our music different."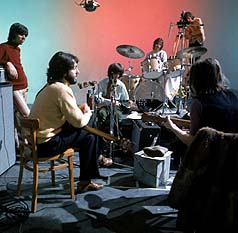 During these months, unbeknownst to all of us, there was great turmoil in the world of The Beatles. So great, in fact, that it threatened the existence of the group. Paul pushed the band into writing and rush-recording their next album within a month's time, unlike the five or more months it had taken them to make their previous two albums, while cameras were filming the process for a supposed "TV documentary." The results were viewed as lackluster at best and were shelved indefinitely, causing much dissension within the group.


Add to this the management, financial and legal problems which nearly brought them to blows, leaving three out of four of The Beatles disillusioned and not very keen to be working together anymore. Also, John Lennon's controversial and highly publicized activist exploits with new partner Yoko Ono were predominant on his mind, relegating his band to a position of unimportance to his causes or his future.

Behind the scenes, there was question as to whether we would ever hear new music from The Beatles at all. There was great interest from the fans but there just didn't seem to be any interest from The Beatles themselves. And then, from within the ranks of the group, something unexpected and amazing happened – something that we all can be grateful for!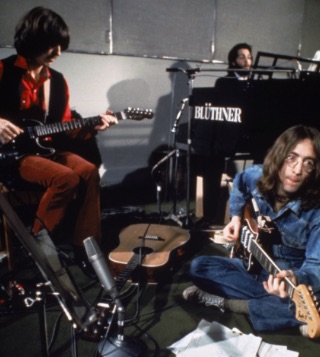 Origin Of The Album
George explains in the "Beatles Anthology" special how the final album came to be. "Well, I think the deal was that, you know, through 'Let It Be,' it was like, I left, and we got back on the basis that we've got to just finish it up, make it tidy. So I got back on that basis. THEN everybody decided, well, we ought to do one better album." Paul then adds: "It was like, we should put down the boxing gloves and try and just get it together and really make a very special album."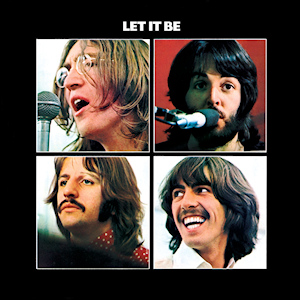 George Martin then relates a rather unexpected occurrence: "'Let It Be' was such an unhappy record (even though there are some great songs on it) that I really believed that was the end of The Beatles, and I assumed that I would never work with them again. I thought, 'What a shame to end like this.' So I was quite surprised when Paul rang me up and said, 'We're going to make another record – would you like to produce it?' My immediate answer was: 'Only if you let me produce it the way we used to.' He said, 'We will, we want to.' - 'John included?' - Yes, honestly.' So I said, 'Well, if you really want to, let's do it. Let's get together again...(but) If I have to go back and accept a lot of instructions which I don't like I won't do it...' It was a very happy record. I guess it was happy because everybody thought it was going to be the last."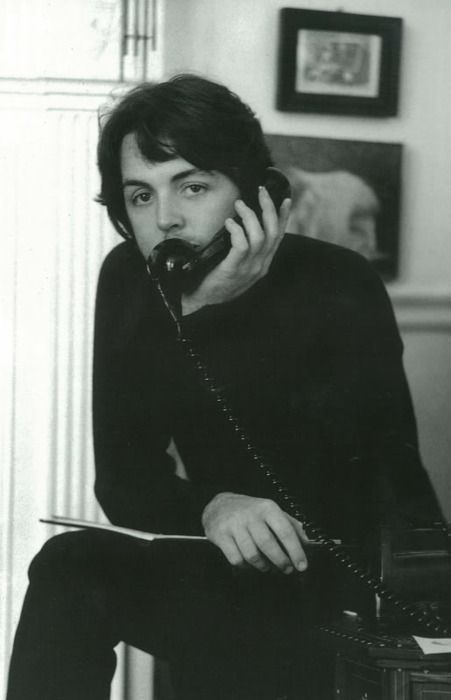 Beatles engineer Geoff Emerick, while hired to get their new Apple recording studio up and running, also received an unexpected phone call from Paul, as related in his book "Here, There And Everywhere." "'Hello, Geoff, how are you getting on?' he asked me breezily. 'Fine,' I told him, 'I'm just trying to sort out some of these studio costings.' Naturally enough I assumed that was the reason for his call, but I was wrong. 'Never mind that, Geoff, there's something more important I need to talk to you about. We're going back into EMI this summer to record a new album, and we want you to engineer it.'"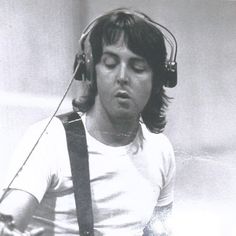 "Without a moment's hesitation I said, 'Yeah, brilliant.' We chatted some more and I asked Paul as diplomatically as I could if everyone was getting along these days. 'Yes, things are pretty good,' he replied. 'We sorted a lot of our problems out and there's going to be a better vibe in the studio this time around. We're planning on doing this album the way we used to make records, with George really producing.' It sounded almost too good to be true, but I kept my skepticism to myself. Come what may, I'd be engineering another Beatles album after all."
The Beatles in EMI Studio Two, circa 1969
Recording The Album
With these phone calls made, the official sessions for what became the "Abbey Road" album began on July 1st, 1969. However, The Beatles had been busy in the studio, mostly with producer Chris Thomas, as early as February 22nd recording tracks that eventually found a home on the album, songs such as "I Want You (She's So Heavy)," "Oh! Darling," "Octopus's Garden" and "Something" being among them. But it wasn't until July 1st that, with George Martin at the helm, The Beatles final album took focus, them booking EMI Studio Two the 2:30 to 10 pm slot every day until August 29th to complete it.
One thing that hindered the process of making the album at this point was a car accident that John Lennon had on that same day, July 1st, during a holiday in Golspie, north Scotland, with Yoko, her daughter Kyoko and his son Julian. With John behind the wheel, their car "careered into the ditch by the side of the road...at the tongue area of Sutherland," according to a news report. John was hospitalized until July 6th, receiving seventeen stitches. His first appearance in the studio was on July 9th during the initial recordings for "Maxwell Silver Hammer" in which he declined to participate on that day.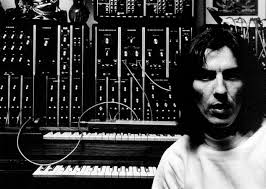 The very last session used for recording "Abbey Road" was August 19th, this being a Moog synthesizer overdub that George Harrison applied to his composition "Here Comes The Sun." Therefore, the recording of the album stretched from February 22nd to August 19th, 1969, mixing and editing work extending until August 25th. Also during this stretch of time The Beatles recorded both sides of their summer single "The Ballad Of John And Yoko / Old Brown Shoe," overdubs for both sides of their future single "Let It Be / You Know My Name (Look Up The Number)," and other demos that did not become part of the album, these being "Come And Get It" and "All Things Must Pass."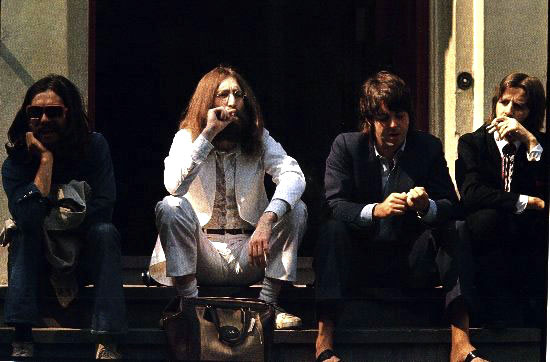 The Beatles waiting to cross Abbey Road, August 8th, 1969
Cover Art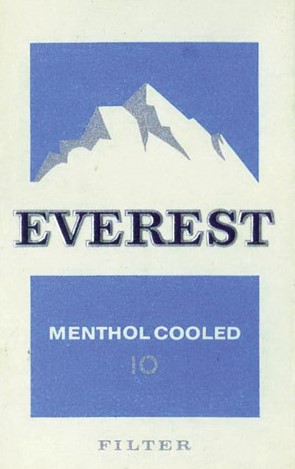 "While we were in the studio," Paul explains in the "Beatles Anthology" book, "our engineer Geoff Emerick always used to smoke cigarettes called 'Everest,' so the album was going to be called 'Everest.' We never really liked that, but we couldn't think of anything else to call it." Ringo relates, "We went through weeks of all saying, 'Why don't we call it "Billy's Left Boot?" and things like that." Paul continues: "Then one day I said, 'I've got it! - I don't know how I thought of it - 'Abbey Road!' It's the studio we're in, which is fabulous; and it sounds a bit like a monastery." Shortly thereafter, EMI Studios, which is located on Abbey Road, would be forever christened "Abbey Road Studios."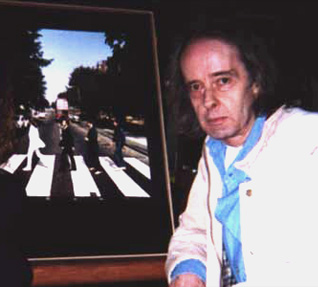 With the album name decided on, cover art needed to be worked out and, in this case, simplicity was key. "The crossing was right outside," Paul relates, "and we said, 'Let's just go out, get a photographer and walk out on the crossing. It'll be done in half an hour.' It was getting quite late and you always have to get the cover in ahead of the sound. So we got hold of the photographer Iain Macmillan, gave him half an hour and walked across the crossing."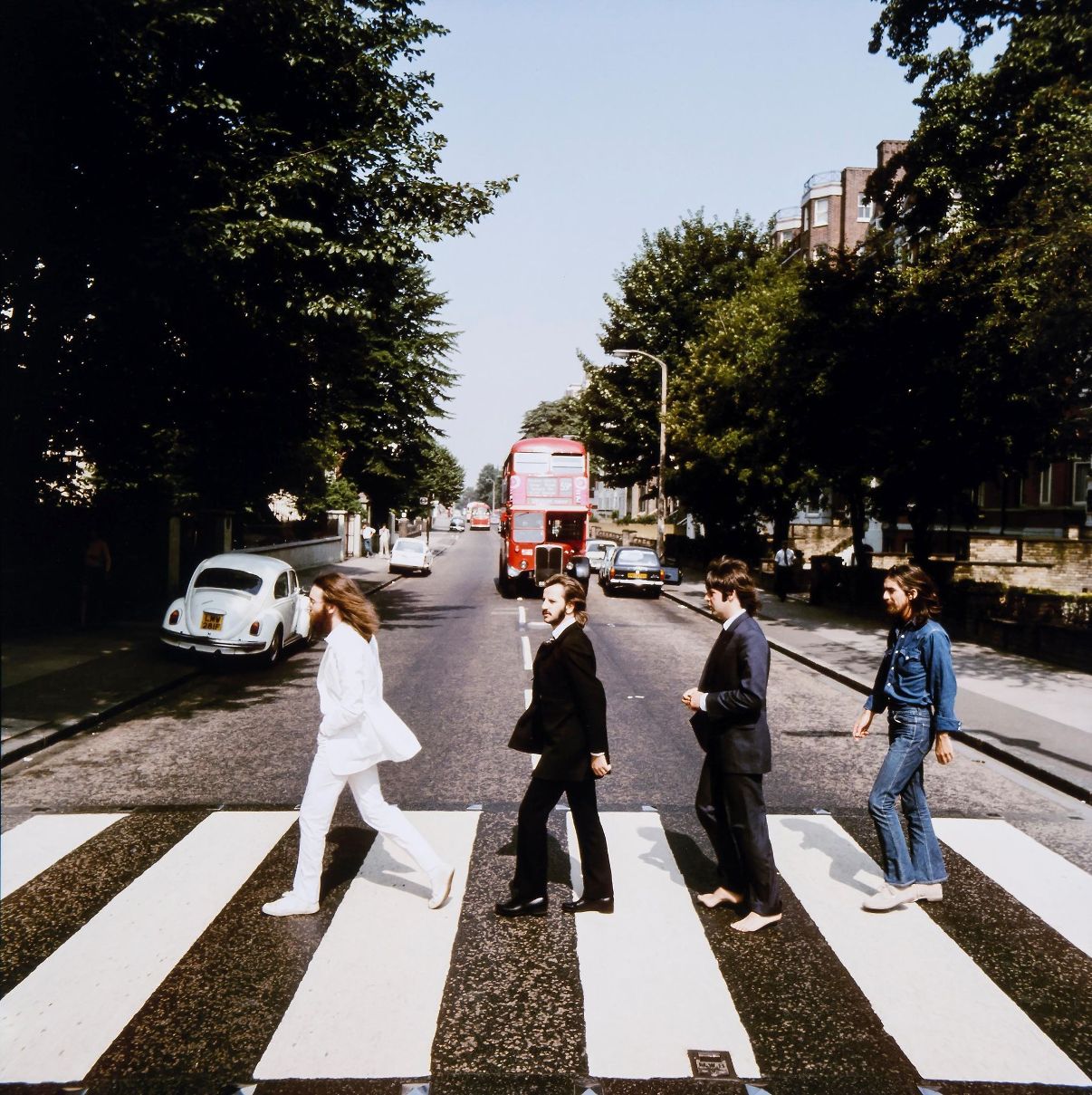 "It was a very hot day in August, and I had arrived wearing a suit and sandals. It was so hot that I kicked the sandals off and walked across barefoot for a few takes, and it happened that in the shot he used I had no shoes on, Sandie Shaw style. There's many a person who has gone barefoot, so it didn't seem any big deal for me at all." This photo shoot took place at 10 am on August 8th, 1969, with a policeman holding up traffic for the ten minutes it took for the photographer to climb a ladder in the street to take six shots for consideration for the album cover. It took them a while to get their legs positioned in a natural way without looking awkward, Paul then studying the prints with a magnifying glass to determine which one was best. A little later in the afternoon on that day, after George and roadie Mal Evans returned from a trip to the zoo, they all reconvened at EMI Studio Two to perform overdubs on "The End," "I Want You (She's So Heavy)" and "Oh! Darling." The effort taken for this album cover was indeed much simpler than flying to Mount Everest as was seriously considered.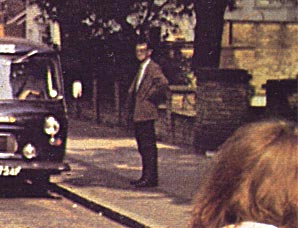 In addition to the iconic four figures of The Beatles walking across the street on arguably the most popular album cover in history, there is also an American tourist named Paul Cole who made it onto the cover as well. Standing on the sidewalk, visible near John Lennon's head, he was standing there conversing with a policeman in his vehicle when he spotted four "kooks," as he called them, walking across the street. He chose to stay outside instead of accompanying his wife on the next stop of a London tour that they were on. Many months later, when his wife, a church organist, purchased a copy of "Abbey Road" to learn a song that was requested for a wedding, he then recognized the event that he witnessed in London on the front cover of the album and then spotted himself there. This occurrence has later been dubbed "the greatest photobomb ever!" (Note: Some reports say that this "Mystery man" is actually Tony Staples, a nearby resident. You be the judge.)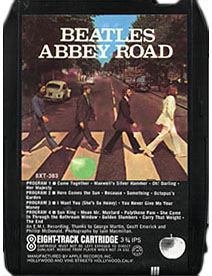 Abbey Road 8-Track Tape
Success Of The Album
The album was released in America on October 1st, 1969, the British release coming five days earlier on September 26th. Somehow, unauthorized tape copies of the album were being circulated to some American radio stations, prompting Capitol Records to send out 4,000 early copies of the album to key US radio stations to level the playing field, each copy accompanied by a letter asking the stations to please not air any portion of the album until the scheduled release date of October 1st so that record outlets wouldn't be bombarded with requests for an album that they didn't have in stock yet. Such was the anticipation for a new Beatles album at the time.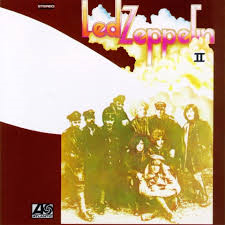 As would be expected, it only took three weeks for the album to reach the #1 position on the Billboard album charts, staying there for eight straight weeks. Then began the battle for the top spot with the equally popular "Led Zeppelin II" album, which replaced "Abbey Road" for a week. Then "Abbey Road" was #1 for two more weeks, only to be replaced again by "Led Zeppelin II" for another week. "Abbey Road" surpassed Led Zeppelin one more time for an additional week until it succumbed again to the heavy rock band, The Beatles staying in the #2 spot for the next five weeks. All in all, "Abbey Road" was at #1 for eleven weeks, #2 for seven weeks, spent a total of 27 weeks in the top ten and 129 weeks on the charts.


"Abbey Road" sold over four million copies in the first two months of release, this possibly being spurred on by conspiracy theorists who claimed that "clues" found on the album cover indicated Paul McCartney's death. In June of 1970, manager Allen Klein reported that it was the biggest selling album in their history, having sold five million copies by that point. By 2011, it had sold more than 31 million copies worldwide, becoming one of the biggest selling Beatles albums of all time.

And unbeknownst to us all, on September 20th, 1969, eleven days before "Abbey Road" was released in America, John Lennon informed the rest of the group that he was leaving!
Written and compiled by Dave Rybaczewski

CLICK ON THE SONG TITLES BELOW TO READ THE IN-DEPTH HISTORY OF THE SONGS ON "ABBEY ROAD"

IF YOU WOULD LIKE TO MAKE A DONATION TO KEEP THIS WEBSITE UP AND RUNNING, PLEASE CLICK BELOW!
Sign Up Below for our MONTHLY BEATLES TRIVIA QUIZ!