Search by Keyword
"YESTERDAY…AND TODAY"
(ST 2553)
Released June 20th, 1966
While The Beatles were hard at work recording their next British album "Revolver," Capitol Records knew that the American market was hungry for another album in the meantime. That is to say, Capitol was hungry for more profits from their biggest selling act and, since US Beatles fans had already been accustomed to expecting at least two albums a year, it was a win-win situation.
Make-Up Of The Album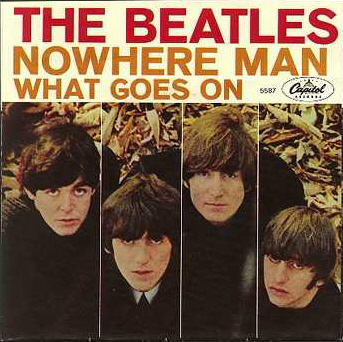 As it stood, Capitol already had a backlog of Beatles tracks that hadn't been available on an American album. The last three singles, namely "Yesterday," "We Can Work It Out" and "Nowhere Man" (and their b-sides) were yet to be on an album, so there were six songs to start with. Capitol also saved two other songs from their December 1965 album "Rubber Soul" for just such an occasion, these being "Drive My Car" and "If I Needed Someone." So eight out of eleven spots were already filled, this being the accepted criteria for filling a US Beatles album at the time.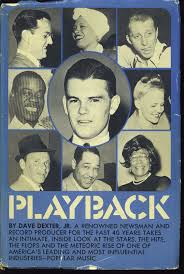 But what would fill the remaining three slots? The person in charge of making this decision had always been Capitol executive Dave Dexter Jr., who determined the choice and running order of the songs contained on all of the previous make-shift American Beatles albums, which usually bore his name on the back cover. (This is the same Dave Dexter who, in 1962 and 1963, advised Capitol NOT to sign The Beatles to their label.) This time around, however, the project was turned over to another Capitol employee, Bill Miller, who ended up being credited on the album jacket. Why the change? No one knows for sure, although Dexter has stated in his book "Playback" that EMI forced Capitol to reassign him to other duties.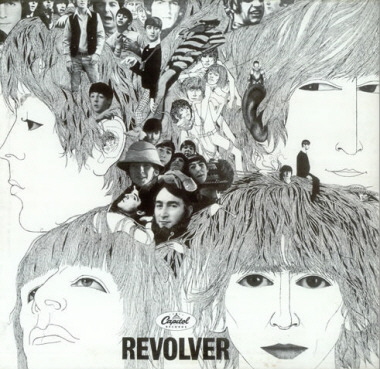 An easy solution was already in their possession. They had just received the mono mixes for two newly recorded Beatles songs that were earmarked for their next single, namely "Paperback Writer" and "Rain." While these were not to be included on their upcoming British album "Revolver," the single could easily have been used to promote this earlier album. As for the eleventh slot, Capitol still hadn't placed the b-side of the 1965 single "Help!" on an album, this being the song "I'm Down." Since this track was recorded on the same exact day as "Yesterday," which was to be the primary cut on this make-shift album, it was well within the parameters of a current timeline. If this had been their decision, they seemed good to go.
But this turned out not to be the case. Since The Beatles themselves were gaining more control over their career, and had become much more cognizant of creating an album as a work of art instead of just a collection of songs strung together haphazardly, they may have been the ones to disapprove of promoting their new single as an album cut. At any rate, the decision was made to let the release of the "Paperback Writer" single stand alone on its own merits. Capitol probably didn't want their proposed "Yesterday…And Today" album to appear as just a collection of recent singles, opting instead for it to look like a brand new album release direct from England. Therefore, "I'm Down" was passed over as well.

As they had done for previous make-shift albums "The Beatles' Second Album" and "Beatles VI," Capitol requested newly recorded songs to be sent immediately for inclusion on this new album. With some reluctance, EMI fulfilled their demand and, on May 12th, 1966, George Martin and engineers Geoff Emerick and Jerry Boys created mono mixes of three new tracks that were intended for "Revolver" later that year. Surprisingly, all three were primarily John Lennon-penned tracks, namely, "I'm Only Sleeping," "Dr. Robert" and "And Your Bird Can Sing." These mono mixes were performed rather quickly, in less than three hours total. They would be improved upon later for their British release on "Revolver," so America received unique versions of these songs with noticeable differences (especially "I'm Only Sleeping").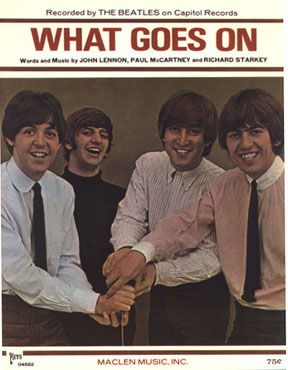 As it turned out, the album gave a dual appearance to American audiences; it seemed to be a "greatest hits" package of the past year while featuring many tracks that were new to everyone's ears, thereby appearing to be a brand new Beatles album. It was also the first American or British album to feature two Ringo songs, "Act Naturally" and "What Goes On?," which was due in America since the last three Capitol albums hadn't contained anything sung by everyone's favorite drummer.
Recording The Album
Since the recording sessions for three albums made up the contents of this make-shift American album, the time span involved stretched nearly eleven months, from June 14th, 1965 to May 6th, 1966. While it is much more common today for sessions to complete an album to take this long, it is enormous according to Beatle years. The sessions break down as follows:
1. During the "Help!" sessions, recording for "Yesterday" began on June 14th and was completed on June 17th, 1965, which happens to be the same date that "Act Naturally" was recorded in its entirety.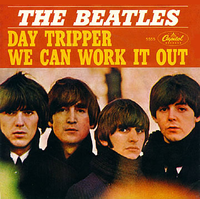 2. During the "Rubber Soul" sessions, "Drive My Car" was fully recorded on October 13th, while "Day Tripper" saw completion on October 16th, 1965. Recording for "If I Needed Someone" began on this same date and was completed on October 18th of that year. "We Can Work It Out" was premiered in the studio on October 20th but wasn't complete until October 29th. In the meantime, recording began for "Nowhere Man" on October 21st and it was complete on October 22nd. Finally, "What Goes On?" was fully recorded on November 4th. This completes the sessions that transpired in 1965.
3. During the "Revolver" sessions, "Dr. Robert" began life on April 17th and was completed on April 19th, 1966. The released version of "And Your Bird Can Sing" was fully recorded on April 26th, while recording for "I'm Only Sleeping" began on April 27th with elaborate overdubs being performed on April 29th as well as May 5th and 6th, 1966.
The "Butcher Cover"
As history shows, the great music contained on "Yesterday…And Today" was not the only element that attracted attention to the album when it was first released. The original cover, or what most people view as the original cover, made the biggest initial splash in the media before most US audiences even knew the album existed. The first prints of the album, 750,000 copies thereof, contained a picture of the group wearing white butcher's coats with raw meat draped over their laps. Also present in the photo were decapitated baby dolls and false teeth. While the cover of the previous American album "Rubber Soul" could be described as "revolutionary" for its time, this "butcher cover" took the term to much greater heights!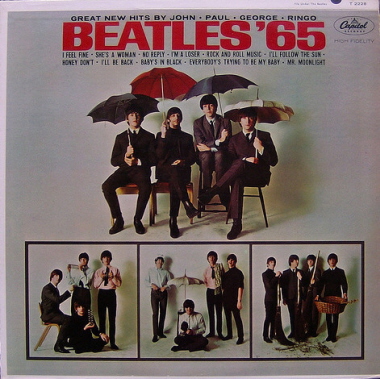 The photo session that resulted in this picture took place on March 25th, 1966 in a Chelsea studio with photographer Bob Whitaker. Whitaker was not new to working with The Beatles, he having taken the photos used for the "Beatles '65" album, for example. This time around, instead of using a thematic "four seasons" approach with props such as umbrellas and brooms (with the expressionless Beatles appearing quite bored with the proceedings), Whitaker took the band on "A Somnambulant Adventure" (as he called it) with a vast array of outrageous props. These included a large light bulb that was held by George and which reflected the other Beatles in the glass, the group holding sausages, a birdcage that was placed over George's head, and a hammer and nails which George attempted to nail into John's head. Adding to this multiple dismembered baby dolls, false teeth and raw meat, this was one photo session that The Beatles found a little more interesting.
Shortly after this session took place, however, all four Beatles and Bob Whitaker were at Brian Epstein's NEMS Enterprises office. Taking advantage of the opportunity, Brian suggested that some additional impromptu pictures be taken. This resulted in some photos being shot around a light blue steamer trunk that happened to be there.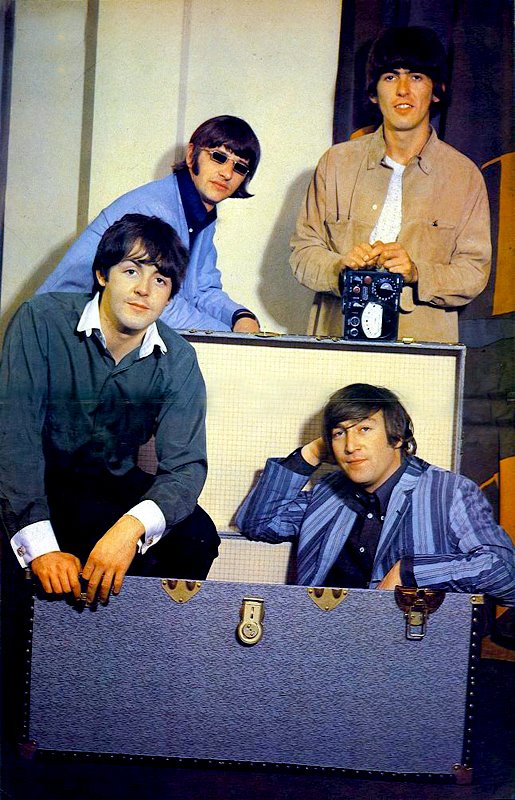 Coincidentally, nearly two months later, Capitol contacted Brian to inform him of their intentions of releasing another make-shift American album and needed not only three more songs, but a recent color picture of the group. Considering nothing from the "Somnambulant Adventure" photo session to be suitable, he sent over the impromptu shots from NEMS with the steamer trunk. Capitol chose one with Paul sitting inside the trunk, reversed the picture (for some reason), and sent over a mock-up version of the album cover for Brian to approve.
Upon learning about this new album, The Beatles (especially John) wanted to use the "butcher cover" instead. In order to fulfill their wishes, Brian Epstein informed Capitol of the decision and sent over the new photo the group wanted on the cover. Although quite hesitant, the record label went ahead with production.
As could be expected for 1966, the response from distributors in the US was one of alarm. Most retailers refused to carry the album in their stores at all with this shocking cover, although they were very anxious for a new Beatles album. Capitol had no choice but to inform Brian that the picture could not be used after all and that the originally planned steamer trunk photo would have to replace it.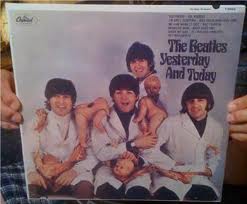 The original release of the album was slated for June 15th, 1966 but, because of the overwhelming negative response to the cover, this was put on hold. Instead, great efforts were made by Capitol to salvage the existing albums, discard the offending covers, and place the albums in newly made jackets with the steamer trunk cover. At much expense and overtime hours paid, this appears to have been accomplished by June 20th, the official release date of the album as we know it. Surprisingly, though, there were some retailers, such as Sears And Roebuck department stores, who received the albums with the "butcher cover" and temporarily made them available in their record departments at an earlier date. The lucky few who bought this album before it was quickly recalled have a great collector's item today (if it's still in good shape).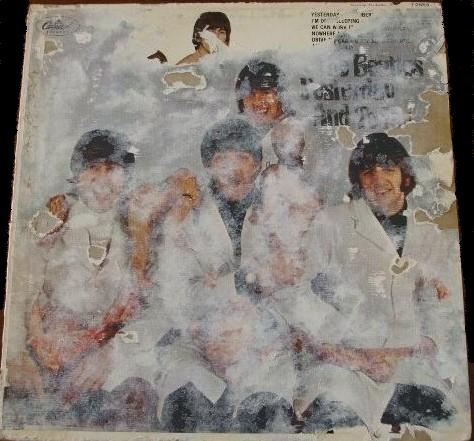 Another way that some might have come to own a legitimate copy of the "butcher cover" was because of a short-cut that Capitol experimented with during the recall. Since the back cover of the new jackets were exactly the same as the old ones, and a good number of the old covers were still in their possession, one of the production companies obtained new front cover "slicks" from Capitol to paste over the old covers with the intention of saving some expense. Therefore, a good number of customers who purchased the album just after June 20th may have the "butcher cover" underneath the steamer trunk cover. While this knowledge led to many people attempting to peel off their covers to reveal nothing but cardboard, many did (and still do) find that their copy was indeed a "paste-over." However, peeling the top cover off has become a fine art, exact details of which I have no intention of trying to explain or even understand.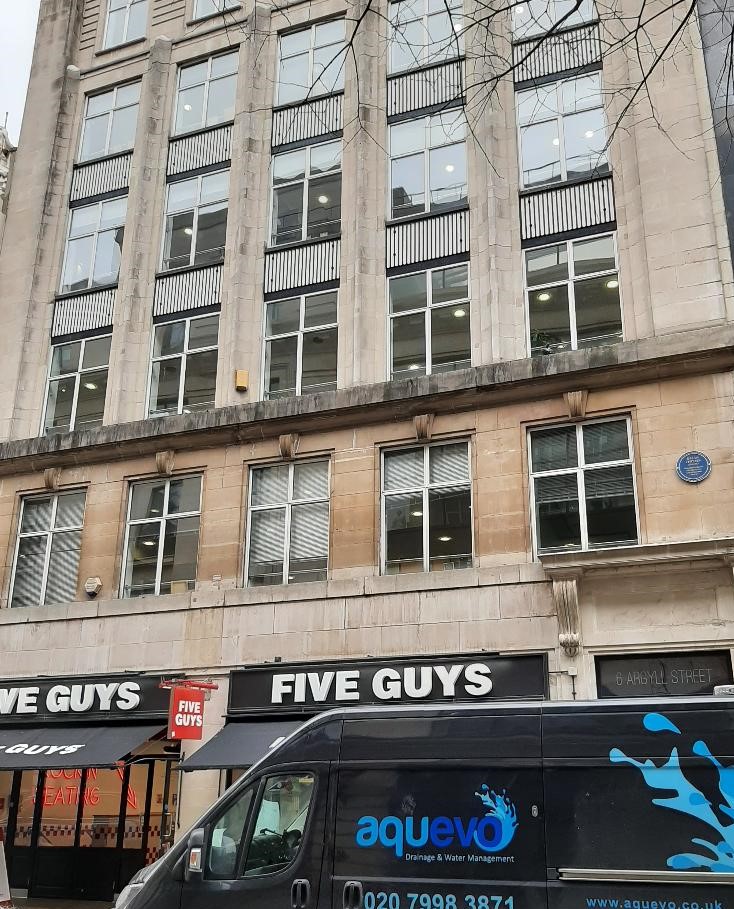 Brian Epstein's offices where the trunk cover for "Yesterday...And Today" was taken.
Success Of The Album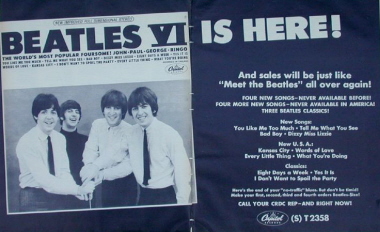 Not having a new Beatles album out since December of 1965 seemed like a lifetime to Capitol Records. Knowing that the group's next album wouldn't be ready to release for a few more months, the American label took matters into its own hands in May to prepare a release of the leftover songs as a new album in order to help increase sales during their usual "'no-traffic' blues" in the middle of the year, as stated in a 1965 Billboard ad for "Beatles VI." While a new single, namely "Paperback Writer," was good enough to keep British fans happy until "Revolver" was released in August, American record buyers had become accustomed to new Beatles albums appearing every few months or so.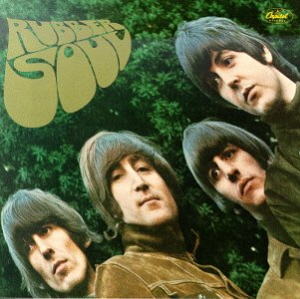 Following the hugely successful "Rubber Soul" album from December of 1965, which sold over six million copies in the US alone, and because of the controversy over the "butcher cover" that hit the media, "Yesterday…And Today" did amazingly well despite the fact that Beatle fans probably already owned over half of these songs from the previous three singles. It sold over two million copies, which was double what last year's June album "Beatles VI" sold. It spent five weeks in the number one position on the Billboard album charts and only began to drop when "Revolver" was released exactly seven weeks later.
Written and compiled by Dave Rybaczewski
CLICK ON THE SONG TITLES BELOW TO READ THE IN-DEPTH HISTORY OF THE SONGS ON "YESTERDAY...AND TODAY"

IF YOU WOULD LIKE TO MAKE A DONATION TO KEEP THIS WEBSITE UP AND RUNNING, PLEASE CLICK BELOW!
Sign Up Below for our MONTHLY BEATLES TRIVIA QUIZ!