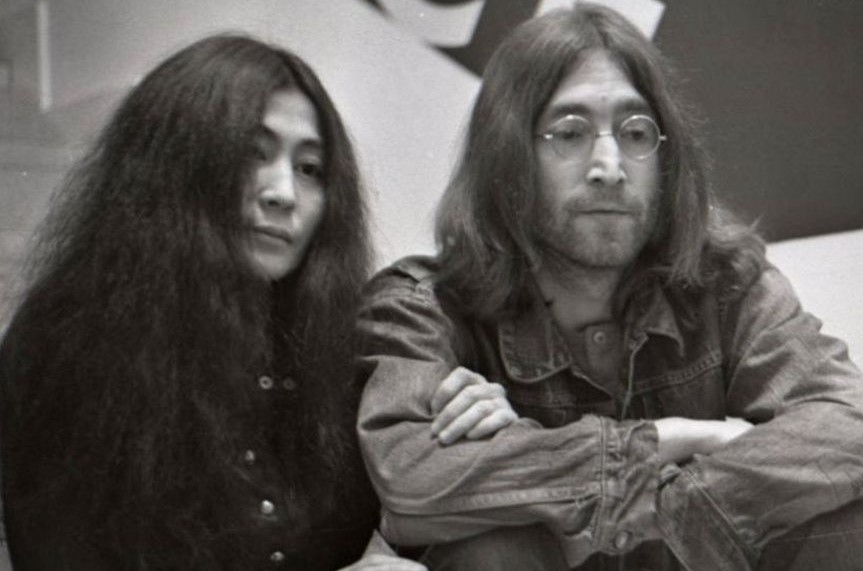 "DON'T LET ME DOWN"


(John Lennon / Paul McCartney)
It can be expected that at some point in any songwriter's career they will write a song in dedication to the one they love. Generally, you could point to any songwriter who has been around for any length of time and be able to easily identify at least one song dedicated to whomever their significant other was at the time they wrote it.



As far as The Beatles are concerned, John Lennon and Paul McCartney worked tirelessly in their formative years as songwriters, their aim being to formulate their craft in imitation of their favorite pop composers, such as Goffin & King, Smokey Robinson, Bacharach & David, etc. Along the path to writing the perfect pop song, with lyrics and melody appealing to a broad audience of youths, Paul did give in to composing straight-up love songs to his girlfriend Jane Asher, such as "And I Love Her" and "Here, There And Everywhere." Even though George Harrison was just cutting his teeth as a songwriter, "I Need You" could be pointed to as a heartfelt love song in dedication to his new love Pattie Boyd.


However, possibly because of John's hard-nosed persona, one is hard-pressed to find a Lennon love song intended specifically for his wife Cynthia. While teen romance songs abounded throughout the early Beatle years, such as "I Want To Hold Your Hand" and "I Feel Fine," these come across as formulaic excersizes in pop songwriting, the quest for the next hit single. As admired and well-written as they are, we can't imagine John regaling Cynthia with any of these compositions on acoustic guitar with love in his eyes. His relationship with his wife may have been touched on at times, such as with "A Hard Day's Night" and "When I Get Home," but Lennon apparently just didn't have it in him to write a romantic love song at the time. Maybe it just seemed too hokey to him.


But then came "Don't Let Me Down." During John's highly inspirational output of 1968, mostly written in India and revealed to the world on the "White Album," his inspiration came from just about everything he witnessed there or was feeling at the time. But after the monumental task of recording the album was over, and with the January 1969 "Get Back / Let It Be" project looming, his songwriting attention was focused primarily on his love for Yoko. He no longer felt the need to prove to the world that he could write the perfect pop song. Been there, done that! All he wanted now was to scream to the world how he felt about his new love, whether through music, art, films or events.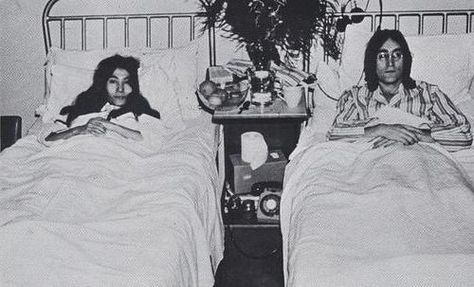 John and Yoko in the hospital during Yoko's miscarriage, November 1968
Songwriting History
"That's me, singing about Yoko," John simply stated in 1980 when asked about "Don't Let Me Down." A good portion of the song was written by December of 1968, evidenced by a home demo he undoubtedly recorded at his Kenwood home, his temporary residence with Yoko directly after her miscarriage and hospital stay in late November. With this tragic event fresh in his mind, their devotion to each other was very strong, the result being a love song written by John dedicated to his true love.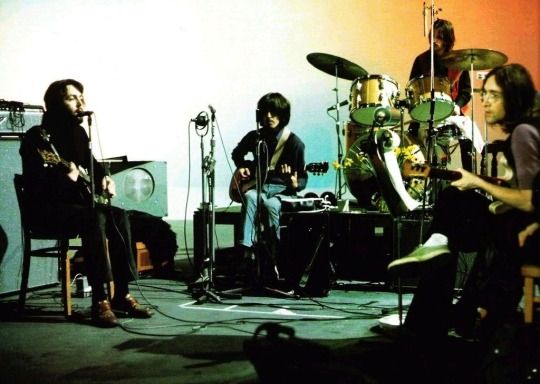 "I'm in love for the first time," John sang to Yoko in this acoustic guitar demo, "don't you know it drives me mad / Nobody loved me like she like she does...don't you know it's from above." The verse and bridge lyrics were pretty much in place at this time, the "don't let me down" choruses not being written as of yet. The rest of the song was fleshed out during the early January "Get Back / Let It Be" rehearsals at Twickenham Film Studios, the chord changes being changed and/or refined along the way.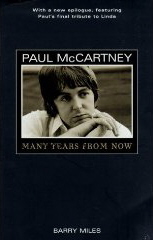 The addition of the "don't let me down" refrains, along with the falsetto "pleeeeease" cries near the song's conclusion, alters the composition from a straight-forward love song to a plea for devotion. "It was a very tense period," Paul relates in his book "Many Years From Now." "John was with Yoko and had escalated to heroin and all the accompanying paranoias and he was putting himself out on a limb. I think that as much as it excited and amused him, at the same time it secretly terrified him. So 'Don't Let Me Down' was a genuine plea, 'Don't let me down, please, whatever you do. I'm out on this limb, I know I'm doing all this stuff, just don't let me down.' It was saying to Yoko, 'I'm really stepping out of line on this one. I'm really letting my vulnerability be seen, so you must not let me down.' I think it was a genuine cry for help."


As for the sexually fueled lyrics of the second verse, namely "from the first time that she really done me...she done me good," John acknowledges that songs he had written around that time tended to go in that direction. "It was at the beginning of my relationship with Yoko and I was very sexually oriented then. When we weren't in the studio, we were in bed." John's earliest lyric sheet for the song included the line "And if sombody ever loved me half as much as she do me" as well as a couple crossed out repeated lines for the bridge. Lennon's first wife Cynthia, as well as other previous lovers, were undoubtedly humbled by the lyric, "I guess nobody ever really done me / like she done me / she done me good!"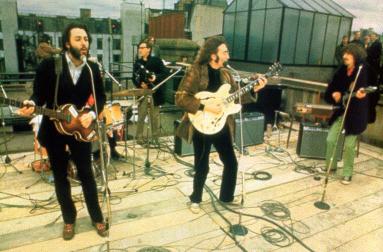 "It was a good song," Paul continues in his book. "We recorded it in the basement of Apple for 'Let It Be' and later did it up on the roof for the film. We went through it quite a lot for this one. I sang harmony on it, which makes me wonder if I helped with a couple of words, but I don't think so. It was John's song." Paul did attempt to interject some lyrical ideas to the song when they were developing its arrangement at Twickenham Studios, as we'll see below. However, Paul's lyric ideas were eventually dropped, making this a full Lennon composition.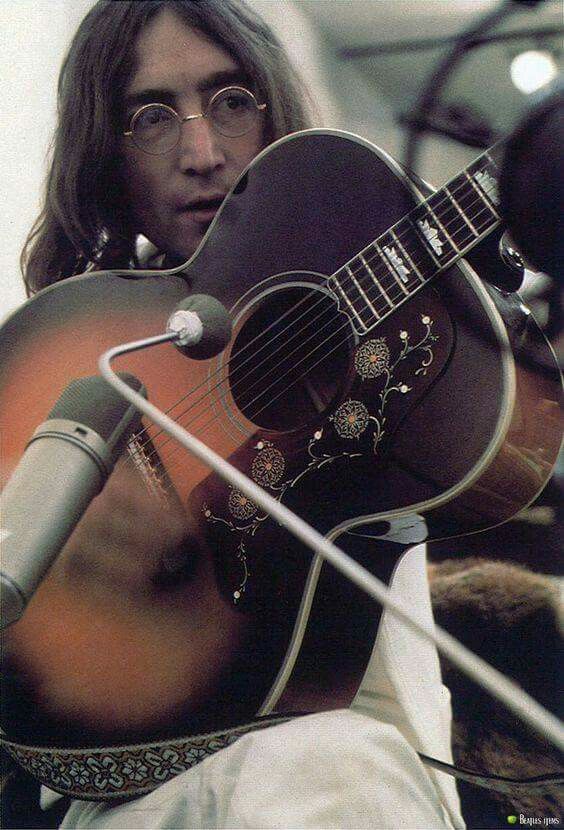 Recording History
As detailed above, John recorded an early demo of "Don't Let Me Down," presumably at his Kenwood home sometime in December of 1968. The acoustic guitar demo begins with Lennon conferring with Yoko, saying "That could be part of that," and then immediately proceeds to premier this newly written composition with what we identify as the verses and bridge of the song, displaying somewhat mumbled unfinished lyrics and impressive chord changes that were eventually scrapped. After this excersize was complete, he stated, "that'll do," and then stopped the tape.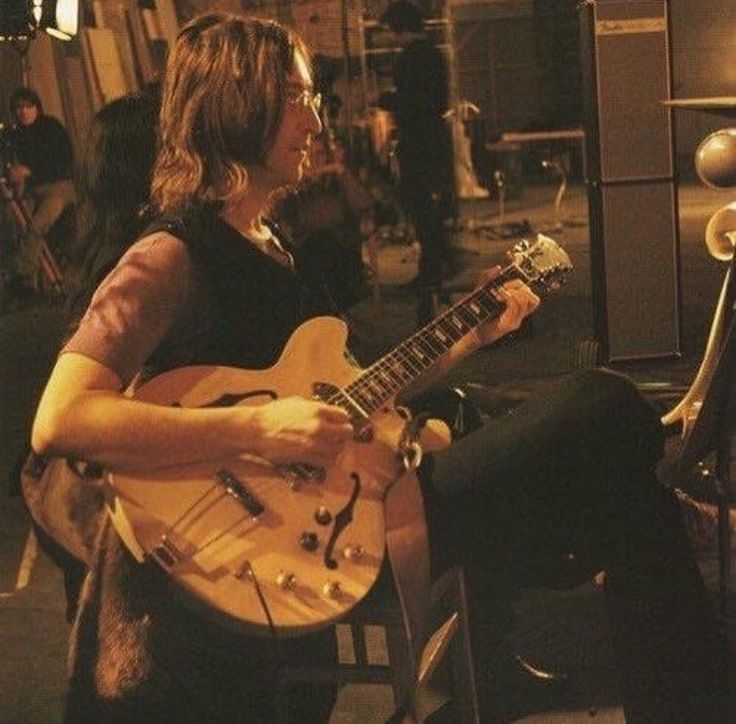 January 2nd, 1969, was the first day of rehearsals for what became the "Let It Be" movie and soundtrack. "Don't Let Me Down" was the first Lennon offering for the project, the only composition anywhere close to being a completely written song other than "Dig A Pony." John and George arrived first and, after tuning their guitars, Lennon introduced his "Don't Let Me Down" ideas to George, who attempted to play along. A snippet of this is heard at the beginning of the "Fly On The Wall" disc included in the "Let It Be...Naked" CD set released in 2003. "That's the most finished," John told George, who replied, "That's a good one...I like simple tunes." As John was also demonstrating another song idea that eventually became "Sun King," this flowing directly into "Don't Let Me Down," John joked, "Every song's got the same chords," to which George replied, "I noticed. Mine do too." Ringo arrived a little later and joined in on drums on this song, which at this early stage contained lyrics that sounded like, "Everybody got a piece of toast to chew on / everybody's got soul / everybody got soul / everybody's gotta be the son and on / don't let me down..." This lyric and melody line idea, as witnessed in Peter Jackson's "Get Back" series, was scapped soon after. The three Beatles also went through George's newly debuted composition "All Things Must Pass" and others, Paul arriving around 12:30 because of being delayed due to problems with public transport.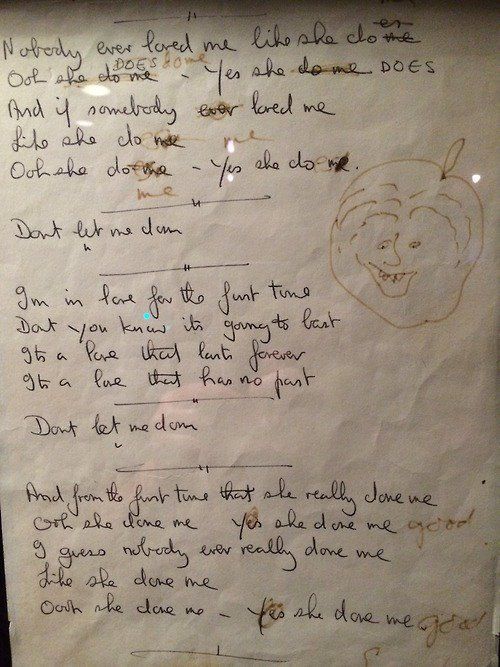 They ended up rehearsing fifteen versions of "Don't Let Me Down" on this day, the choruses concluding at this stage with John singing "I'm in love for the first time / please don't let me down." Paul began re-arranging the song some time after he arrived, suggesting to begin it with the title being sung twice. As for the lyrical phrase mentioned above, Paul thought they should "skip that little interlude" because it sounded "like a middle eight so scrap that and use it somewhere near the end." John added five repeats of a phrase beginning with "everybody got a ..." at one point, but this was only an excercise of an already developed idea with Paul for the song "I've Got A Feeling" that they also continued to develop for the project that month.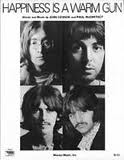 The second day of rehearsals for the "Let It Be" project was January 3rd, 1969 at Twickenham Film Studios, Lennon being the last to arrive on this day. "It hurts just to rehearse it," John stated concerning his vocal delivery on "Don't Let Me Down." Nonetheless, they ran through ten versions of the song at this rehearsal, the final arrangement becoming quite complete by this time. John inserted a segment of "Happiness Is A Warm Gun" into one of the rehearsals of the song as a humorous ad lib. As seen in Peter Jackson's "Get Back" series, John was concerned about the song's length. "I wonder how long it is? Do you wanna time it, Mal? Because it's probably about a half minute long." Assistant Mal Evans then produces a stop watch in order to accurately time a run-through of the song. "Three minutes 40 seconds, incredible," Paul states after they complete a rehearsal of the song, to which John replies, "That's fine then."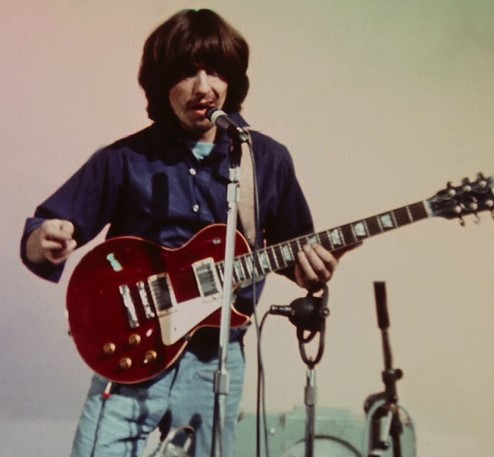 After the weekend, The Beatles reconvened at Twickenham on Juanuary 6th, 1969, for another rehearsal. They worked extensively on "Don't Let Me Down," performing a total of 28 versions of the song, nailing down the guitar introduction George was to eventually perform on the finished recording. However, tension developed between George and Paul during these rehearsals as they attempted many harmonies, lyrical changes, falsetto voices and call and response vocals for this song, as witnessed on the "Fly On The Wall" disc on the "Let It Be...Naked" release and on Peter Jackson's "Get Back" series.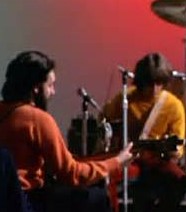 Paul's new lyric ideas included "I'm in love for the first time in my life / so don't you let it get away / it lasts forever and a day." Paul suggested that he and George harmonize on some of these lines in the open spaces between John's vocals in the bridge, which Paul identified as "corny." "I think the words should be corny because there are no clever words in it," John rationalizes. Paul admits, "It's like it verges between ridiculous and all right that, singing different bits." George later argues, "It sounds like the same old sh*t," to which John counters, "Well, I like the same old sh*t if it's just clear, y'know." Paul also starts dictating how George should play his guitar passages, how Ringo should play the drums, and how a sustain should occur just before the bridge begins. "If we had a tape recorder now," George responds, "I mean just taped that and played it back, you'd throw that out straight away...Really, you'd throw it out!" Paul counters with, "We've just gone around like for an hour with nothing...and we're back...Let's just sort of move on for now." They moved on to rehearsals for the song "Two Of Us," which developed into the infamous argument between George and Paul where the guitarist exclaimed, "Whatever it is that will please you, I'll do it!"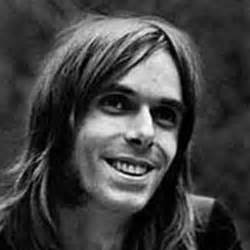 Discussion also ensued on this day as to the presence of a keyboard on "Don't Let Me Down." "Would we have piano on it?" Paul asked, suggesting session keyboardist Nicky Hopkins whom The Beatles recently worked with on the single version of "Revolution." Since Nicky, "the guy who plays with The Stones" as John referred to him, was in America at the time, George volunteered to move to bass to allow Paul to play keyboard if necessary, but John insisted that he wanted two guitars in the arrangement. Keeping to the agreed-upon "no overdubs" policy for this project, a keyboardist needed to be enlisted to fulfill Lennon's desire for one. To differentiate the two guitarists, George used a wah-wah effect on many of the rehearsals of the song on this day while the keyboardist idea was dropped for the time being. As we'll see, Billy Preston was eventually used to fill this role.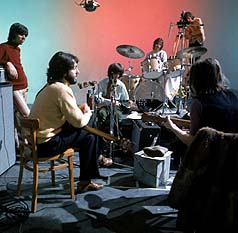 The next session, January 7th, 1969, saw the group rehearsing twelve more versions of "Don't Let Me Down," further refinements to the arrangement being done, especially on the bridge. The song was mooted for the live performance they were to perform at the completion of these rehearsals, although the venue for the final performance was not agreed upon as of yet.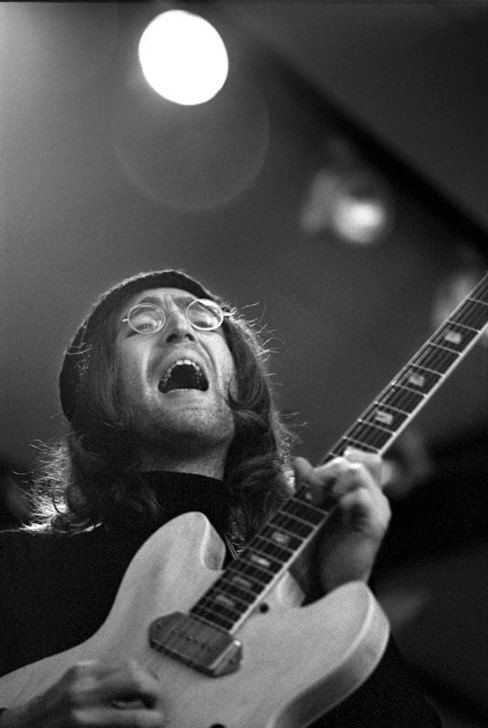 Two rehearsals of "Don't Let Me Down" were performed the next day, January 8th, 1969, which saw the group in high spirits and very cooperative despite John's inability to remember the lyrics to his song. The group's enthusiam waned as the rehearsal progressed, however, especially during trial runs of George's song "All Things Must Pass." January 9th saw yet another rehearsal of "Don't Let Me Down," while other songs, such as "Let It Be," "For You Blue" and "Across The Universe" received much more attention.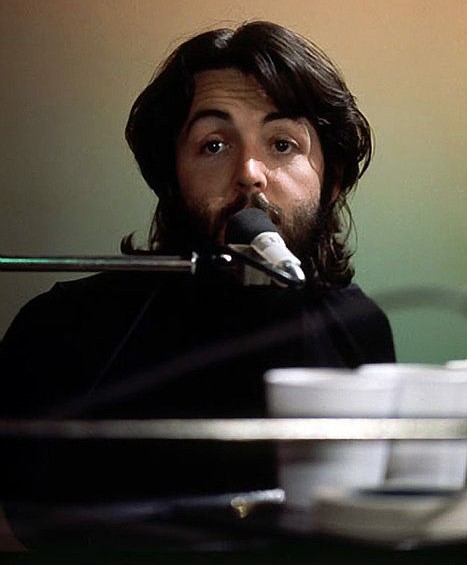 January 10th, 1969, was a monumental day among the rehearsals for the "Let It Be" project. Paul arrived first, ran through on piano many of the songs that the band had been recently rehearsing including two versions of "Don't Let Me Down," and then proceeded to rehearse many songs with the other Beatles once they arrived. George, however, appeared tense and disinterested in the proceedings. Then, during lunch, the guitarist annouced, "See you 'round the clubs" and proceeded to leave, thereby quitting the group. After John immediately proposed that they recruit Eric Clapton to complete the project, the three Beatles, with Yoko on vocals, continued the session for the day.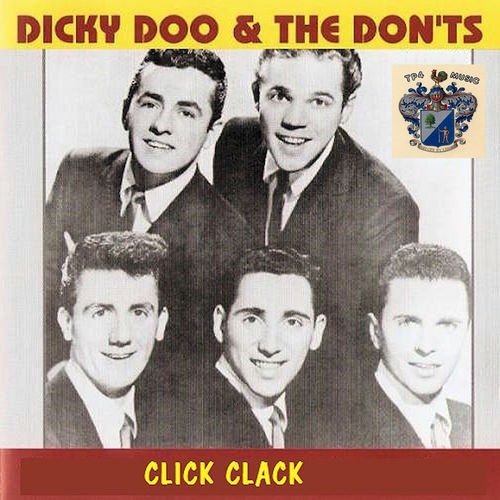 A week-and-a-half later, on January 21st, 1969, the four Beatles reconvened for another "Let It Be" rehearsal, this time re-locating to Apple Studios on Saville Row instead of Twickenham as per George's requirements for re-joining the group. The session didn't start until the afternoon due to installation of EMI recording equipment, the resulting rehearsal being rather sloppy and without much direction. Nonetheless, two rehearsals of "Don't Let Me Down" were performed in order to recapture the progress they had previously made. George no longer used his wah-wah pedal at this stage, playing his newly acquired rosewood Fender Telecaster through a rotating Leslie speaker instead, while John resorted to various vocal ad-libs, imitating Little Richard at one point, and then singing one bridge about professional wrestler Dicky Murdock and American singer-songwriter Dicky Doo.


The following day, January 22nd, 1969, showed keyboardist Billy Preston joining the fray. His appearance fulfilled John's desire to have a keyboardist on "Don't Let Me Down." The mood lifted dramatically at this session, the first song receiving extensive attention being John's "Don't Let Me Down." With Lennon first on organ to help Billy learn the chords, they ran through eighteen rehearsals of the song with John on his usual rhythm guitar, one of which being chosen by producer Glyn Johns for inclusion on his first "Get Back" album incarnation, this being delayed and inevitably shelved for the time being. "They were a very tight unit," Billy Preston related. "They really worked hard at what they did. Everybody had their parts. That's the key of a good band, actually. All I had to do was just like float around it."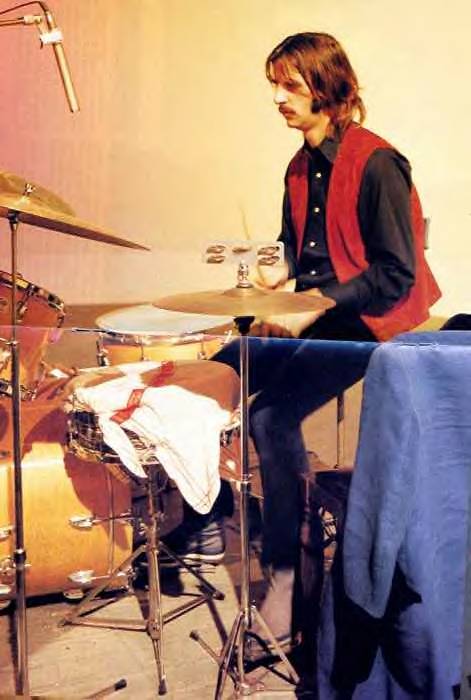 As caught on tape, John instructs Ringo to crash a cymbal just before he begins singing in order to "give me the courage to come screaming in." This version, which was featured in many early bootlegs of the album, features John ad-libbing "she done me good...goody, goody, goody good," as well as his encouragement,"Hit it, Bill" before the electric piano solo begins and then "Oh, yeah! One more" as his solo is being performed. This rendition concludes with John repeating the title of the song just before some unwarranted cymbal crashes from Ringo followed by John instructing, "Well, ladies and gentlemen, we'd like to change the tempo a little," John then demonstrating a fast paced rhythm guitar.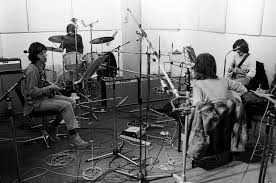 The Beatles touched on "Don't Let Me Down" once on their January 24th, 1969 Apple Studios session, but returned to it in earnest on January 27th. Five renditions were performed on this day, which further refined the arrangement and performance, specific sections of the song being focused on and obvious vocal glitches becoming apparent. One such vocal glitch, as seen in Peter Jackson's "Get Back" series, focuses on parsing out the the final verse. John was singing "and if somebody ever really loved me like she does," while Paul was harmonizing with "and if somebody ever loved me like she does." In actuality, both of these words needed to be eliminated in order to match the meter of the song as heard in the other verse, which they tentatively solidified on this day. Continued approval of Billy Preston's keyboard work on the song was expressed by John during one rehearsal where he shouts out, "Oh, Little Willie, Yeah!", undoubtedly reminding him of a Little Willie John song from the 1950's.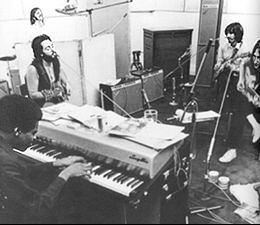 On the following day, January 28th, 1969, The Beatles do some final fine tuning to the arrangement of "Don't Let Me Down" at Apple Studios. In the first verse, the lyric "and if somebody ever loved me like she does" was lessened to "and if somebody loved me like she does" in order to fit the meter of the song. John and Paul also instructed George in what melody line he should play during the bridge. After this was worked out, John introduced the proper recording takes of the song by announcing it as, "Don't Let Me Down The Road Again Blues Short Fat Fanny You're My Desire." The Beatles and Billy Preston then made four proper recordings of "Don't Let Me Down," two of which being near perfect performances that included the one ultimately chosen for the B-side of their next single.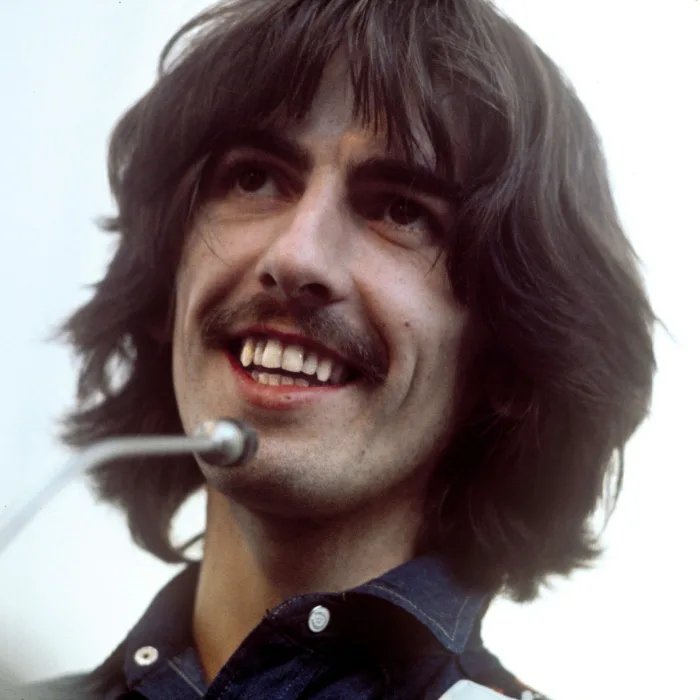 The eight-track tape consisted of Paul's harmony vocal (track one), John's lead vocal (track two), Billy Preston's electric piano (track three), Paul's bass (track four), Ringo's drums in stereo (tracks five and six), John's guitar (track seven) and George's lead guitar (track eight). As seen on Peter Jackson's "Get Back" series, George also sang backing vocals on these recordings, this performance either being combined with Paul's harmony vocal on track one or not being committed to tape at all. One of these four recordings were considered suitable for release despite John flubbing some lyrics in the first verse, this being corrected later as we'll see below.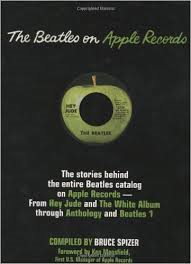 With the ensuing rooftop performance being decided upon, The Beatles, without Billy Preston, rehearsed the song once again at Apple Studios the next day, January 29th, 1969. Bruce Spizer, in his book "The Beatles On Apple Records," relates the details of this rehearsal: "To avoid straining his vocals chords, John sang in a deeper and more relaxed voice than on previous performances. Paul stopped the song midway through the first verse to work on his harmony part with John. During some of the choruses, John sang the title to 'Keep Your Hands Off My Baby, which was a 1962 hit for Little Eva...Towards the end of the song, John calls out, 'Go, Bill,' and does a brief vocalization of the missing solo."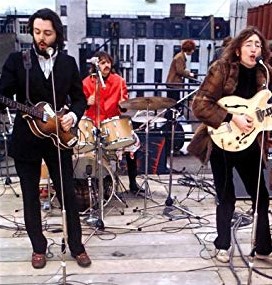 The following day, January 30th, 1969, was the momentous rooftop concert The Beatles performed on the roof of Apple Studios. Two versions of "Don't Let Me Down" were performed, the tighter first version being chosen for inclusion in the "Let It Be" film. However, John forgot the opening lyrics to the second verse, these coming out as mumbled gobbldey-gook. Interestingly, the police appeared on the roof just as the second version of "Don't Let Me Down" began. John remembered most of the lyrics this time around, one exception being the opening lyric of the first verse which came out as "care for first time that she really loved me." As the bridge appeared, John's voice was taxed to the point that he could barely scream out his vocal part. When he sang "she done me good" in the last verse, Paul countered with "yeah, that's right." At the conclusion of the song, Ringo uncharacteristically ended with a drum roll, undoubtedly thinking this was ending the rooftop performance because of police presence. However, they immediately launched into one final version of "Get Back" before the conclusion of their show.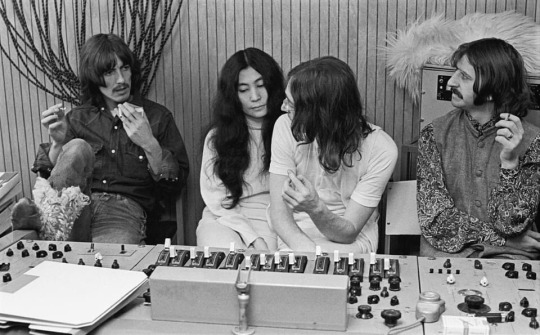 Upon leaving the roof that day, The Beatles filed into the basement control room to listen to the recordings made moments before while 'joss-sticks' were burning for atmosphere. As witnessed in Peter Jackson's "Get Back" series, they all heard the first version of "Don't Let Me Down" played back to them, Linda Eastman, Yoko and Maureen Starkey enjoying the performance as well. "This could be a very good dry run for something else too," George Martin suggested. "Yeah, for taking over London," George Harrison replied, followed by John stating: "Top of the Hilton tomorrow!"
Wanting to see if the rooftop performance could be mixed in a suitable way for release in some form, producer Glyn Johns, who was chosen to oversee the "Get Back / Let It Be" project, and engineer Alan Parsons (and possibly George Martin) assembled in Apple Studios on February 5th, 1969, to create stereo mixes of the songs The Beatles had performed six days prior. The mix of "Don't Let Me Down" created on this day, however, has never been released on disc.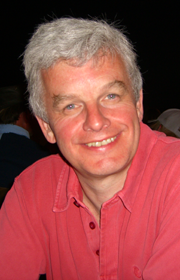 As detailed In Kevin Howlett's "Track By Track" section of the book contained in Anniversary editions of the "Let It Be" album, a further recording session for "Don't Let Me Down" was needed. "At a later date, possibly in February 1969, an overdub of John and Paul singing all the way through the song was recorded on track one. Some parts of John's original lead vocal (on track two) were kept in the final mix, but all of the track containing Paul's harmony vocal (on track one) was erased to make way for the overdub. With the extra vocals sung together by John and Paul, "Don't Let Me Down" was (complete)." Although documentation has yet to surface that specifies the date, the studio and engineering team used for this overdub, evidence of Lennon vocal double-tracking is obvious on the released single.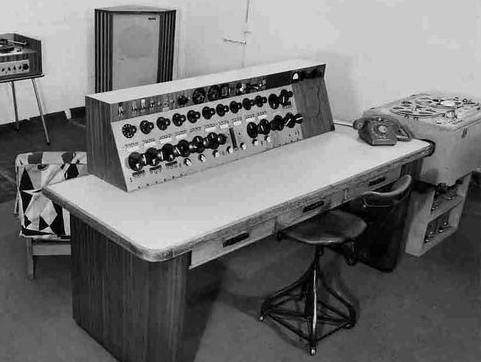 On March 10th, 1969, after being given the assignment from John and Paul to assemble the next Beatles album, Glyn Johns entered Olympic Studios in London to sift through the stack of eight-track tapes The Beatles recorded at Apple Studios in January. Disregarding the above mentioned February overdub session, Johns chose one of the January 22nd renditions of "Don't Let Me Down," as detailed above, for creating the stereo mix for this proposed album. George Martin may also have been present on this day.


By April 7th, 1969, it was solidified that the songs "Get Back" and "Don't Let Me Down" would be released as the next Beatles single. Paul attended the mixing session for these songs at Olympic Sound Studios in London on this day. Glyn Johns was present, along with engineer Jerry Boys. While no producer credit was included on the released single, it is unclear whether George Martin was manning the producer's chair on this day, although many speculate that he indeed was in charge. As mentioned above, the version of "Don't Let Me Down" recorded on January 28th containing the February vocal overdub was deemed superior to what Glyn Johns had previously chosen for the proposed album. Only one take was needed to get the desired mono mix, as was also true for the stereo mix that was immediately shipped to the US for single release.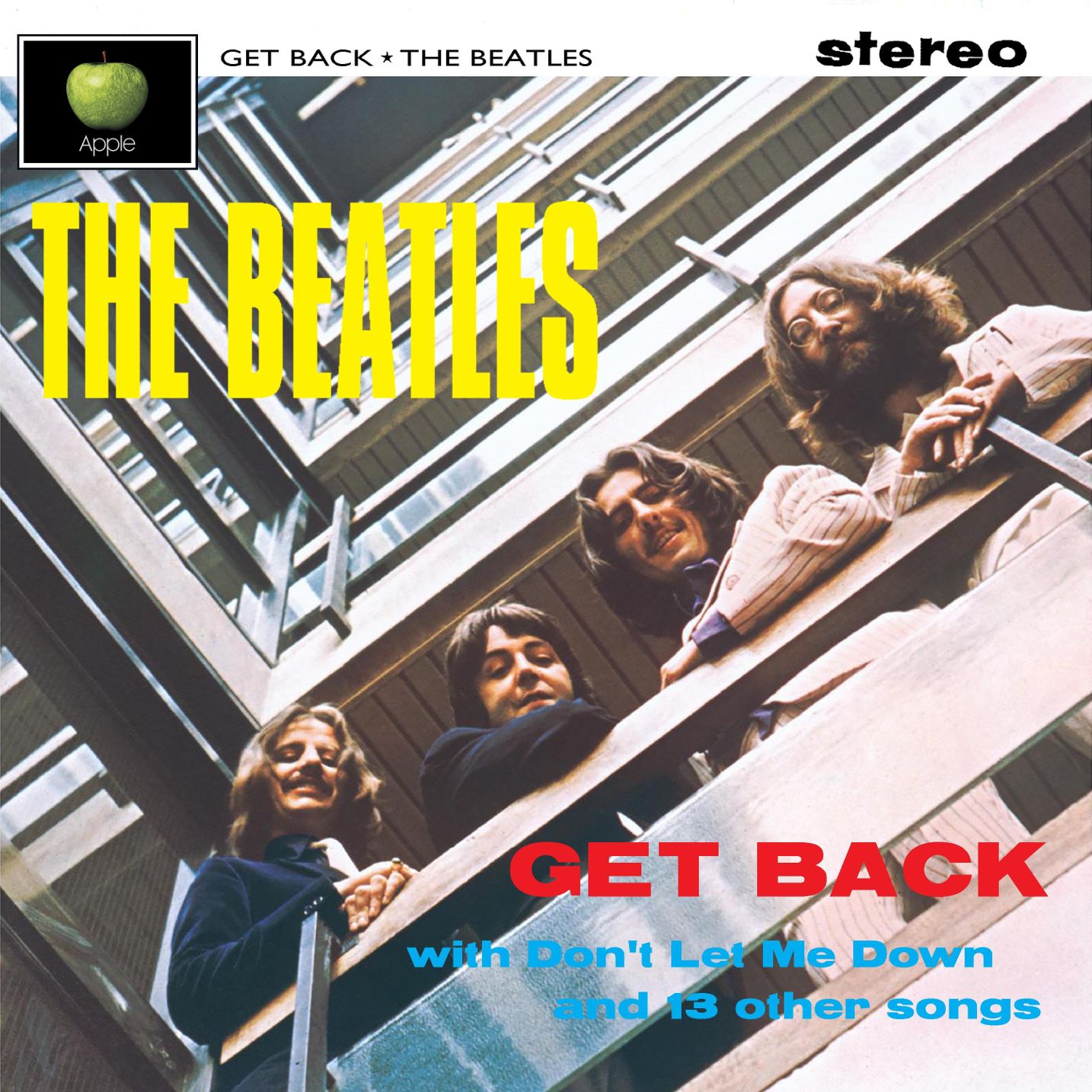 Interestingly, as plans were still in place for releasing a "Get Back" album in the early summer of 1969, Glyn Johns still included his stereo mix of "Don't Let Me Down" from the January 22nd performance even though the superior January 28th mix had already been released as a single in early May. Nonetheless, this album was delayed and eventually shelved for the time being. When a second attempt at releasing a "Get Back" album was banded and compiled by Glyn Johns on January 5th, 1970, he still insisted on including the inferior January 22nd performance of "Don't Let Me Down." This proposed album was also shelved and, when these songs were eventually released in May of 1970 on the "Let It Be" soundtrack album, "Don't Let Me Down was omitted altogether due to its recent inclusion on the US album "Hey Jude" earlier that year.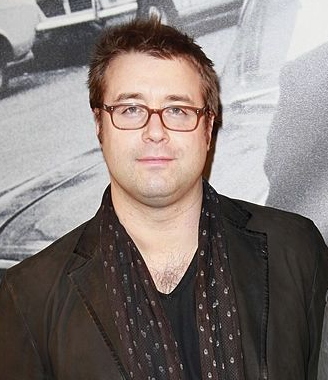 Sometime in 2003, at the instigation of Paul McCartney, the engineering team of Paul Hicks, Guy Massey and Allan Rouse created a composite stereo mix of both rooftop performances of "Don't Let Me Down" from January 30th, 1969 for inclusion on a new album entitled "Let It Be...Naked." Since the song was originally intended for inclusion on what became the "Let It Be" album, as detailed above, with the "Let It Be...Naked" release in 2003, John's composition was finally included among the material The Beatles recorded in January of 1969, albeit with a completely different Beatles performance.
Sometime in 2021,
Giles Martin
and engineer Sam Okell returned to the master tapes of "Don't Let Me Down" to create a new mix for inclusion on an Anniversary version of the "Let It Be" album available in various editions. They also created an additional stereo mix of the song, this being from their first rooftop performance on January 30th, 1969 where John flubs the lyrics in the last verse. Their January 22nd, 1969 recording of "Don't Let Me Down" as originally included on the proposed Glyn Johns "Get Back" album from 1969 was remastered at this time as well.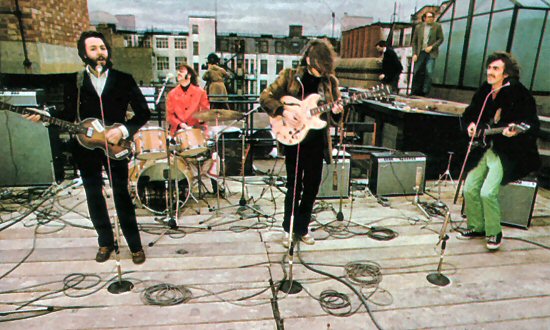 Song Sturcture and Style
The framework for the song consists of 'chorus / verse / chorus / bridge / chorus / verse / chorus / chorus (instrumental)' (or abacabaa). A quick introduction was all that was needed to round out the song's structure.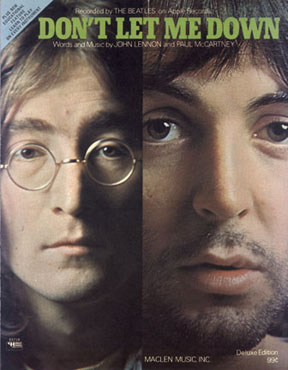 This introduction is two measures long and is a premier of what we will hear as the final two measures of each verse. The downbeat of this introduction consists of a crashing beat from all four Beatles: Paul on bass, John on rhythm guitar, Ringo on crashing cymbal and kick drum, and George beginning his iconic guitar riff, which is continued until the downbeat of the second introductory measure. The second beat of the second measure brings in Paul's pulled bass note and Ringo's cymbal crash, the latter placed strategically at John's request in order to help the singer bolster up the "courage to come screaming in," as detailed above. Lennon does this during the third and fourth beats of the introduction, the title of the song being sung in triplet form, while Ringo puts in a slight drum fill on snare.


The first chorus is then heard, this being eight measures in length and lyrically consisting primarily of the song's title being repeated four times. All measures are in 4/4 time except for the eighth measure, which is in 5/4, the extra beat needed in order to fit in John's first verse lyric "Nobody ever loved my like she..." Ringo plays a straight-forward rock beat focusing on the hi-hat, the exceptions being the triplet-like mimic of John's vocals whenever he sings the song's title as well as a simple drum fill in the seventh measure and a 'Beatles break' in measure eight, while John and Paul harmonize on the final lyric. Paul also joins in on harmony vocals during the third and fourth repetition of the song's title. George and John play straight rhythm guitar throughout the chorus, while George repeats the iconic riff in measures three, four, seven and eight, Billy Preston accentuating this riff with ad lib runs on electric keyboard.


The first verse is also eight measures long, all measures being in 4/4 except for measure four, which is in 5/4 to allow for the lengthened lyric "and if somebody loved me like she..." Ringo plays a laid back bossa-nova-style beat throughout, except for another "Beatles break" in measure four during John and Paul's harmonized vocal line, and a repeat of the triplet crashes in measure eight to coincide with another repeat of the song's title which brings in the chorus that follows. George plays descending guitar figures higher up on the neck (as witnessed in the rooftop footage) which are accentuated by Billy Preston on keyboards while John plays straight-forward rhythm guitar. Paul's bass line is somewhat simple throughout the verse, which is played suitably within the arrangement. The second beat of the eighth measure has Ringo tap his closed hi-hat along with a bass note from Paul, this ushering in a harmonized repeat of the title of the song by John and Paul while Ringo once again crashes his cymbals appropriately.


The second chorus that follows is similar to the first instrumentally, but is played in a much more impassioned style. Billy Preston's keyboard riffs are much more to the fore this time around as John and Paul harmonize on all four repeats of the song's title. Ringo puts in a slightly more intricate drum fill at the conclusion of the seventh measure than he did on the first chorus. Also noteworthy is that, since the song's bridge follows immediately after this chorus, all eight measures therein are in 4/4 time, the seguing line "I'm in love for the..." being within the standard 4/4 length.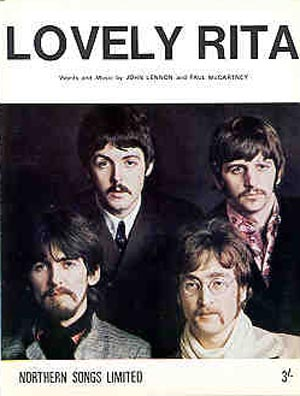 The eight-measure bridge that follows has John's lead vocals double-tracked throughout, the vocals from another take being 'flown in' to add some depth to this section of the song. One of the vocal tracks catch John saying what sounds like "just leave it" in the seventh measure, notifying the engineers to leave in what could have been considered a vocal flaw. (See "Lovely Rita" for a similar Lennon instruction that made it onto the released version.) George plays an intricate lead guitar figure throughout the bridge and ends with the iconic guitar riff in measure seven, Lennon playing strictly rhythm throughout. John, with Paul on backing vocals, ushers in the third chorus that follows with gut-wrenching vocals.

This eight-measure chorus is similar to the first in that the eighth measure is in 5/4 time once again to accommodate the extended lyric "and from the first time that she really..." Also, this chorus is similar to the second chorus in that Paul harmonizes with John throughout, and that they all performed in a very spirited and emotional way with Billy Preston's keyboards to the fore.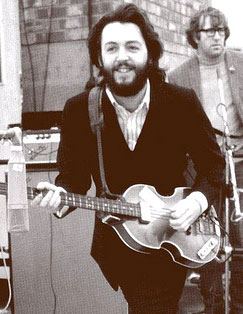 This chorus is also noteworthy for Paul's intricate bass playing, due mostly to his use of his 1963 Hofner bass. "One thing I've noticed when I've seen old films," McCartney related to interviewer Tony Bacon in 1994 about his Hofner bass guitar, "it's so light, you play it a bit like a guitar. All this sort of high stuff I used to do, I think it was because of the Hofner. A heavier bass...sits me down a bit and I play just bass. But I noticed in the 'Let It Be' film, I play it right up there...and I think it was just because it was such a light little guitar that it led you to play anywhere on it, it led you to be a bit freer." Also noteworthy in this chorus is John's first slip into falsetto in the fifth measure. Lennon's extended lyric, as mentioned above, is performed this time single-tracked and solo, without any harmonies whatsoever, this adding an intimate setting for the suggestive lyrical content that the following verse contains.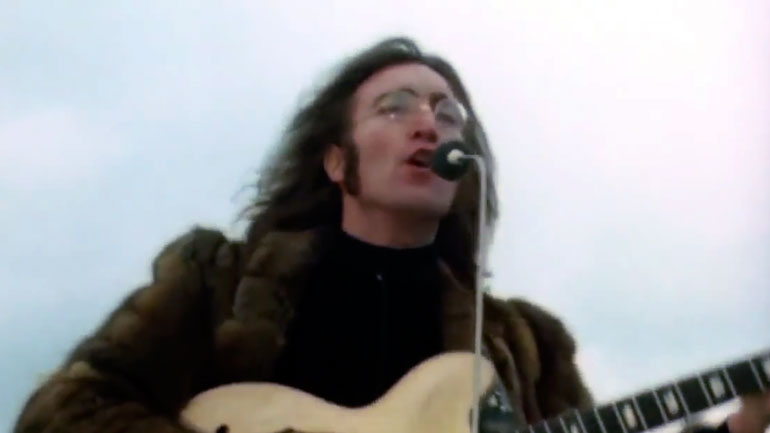 This second verse is performed similarly to the first, although with a more subdued quality. John's single-tracked vocals take on an exagerrated Dylan-esque quality for comedic effect, undoubtedly to emphasize the sexual nature of the lyrics. This is followed by yet another chorus, performed in an even more impassioned way. John's vocals are searing and at the top of his range, offering up a "Hey!" at the end of the first measure and a falsetto "pleeeeeeeease" in the fourth measure while Paul continues his conforming "don't let me down" backing vocals underneath. Paul stretches his limits as bass guitarist during this chorus, as Billy Preston also improvises to good effect. The break in the final measure merges both vocal takes for the remainder of the song, revealing John singing a falsetto "pleeeeeeease" and an "ooow!" as this chorus ends.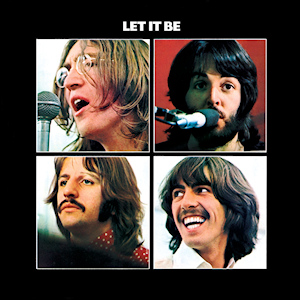 An instrumental chorus then occurs, which features Billy Preston's keyboards as the primary focus. Both of Lennon's vocal performances are combined here but placed somewhat in the background to allow the keyboardist to have center stage. Both Paul and Ringo take advantage of this conclusion to express themselves without much restraint, John throwing in a "Can you dig it?" in the background, this being a catch phrase among the band at the time (as displayed in the improvised track "Dig It" that was featured on the "Let It Be" album). George then puts the final touch on the song with his iconic guitar riff in the seventh measure, concluding on the downbeat of the eighth measure along with the rest of the musicians' performances.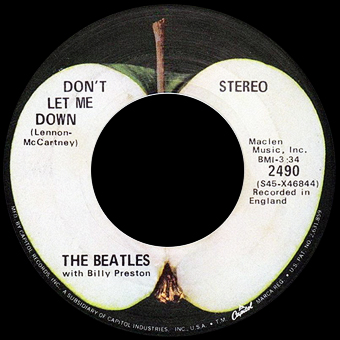 American Releases
"Don't Let Me Down" was first released in the US, as well as to most of the world, as the b-side of the Apple single "Get Back." In America it was released on May 5th, 1969, which was after an approximate ten month gap since "Hey Jude" was released in August of 1968. If Capitol Records had their way, they undoubtedly would have issued a single from the "White Album" sometime upon its release like many countries did with "Ob-La-Di, Ob-La-Da." This idea was vetoed, however, especially by George Harrison.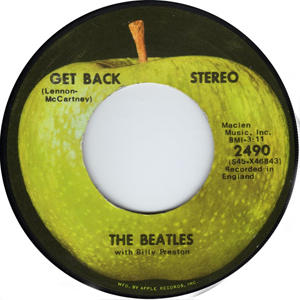 The long wait ensured that the "Get Back" single would be well-received, which resulted in the a-side rushing to the #1 spot on all of the US charts, "Don't Let Me Down" even appearing for four weeks on the Billboard singles charts, peaking at a respectable #35. Interestingly, this was the first Beatles single to be released in stereo in America, mono records then in the process of being phased out entirely.



Both sides of this record label were noteworthy for the presence and the absence of something that US Beatles singles contained. From "Paperback Writer" onwards, George Martin had been credited on the label as producer. The first pressings of "Hey Jude" in America may have neglected to mention George Martin, but this was quickly corrected with later pressings. With the "Get Back / Don't Let Me Down" single, however, none of the pressings ever contained a producer's credit. Therefore, many speculate whether George Martin was involved in the production of either of these songs, which would have been a first for a Beatles record.



The unusual thing that was present on every US pressing of the single was the artist listing as "The Beatles with Billy Preston." Keeping with the band's insistence that the songs recorded during this project were to be without overdubs, a credit for the obvious presence of a keyboard on each of these tracks needed to be indicated. Billy Preston is thereby the only musician ever to share the artist spotlight with The Beatles on any of their releases, other than reissues of the Hamburg recordings as "The Beatles featuring Tony Sheridan."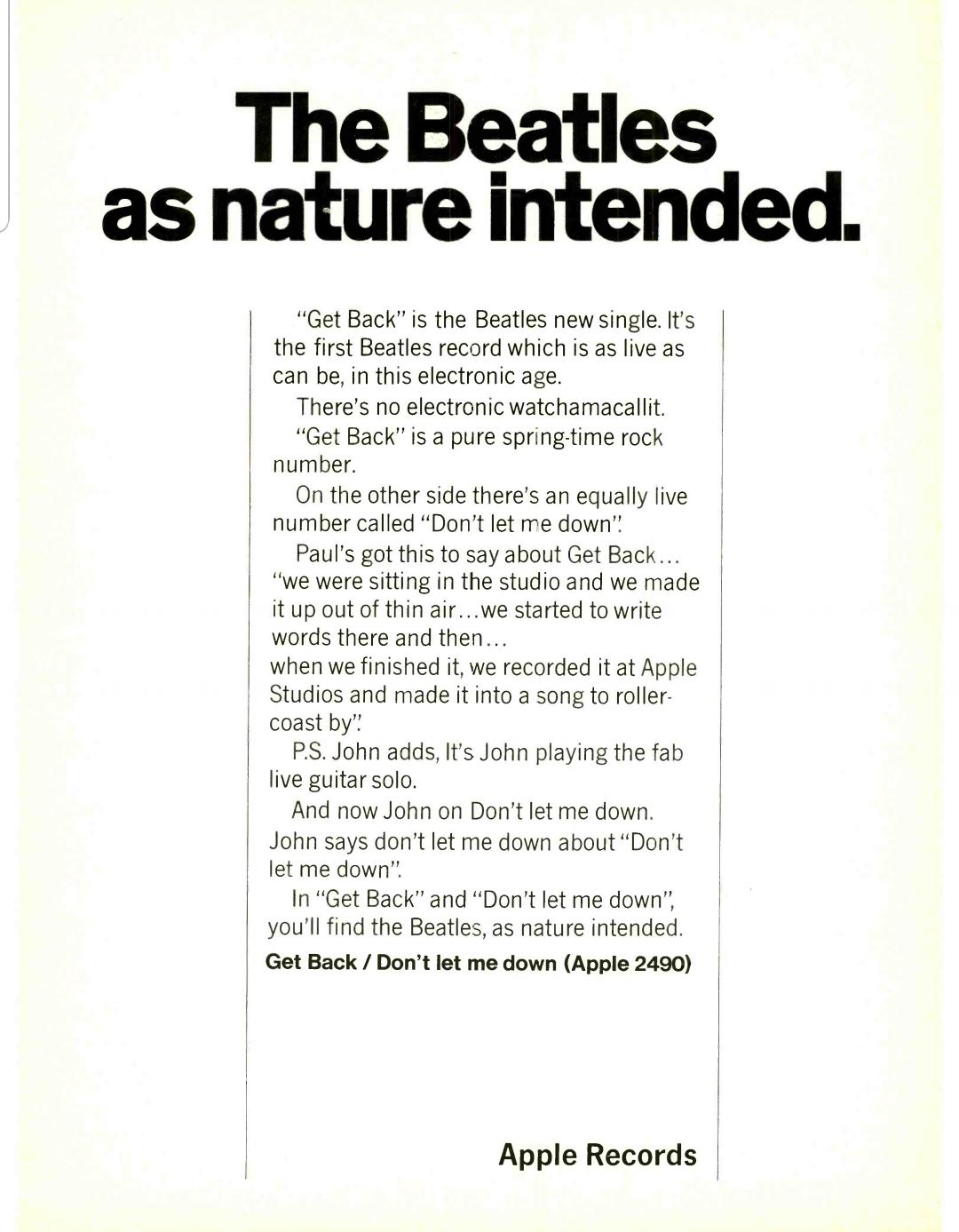 The Beatles were also insistent on promoting this single as a live recording, undoubtedly wanting to squelch the attitudes of any detractors who felt their music was being over-manipulated in the studio, as some felt their "Sgt. Pepper's" album was. Therefore, a full page ad appeared in Billboard magazine in its April 26th, 1969 issue, as well as in London's "Daily Mirror," describing the single as "The Beatles as nature intended." The ad described the single as being "as live as can be in this electronic age...There's no electronic watchamacallit." Concerning the b-side, the ad states: "And now John on Don't let me down. John says don't let me down about 'Don't let me down.'"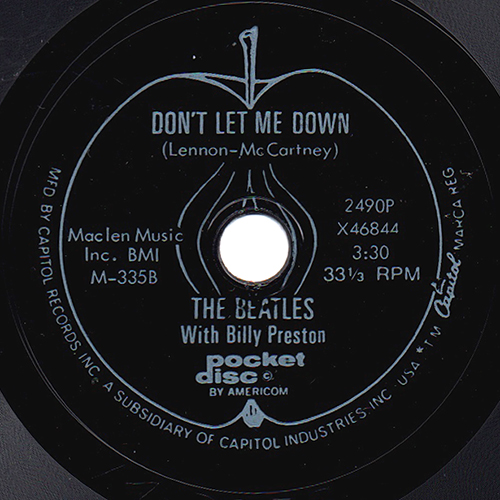 The "Get Back / Don't Let Me Down" single was also made available in a new format called the "Pocket Disc." These four inch flexible discs were manufactured by Americom Corporation in New York and made available to consumers either from store counter displays or vending machines for 50 cents. While it was claimed that the sound quality of these thin flexible discs was every bit as good as vinyl, the shallow grooves could not contain the same amount of audible information. This "Pocket Disc" single is highly collectible today.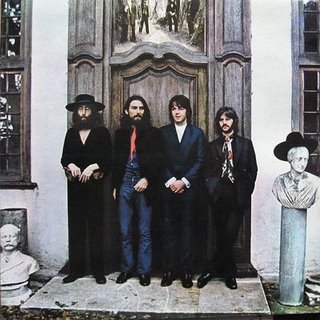 While "Don't Let Me Down" was included in the running order of two different proposed incarnations of a "Get Back" album in 1969, both of these albums were delayed and ultimately shelved. The song was included, however, on the February 26th, 1970 released US album "Hey Jude" (originally titled "The Beatles Again") as suggested by The Beatles' new manager Allen Klein. This compilation album contained tracks that were only available in America on singles and had not as of yet been included on any album. "Don't Let Me Down" may very well have been intended for the "Get Back / Let It Be" project, testified to by its presence in the "Let It Be" movie, but Allen Klein decided to included it here instead of other non-album singles, such as "I'm Down" or "The Inner Light," for instance. Therefore, the presence of "Don't Let Me Down" on the "Hey Jude" album precluded it from the "Let It Be" sountrack LP when it was released three months later. The "Hey Jude" album peaked at #2 for four straight weeks. A remastered compact disc release of the album came out on January 21st, 2014.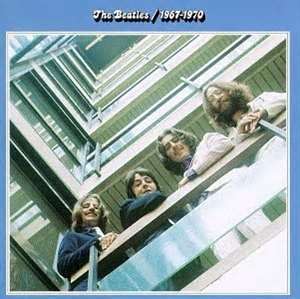 "Don't Let Me Down" was also included on the April 19th, 1973 released compilation album "The Beatles/1967 – 1970" (aka "The Blue Album"). This double-album peaked at #1 on the Billboard album chart and first appeared on compact disc on September 20th, 1993, a remastered version being released on August 10th, 2010.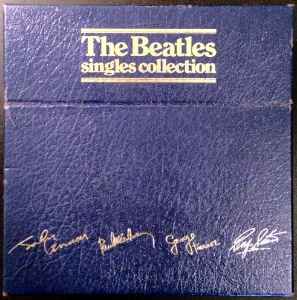 December 6th, 1982 was the US release date of the vinyl Box set "The Beatles Singles Collection," which included the mono UK mix of the "Get Back / Don't Let Me Down" single. Since this British single was released in 1969 in mono only, unlike the stereo American release, this was the first time these songs were heard in the US in mono as they appeared in Britain and elsewhere. This box set was reissued on November 11th, 1992 as "The Beatles CD Singles Collection" and on November 22nd, 2019 as the vinyl box set "The Singles Collection," both of which contained the original mono mixes as originally heard on the UK single.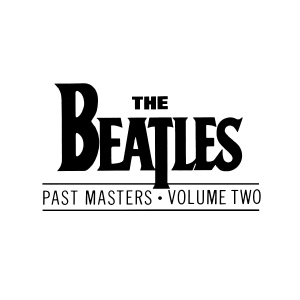 With the ushering in of the compact disc era, "Don't Let Me Down" found its way onto a newly created CD entitled "Past Masters, Volume Two," which was released on March 7th, 1988. For the vinyl edition of this release, it was decided to combine both volumes of "Past Masters" into a double-album, this vinyl edition coming out on October 24th, 1988. It was then decided to continue the double-album concept for both the CD and vinyl editions when this set was prepared for a remastered re-release, the 2-CD set coming out on September 9th, 2009 and the vinyl double-album coming out on November 12th, 2012.
T
he next release of the song was actually not on a Beatles album, but on the soundtrack for the documentary film "Imagine: John Lennon." The double album (or single CD), released on October 10th, 1988, featured highlights of his career with The Beatles as well as his solo career. The album peaked at #31 on the Billboard album charts.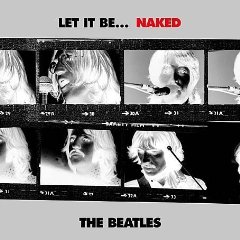 November 17th, 2003 was the release date for "Let It Be...Naked," an album put together, at Paul McCartney's insistence, to recreate the original "as nature intended" format of the "Get Back / Let It Be" project. With all of Phil Spector's orchestration and manipulation stripped away, and with all of the newer recording technology at their disposal, "Don't Let Me Down" was finally included among the January 1969 catalog as it was intended to be. The producers of this project put together both of the rooftop performances from January 30th, 1969 to create an excellent live group performance with Billy Preston on keyboards. The album peaked at #5 on the Billboard album chart.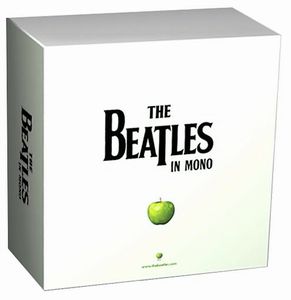 September 9th, 2009 was the release date for the box set "The Beatles In Mono," which included the mono mix of "Don't Let Me Down" on a disc entitled "
Mono Masters
." While this original UK mono mix from the British single was only available on the various "Singles Collection" box sets in the US, this release made it more accessable to American Beatles fans.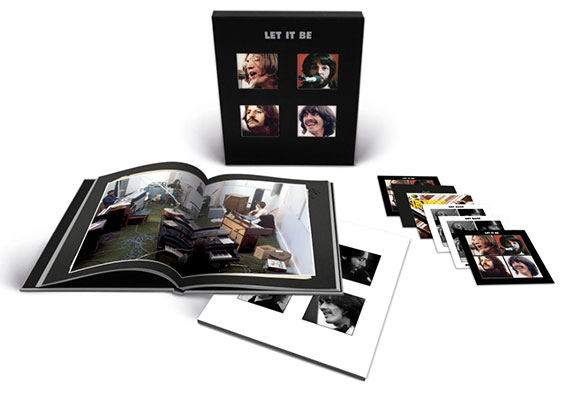 On October 15th, 2021, various editions of the "Let It Be" album
were released that feature interesting versions of "Don't Let Me Down." The "Deluxe" 2CD set features the first rooftop performance of the song from January 31st, 1969, while both the "
Super Deluxe
" 5CD + Blu-ray edition and the "Super Deluxe" 4LP + 1 12" EP edition also contain their January 22nd recording of "Don't Let Me Down" as it appeared on Glyn John's aborted 1969 "Get Back" album, as well as Giles Martin's new remix of the single version of the song
.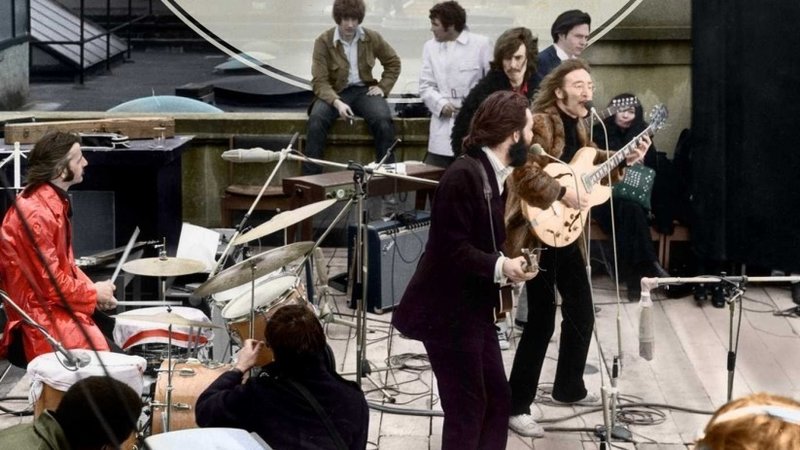 Live Performances
When asked to identify the best song The Beatles performed live, a sizable percentage of Beatles fans point to the January 30th, 1969 rooftop performance of "Don't Let Me Down." After Billy Preston's Fender Rhodes keyboard was hoisted through a disassembled skylight to get it onto the roof, the group actually performed the song twice on this day, the first being included in the "Let It Be" film, this showing John forgetting the opening words to the second verse (as described above). Their second performance of the song displays John slightly muffing the lyrics to the first verse this time around.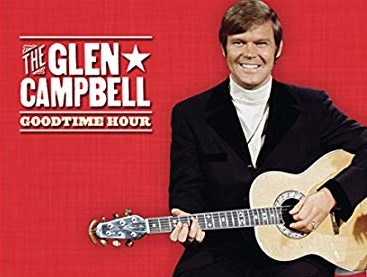 Well over a year before the "Let It Be" film was released, however, 16mm color promo films were created of both "Get Back" and "Don't Let Me Down" to be used for promoting the soon-to-be-released single on TV. The promo film created for "Don't Let Me Down" was substantially different from what eventually would be seen on the "Let It Be" movie, the professionally mixed audio of the released record being synchronized with footage from both the Twickenham rehearsals of early January 1969 and rooftop footage from January 30th of that year. This promo film, along with "Get Back," was shown only once in the US on the April 30th, 1969 episode of the CBS show The Glen Campbell Goodtime Hour. This was a suitable premier for both sides of The Beatles' next single, which was to be released just under a week later.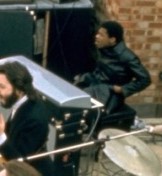 May 13th, 1970, was the US release date for the "Let It Be" movie, which was a full week earlier than the UK premier. The first band performance that appears in the movie was a snippet of an early January rendition of "Don't Let Me Down" in Twickenham Studios. Then, to show how the song had progressed to its finished state, the first rooftop performance of the song was heard in its entirity during the last twenty minutes of the movie. All four Beatles, as well as Billy Preston, display their enthusiasm and excitement for the song, clearly showing that they were thoroughly enjoying themselves.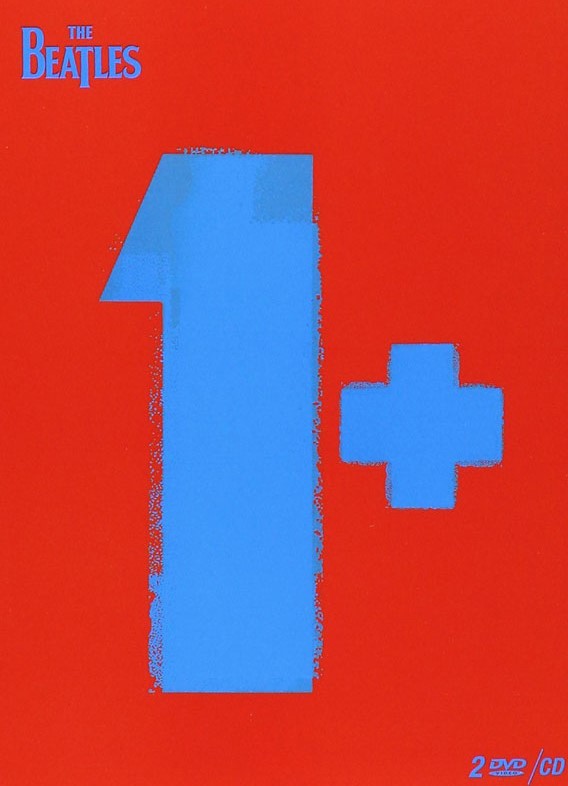 The November 6th, 2015 released "Beatles 1+" 2DVD/Blu-ray set features a composite video of "Don't Let Me Down" compiled from both rooftop performances as heard in "Let It Be...Naked." A bit of this footage is also included at the end of the Ron Howard film "Eight Days A Week: The Touring Years," which combines both "Don't Let Me Down" and "I've Got A Feeling" into one medley. The original promo film of "Don't Let Me Down" as shown on The Glen Campbell Goodtime Hour has not been officially released for the public.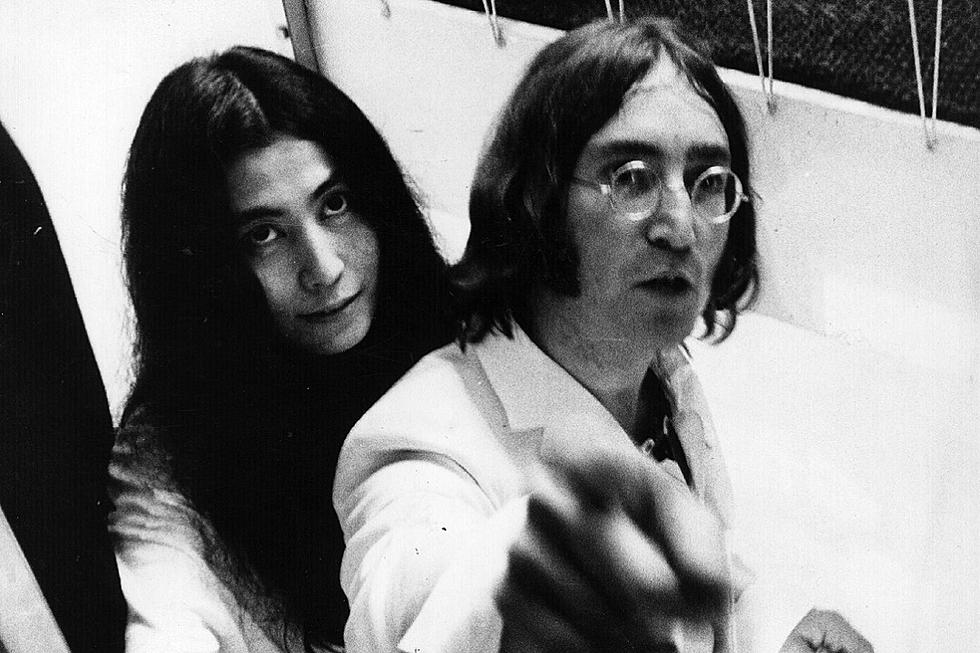 Conclusion


Yoko Ono's influence on John Lennon's 1969 compositions are undeniable. While his songwriting inspiration from the mid-Beatles era through to the "White Album" came from anywhere and everywhere, his last year as a Beatle reveals himself as totally absorbed with his new love interest. If he doesn't address her personally ("Don't Let Me Down," "I Want You (She's So Heavy)" and "Dig A Pony"), refer to her by name ("Come Together," "Give Peace A Chance"), or speak about their experiences together ("The Ballad Of John And Yoko," "Cold Turkey"), he is inspired musically or lyrically by her ("Because").

While many blame Yoko for the break-up of The Beatles, one thing we know for sure is that, without her in John's life, we wouldn't have classic Beatles tracks like "Don't Let Me Down" to enjoy. Personally, I wouldn't want it any other way!
Song Summary

"Don't Let Me Down"
Written by: John Lennon / Paul McCartney
Song Written: December, 1968 through January, 1969
Song Recorded: January 28 and February (date unknown), 1969
First US Release Date: May 5, 1969
US Single Release: Apple #2490 (b-side to "Get Back")
Highest Chart Position: #35
First US Album Release: Apple #SW-385 "Hey Jude"
British Album Release: Apple #SKBO-3404 "1967-1970"
Length: 3:34
Key: E major
Producer: Glyn Johns (?), George Martin (?)
Engineers: Glyn Johns, Jerry Boys
Instrumentation (most likely):
John Lennon - Lead Vocals, Rhythm Guitar (1965 Epiphone ES-230TD Casino)
Paul McCartney - Bass (1963 Hofner 500/1), backing vocals
George Harrison - Lead Guitar (1968 Fender Rosewood Telecaster)
Ringo Starr - Drums (1968 Ludwig Hollywood Maple)
Billy Preston - Electric Piano (1968 Fender Rhodes Seventy-Three Sparkle Top)
Written and compiled by Dave Rybaczewski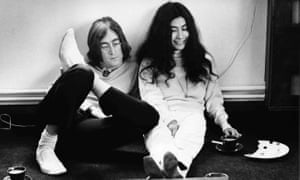 IF YOU WOULD LIKE TO MAKE A DONATION TO KEEP THIS WEBSITE UP AND RUNNING, PLEASE CLICK BELOW!
Sign Up Below for our MONTHLY BEATLES TRIVIA QUIZ!